SUMMARY
CROWDESTOR is announcing a new investment opportunity: Tennis Tournament Management App | Round 01.
This is an opportunity to invest in an operating Tennis Tournament App and make a profit of 26,4% p.a. Additional success fee is applied at the end of the loan period of 5EUR for each active (billed) player recorded on the last date of the loan period. The success fee will be distributed proportionately to the invested amount.
The funding target in this round is 70 000EUR.
Two years ago, several tennis enthusiasts developed a tennis tournament App to find tennis playmates in different countries and cities. Spain was chosen for a pilot project.
The tournament option was introduced to elevate the game and make it more competitive.
It started as a narrow circle initiative between acquaintances that gradually attracted more and more players and cooperation partners - sports brands and tennis courts. There is an operating tournament smartphone application and website under ETLA: Spanish Amateur Tennis League in Spain (operating Madrid in Barcelona, Tenerife). Now the App has a brand name - ETLA, and has more than 2100 registered users. The user base is monetized via a monthly paid subscription.
Now it's an opportunity to develop and scale it into a proper business.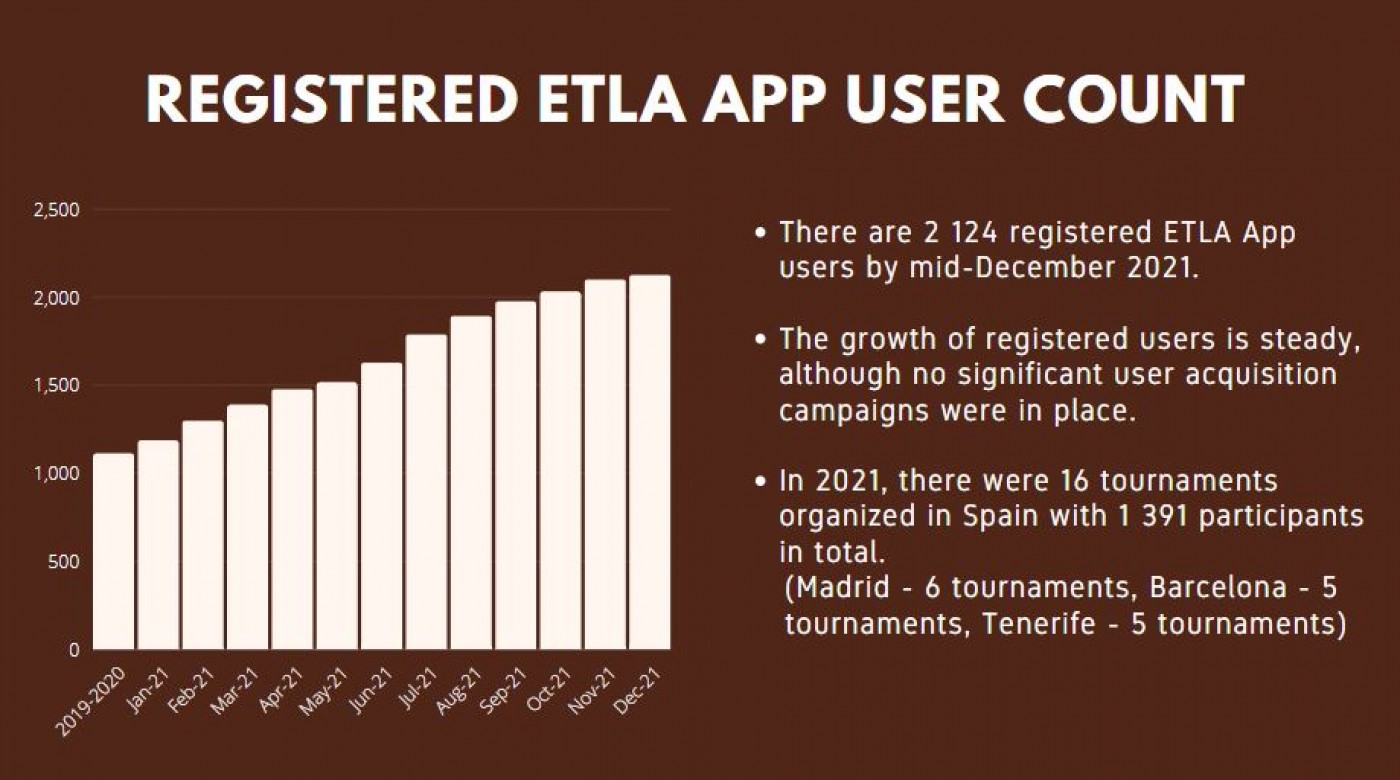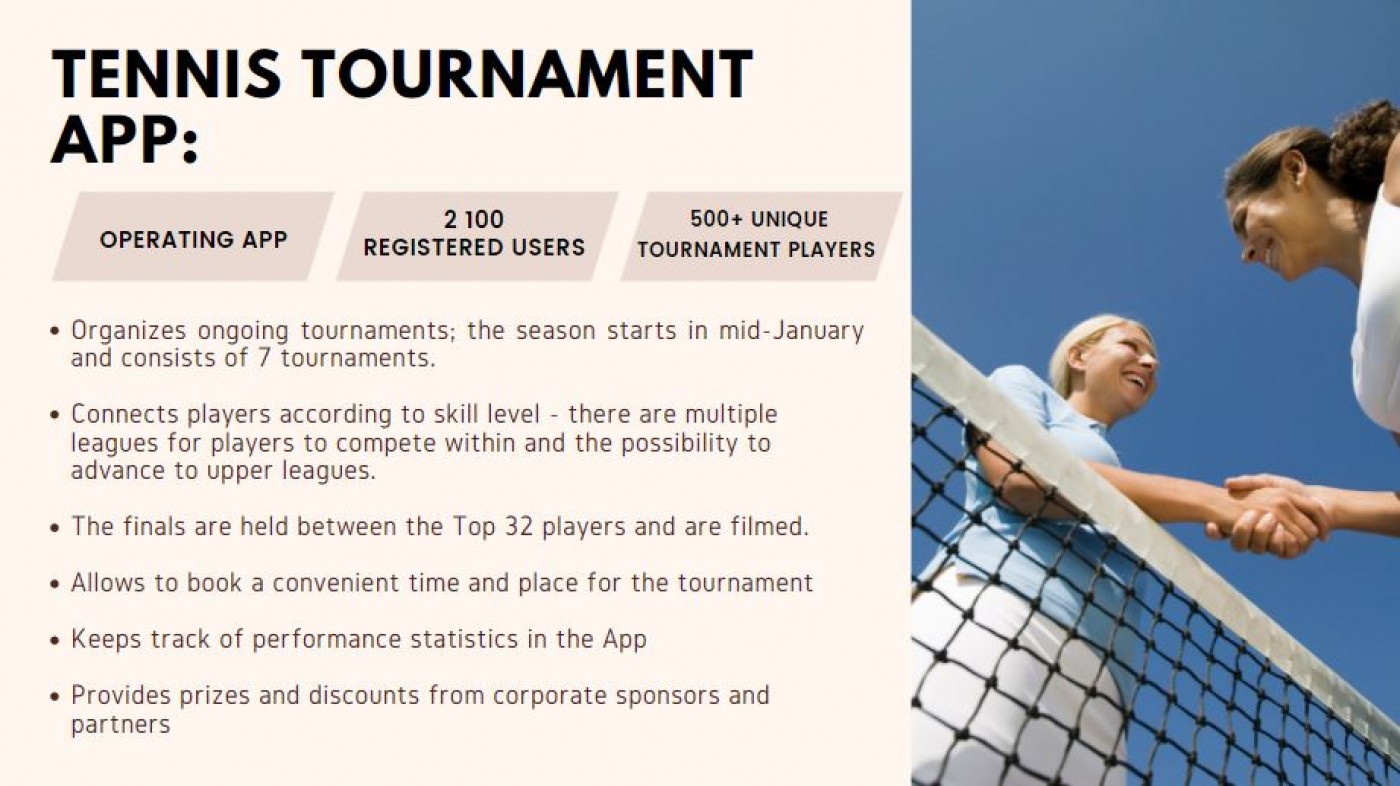 While the traditional tennis tournaments often had to be canceled during the COVID-19 pandemic, the ETLA App is at an advantage as the in-App tournaments happen decentralized and do not attract large masses of people.
Check out videos and photos from tournaments:
LOAN
Maximum target:

EUR 70 000

Loan period:

18 months

Interest rate:

26,4% p.a.

Success fee:
5EUR

for each active (billed) player recorded on the last date of the loan period. The success fee will be distributed proportionately to the invested amount.

Borrower

SIA "ETLA," registration number 40203353895

Repayment:

Interest and principal in full at the end of the Loan Term

Collateral:

Commercial pledge on intellectual property

Location:

Latvia, Spain
There is a great potential to build a brand recognizable in the worldwide tennis community. The total funding amount needed for the first stage is 150 000EUR, which will cover the development of a new modern application interface and advance its functionality. It's crucial before expanding business to other countries.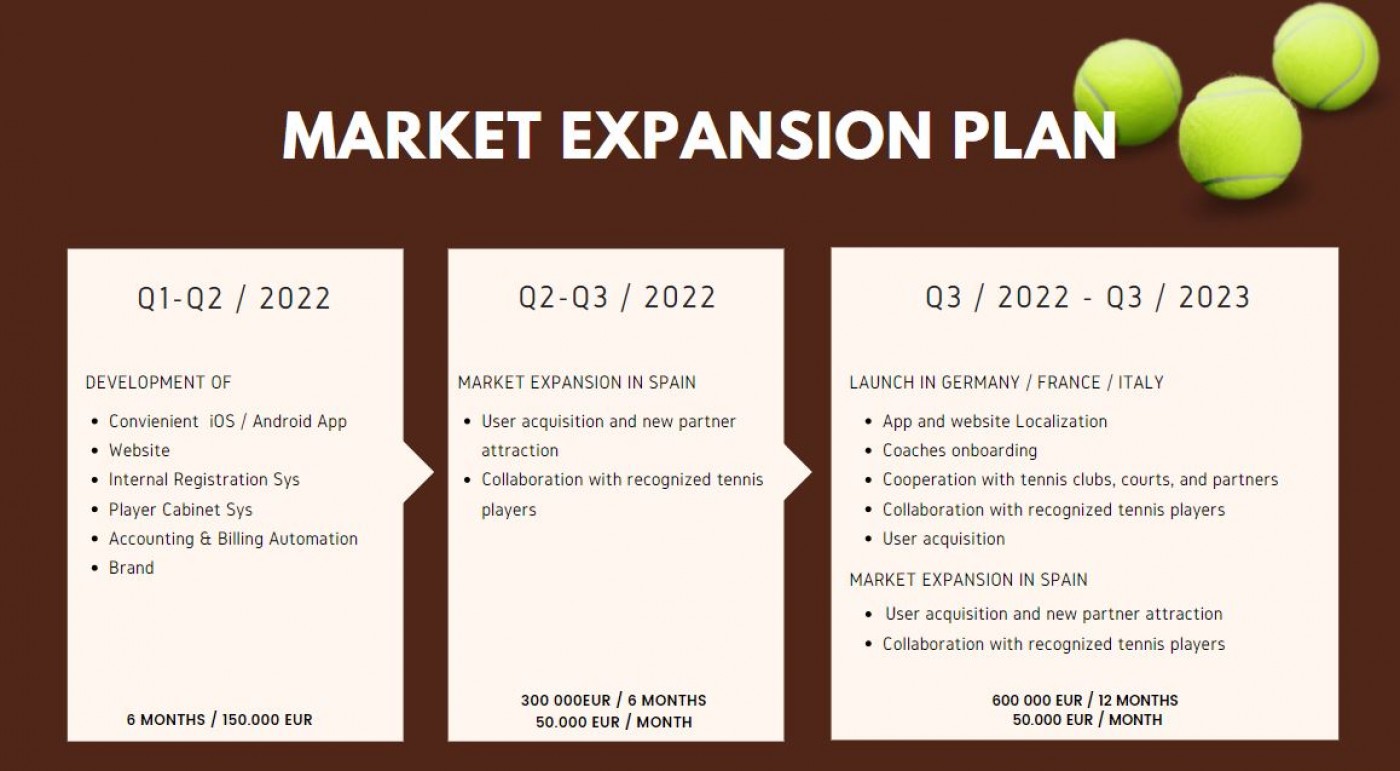 In the upcoming rounds, funds will be raised to cover marketing costs to scale the user base across Europe.
BUSINESS MODEL
The Borrower plans to focus on aggressive user acquisition utilizing Social Media Marketing, Search Engine Optimization, Celebrity Athlete Collaborations, and Pay-per-click advertising.
In the first half of 2021, the Borrower will focus on developing the smartphone App, the website, and the marketing process and expansion in the Spanish market. Starting from the second part of the year, the Borrower will scale in Southern Europe. Far-reaching plans are followed by expanding to Asia, The Americas, and Australia within 3-5 years. The Borrower plans to reach a revenue of EUR 5 000 000 and a profit of 2 000 000 by year 3.
ETLA contributes to the development and popularisation of tennis, so it's an outstanding possibility to get support from different tennis organizations and clubs contributing to applications popularisation.
MARKET
According to International Tennis Federations (ITF) global tennis report, there are 87 million tennis players worldwide, with Spain contributing about 3.4% of the global player count.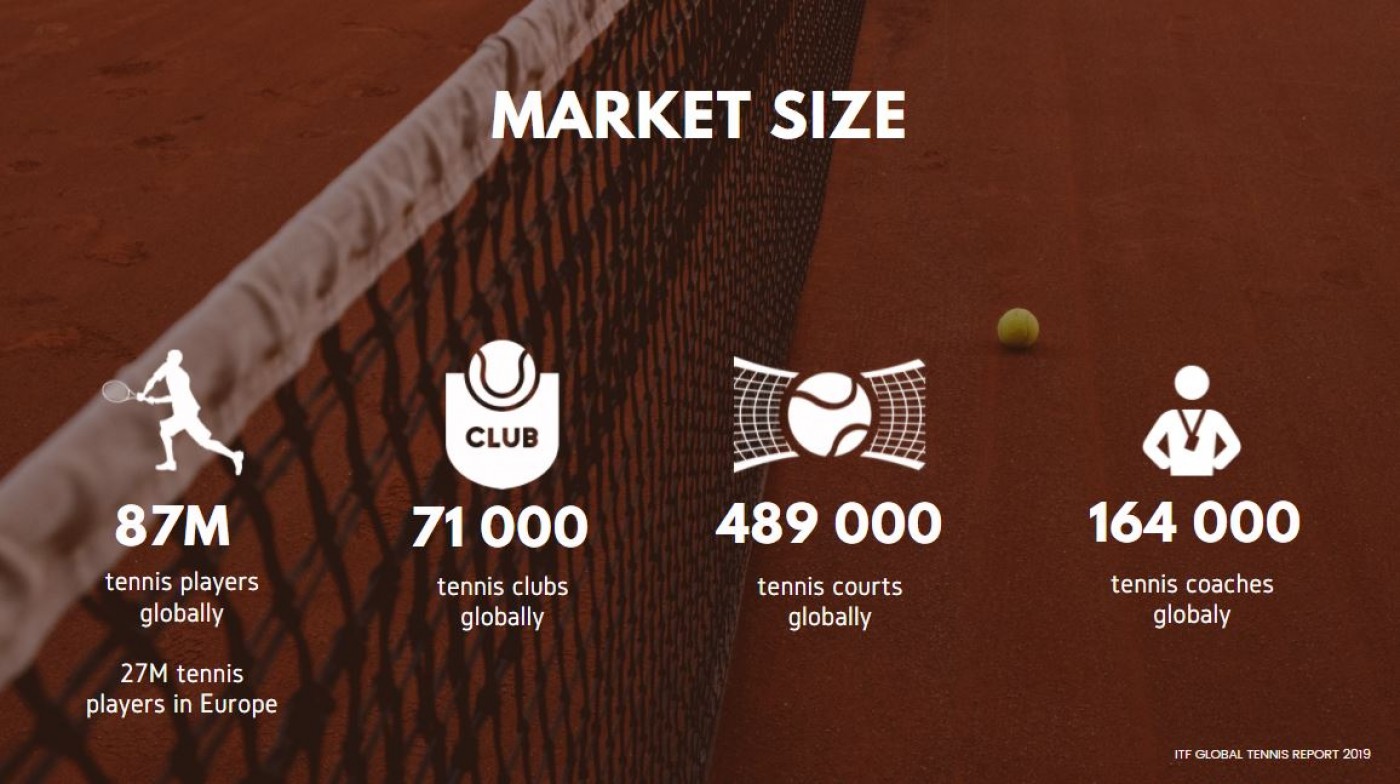 The Borrower plans to target 18-45 years old tennis amateurs of various skill levels seeking to compete and track their progress. It allows players to compete with each other at a convenient place and time and offers a range of amateur tennis leagues with a final TOP-32 tournament. The winners get prizes from the App sponsors from the sports industry.
ETLA occupies a growing market as a sports App - the sports App category is forecasted to reach USD 520M revenue in the App Store and USD 151M in the Google Play store by 2023.