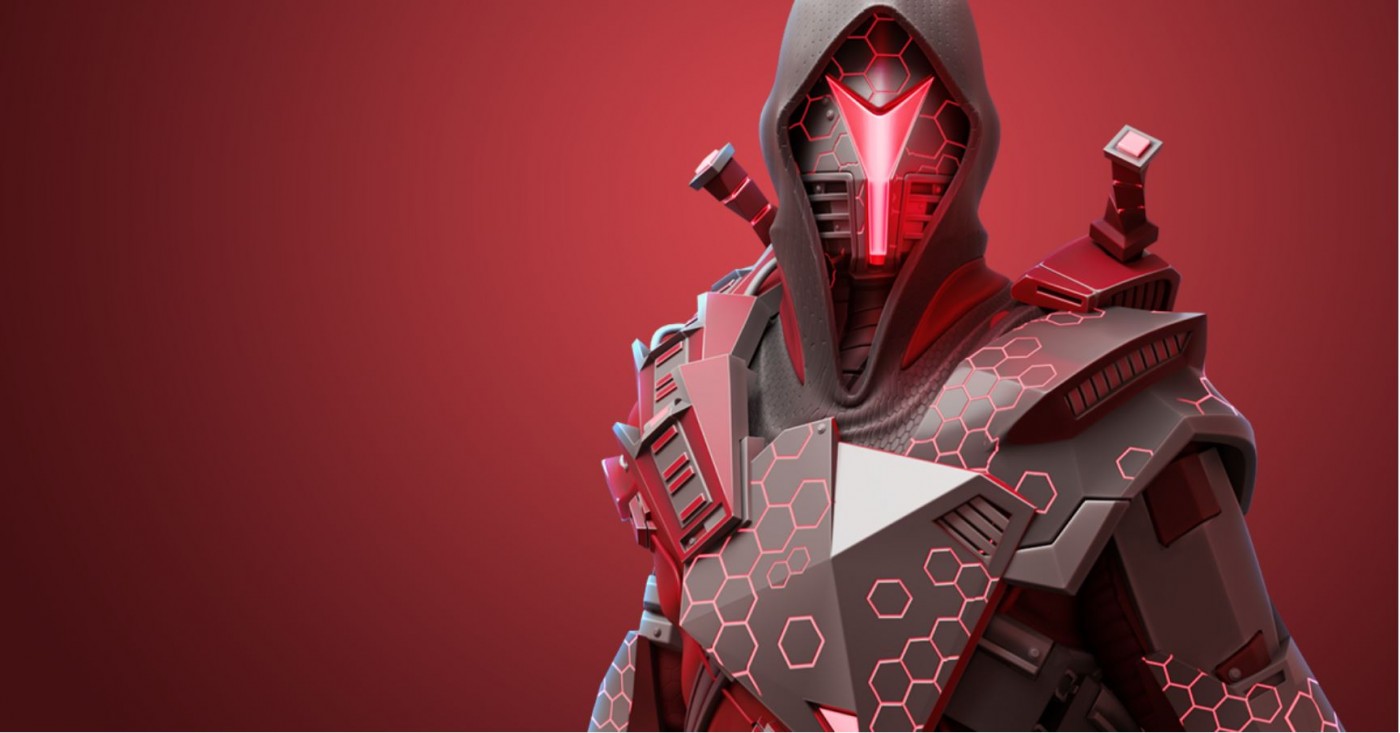 DYSTOPIA GAME ROADMAP
After first two fundraising rounds on CROWDESTOR - Beetroot Lab have completed tech-launch and retention-launch phases and is approaching global launch phase at a fast pace. During tech-launch and retention-launch phases only 26% of funds raised in first 2 fundraising phases have been spent. 74% of funds raised during first two rounds have been added in total pool for user acquisition needs during global launch phase.
The game has an agreement with AAA star who will become the face of the game and brand ambassador. Name of the star is currently strictly confidential but it will be announced shortly before Global Launch. Only hints what we can share are that it's one of the most engaged celebrity on social media with close to 40 million followers. In the graphic below you can see the game launch roadmap divided in 3 key phases and see the milestones for each of the phase:
Soft Launch:
Game had technical tests checking full game functionality, analytics & event tracking, server stress tests and game performance on large number of different devices. During this period in Tier2 markets (New Zealand, Australia, Scandinavian countries) we test user in-game behaviour including "Stickiness of the game" (retention metric). Based on this real-time data we are making game content adjustments as well testing different creative impact on different user audiences. Test results were showing metrics way above genre average and we have moved on to monetisation tests.
Global Launch:
In the graphic below you can see that majority of UA/Marketing budget will be spent on the global launch which takes only 30-45 days which is relatively short period if compared to other phases. Launch phase has to be aggressive because of 3 reasons - this way ad exchange auction delivers better price per one user (lower CPI), it helps hitting charts in app stores more quickly and helps to use momentum effect when showing our AAA star to broad audience. 2-10 Million EUR User Acquisition campaign budget will be funded by Beetroot Lab funds and CROWDESTOR funds combined. When reaching certain monetization metrics - extra UA budget will be backed-up by mobile gaming acquisition funding partners like Tilting-Point, Triple Dragon, Superscale, Plarium or other. Such mobile gaming financing partners offer to fund user acquisiton budget up to 100 Million EUR.
Sustain & Optimize:
After the aggressive global launch comes the sustain phase where marketing spend is decreasing, users which we bough during launch - start to convert and and generate revenue. At this point we have built "lookalike" audiences of paying users and we can scale down campaign volume and focus on buying paying users.


GLOBAL GAME INDUSTRY
Over the past several years, gaming has transitioned from a niche hobby to a global phenomenon - thanks to the accessibility of games on mobile devices. With over 2 billion gamers in the world today when everyone has access to mobile phones and 2.4 billion gamers expected in 2020 - mobile games have become a mainstream entertainment of today's society. Mobile gaming was the fastest-growing gaming sector in 2018 reaching higher revenue than Console or PC games. Predictions by App Annie market researchers say mobile gaming is on track to surpass $100 billion across all mobile app stores in 2020. Globally, all apps (including non-gaming apps) reached 194 billion worldwide downloads in 2018 and gaming was responsible for more than 70% of it. According to Newzoo research, the global games market was predicted to be worth $148.1 billion in 2019. The largest sector of this was mobile gaming which was estimated to be worth $72.0 billion, 48.1% of the global games market. Newzoo continued their gaming revenue predictions through to 2021 expecting total gaming to be worth $174.0 billion, from which mobile gaming will be $91.2 billion. Additionally, lower latency and higher speeds due to 4G and soon-to-be 5G will make it easier to download, play, and stream games wherever gamers may be. This will likely result in mobile gamers playing more often and for longer, as there won't be issues with their mobile network.
GLOBAL GAME INDUSTRY REVENUE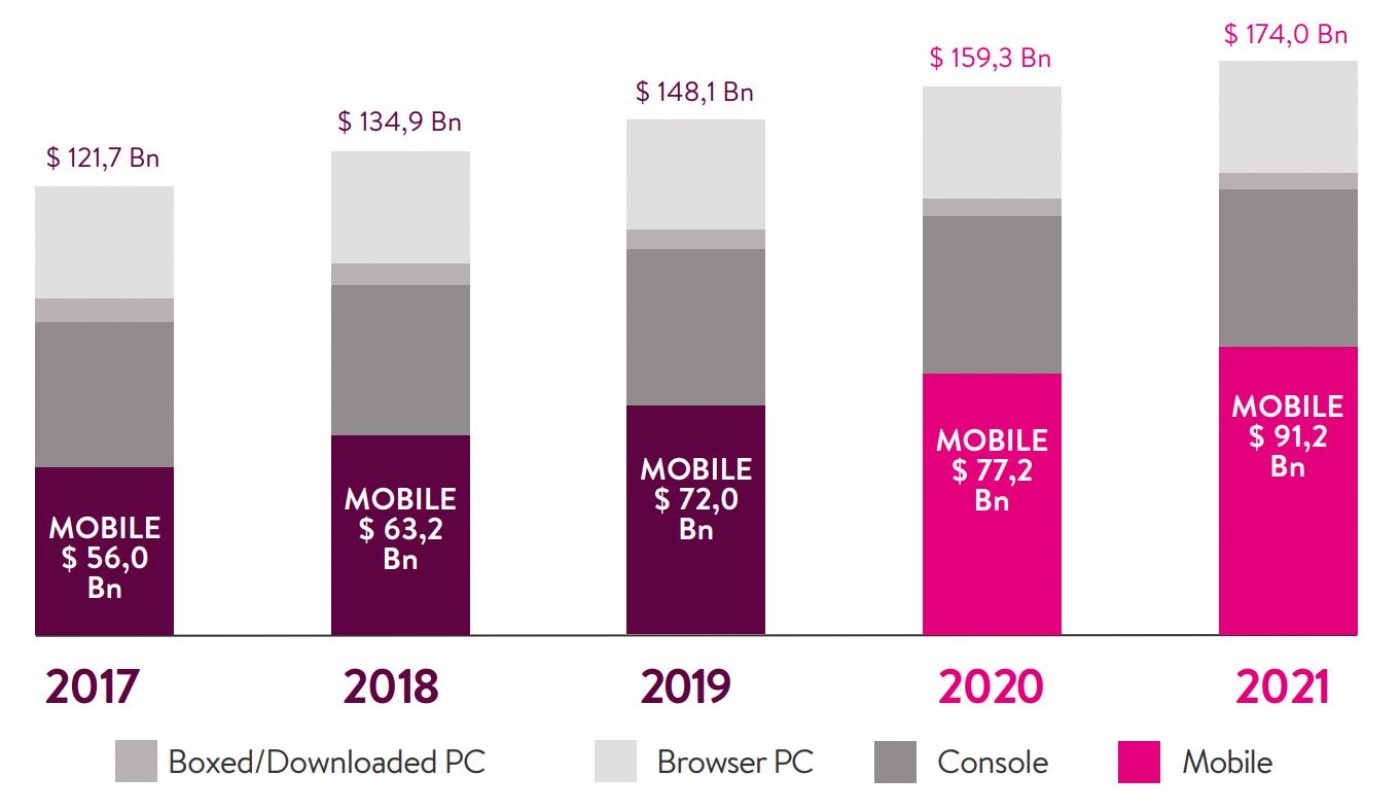 YEARLY REVENUE BY MOBILE GAME GENRE


INDUSTRY EXAMPLES

Mobile Strike
by Machine Zone
Machine Zone's massively multiplayer online strategy title Mobile Strike has brought in over $1 billion in revenue.
The war-themed mobile strategy game has made more than $1.3 billion across the App Store and Google Play since launch in 2015. Game allows player to become an action hero of modern war where player has to build a base, control the action, and test your elite troops against ene- mies on the battlefield!
Revenue $1 .38bn


Clash of Clans:
by Supercell
Clash of Clans is a mobile strategy game developed and published by Finnish game developer Supercell.
Player is a chief of a village in a fantasy-themed persistent world where Clash where players have to build their own town using the resources gained from attacking other players. Released in 2012 by Finish game development studio Supercell - Sensor Tower ranks Clash of Clans' total revenue at $6.4 billion globally since its launch.
In 2016 Tencent acquired 84.3% of Supercell for $8.6 billion . Japan's SoftBank valued Supercell at $10.2 billion
Revenue: $6 .4bn


Game of War: Fire Age
by Machine Zone
This MMO strategy title has made over $2.8 billion in revenue since its 2013 launch, according to market intelligence company Sensor Tower. Developed and published by MZ, the freemium app lets millions of players around the world build empires through research, crafting, and combat. They can then form alliances with other empires.
Game has grossed nearly $1.6 billion on iOS and $1.2 billion on Google Play, according to Sensor Tower.
Revenue: $2 .8bn



BEETROOT LAB STUDIO
Beetroot Lab is a privately held game development studio founded in 2014, specialising in the field of mobile game development for iOS and Android platforms.

During 5 years we have built a talented team of 25+ experienced professionals covering all areas of mobile game development and publishing. Our team consists of: Unity developers, front-end developers, back-end developers, Sound Designers, 2D&3D artists, Data scientists, Game Designers, Concept Artists, User Acquisition specialists, Media specialists, Social Network content specialists and UX/UI specialists. Among 100+ published games - Beetroot Lab's games twice have been featured globally by Apple on the Apple App Store certifying the high quality of developed products.
PARTNERS
On top of our talented in-house developer team we have attracted several mobile gaming industry super-stars with experience working in TOP mobile gaming companies in the world. Talents who have worked on top-grossing mobile strategy game titles like Game of War: Fireage (2.4Bn USD in revenue), StarTrek: Fleet Command, Top-grossing sports games on App Store and Top-grossing Facebook games.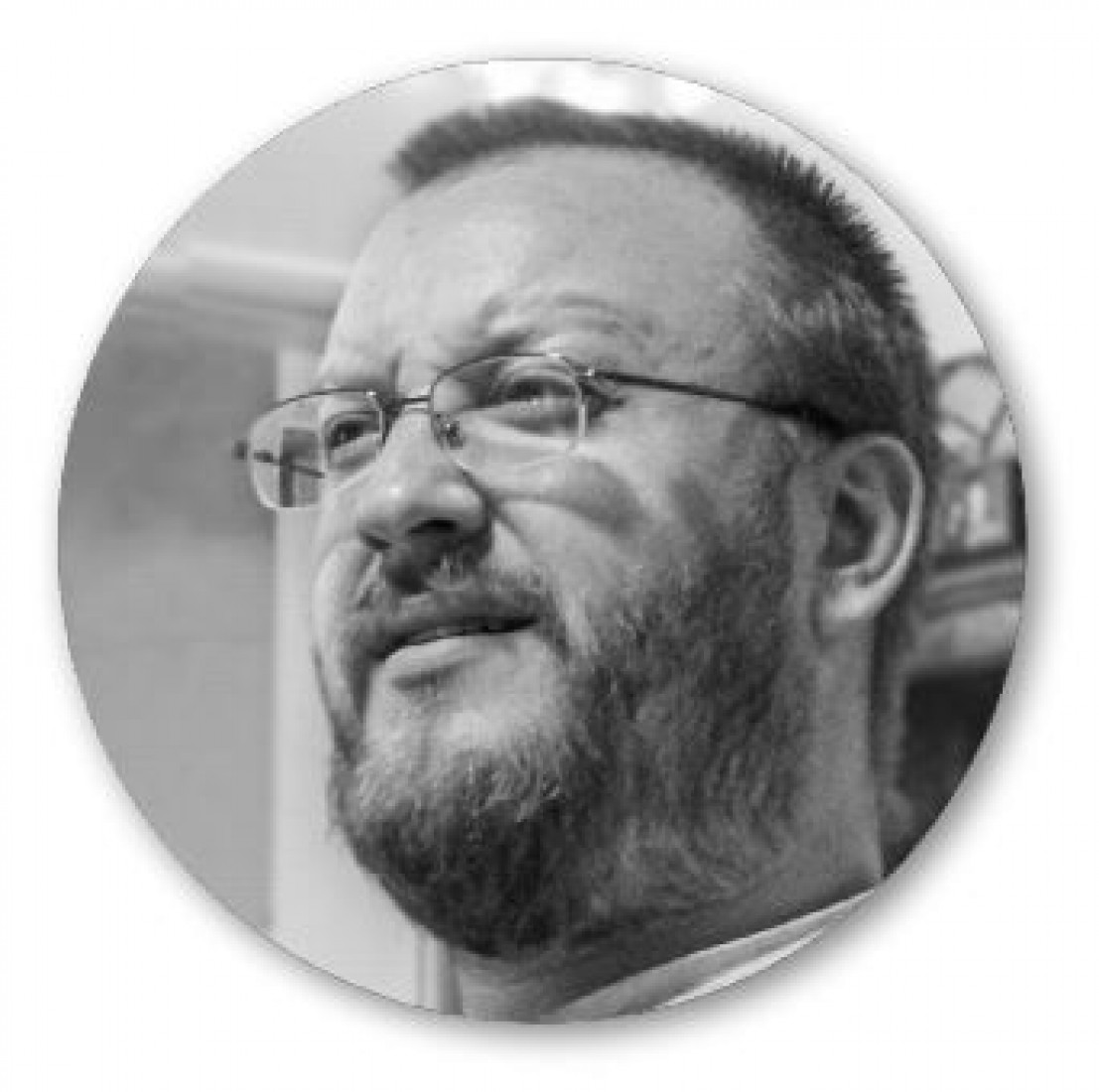 Geoffrey Hunt
Lead Game Design
Geoffrey is an experienced producer and game designer, passionate about creating great games. His experience includes data-driven game design, analysis, game economy and monetisation which he have presented on several high-grossing games, including Kingdoms of Camelot and Game of War: Fire age which generated 2.4 Bn USD in revenue. While working on MZ's Game of War: Fire age as Lead Designer, Geoffrey was responsible of leading the game design from systems design and stylistic choices to monetisation strategy. Additionaly Geoffrey has experience working in game development studios Kabam and Scopely where he have worked on titles like Star Trek: Fleet command, Kingdoms of Camelot and many others where main responsibilities were lead game design, game economics and player experience.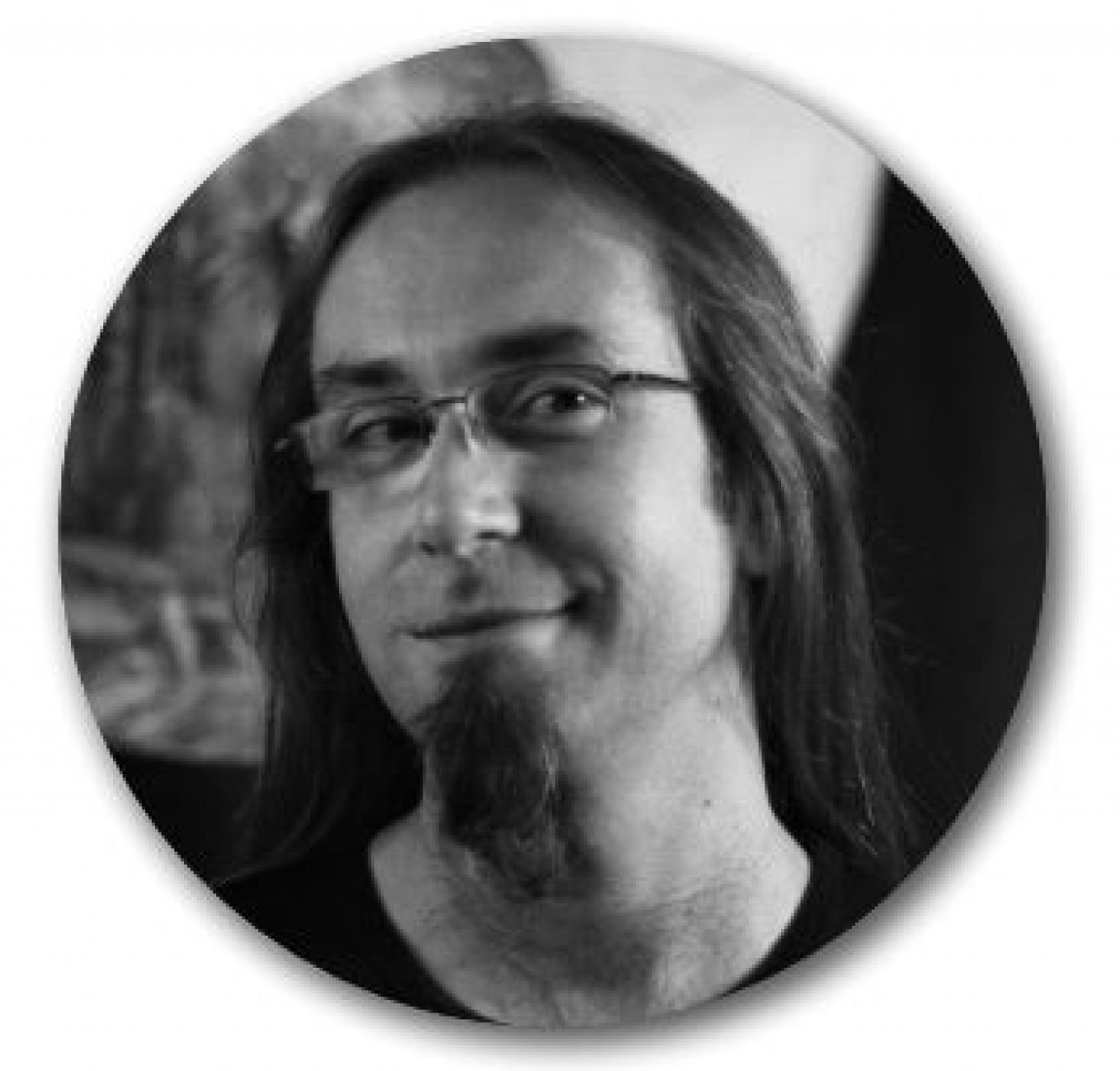 Marcin Rubinkowski
Lead Concept Artist
Marcin is unique mixed skill AAA+ concept artist with more than 8 year experience working in movie and gaming industries. Marcin have worked for such brands as Netflix, Disney, Blur, Bungie, Nintendo, Sega and many other well know brands. Latest achievement is working on Netflix tv-series "Love Death + Robots" as lead Concept Artist of two episodes. Some of the Marcin's works are awarded by CGsociety, Artstation, Wacom, CG+ prizes.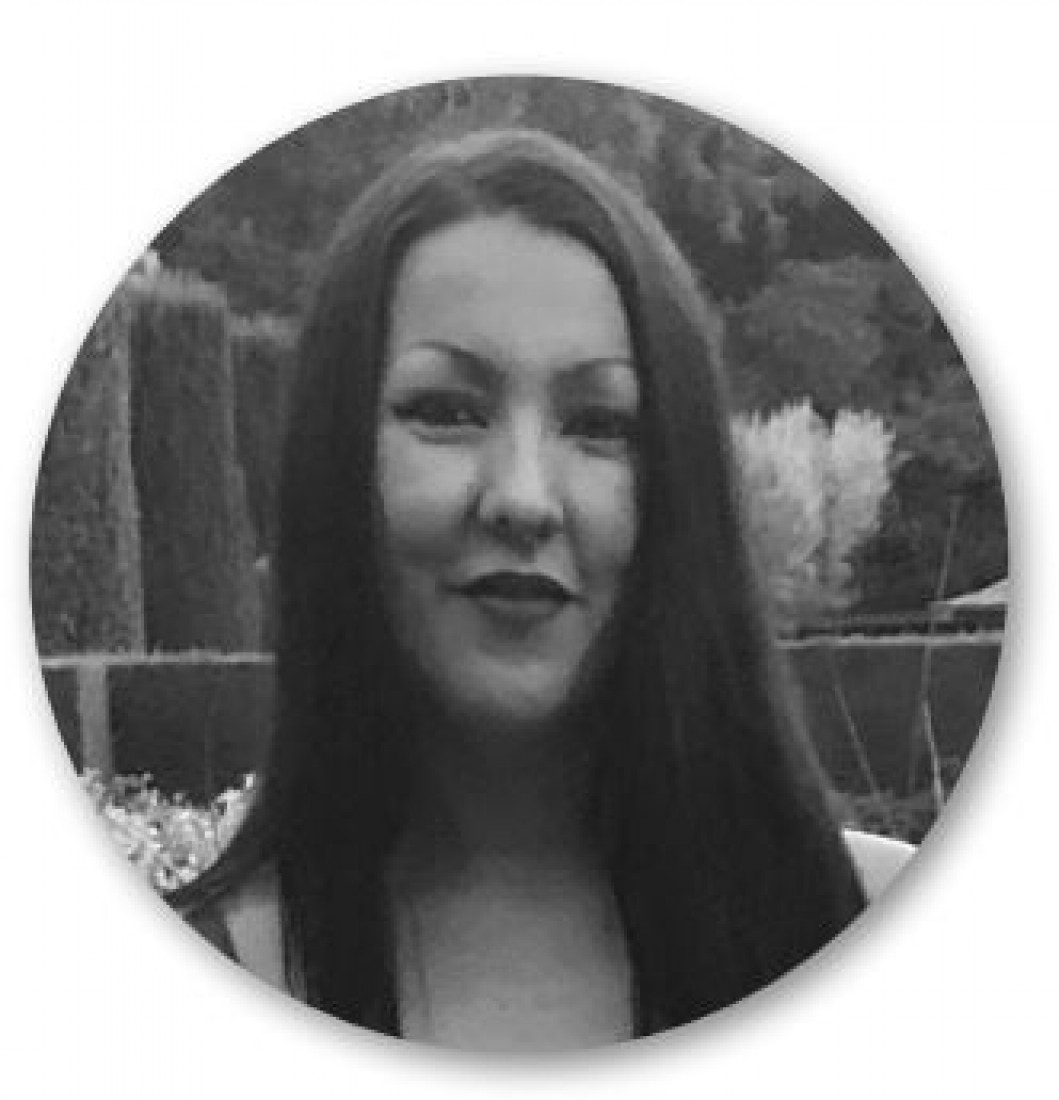 Heather De Bernardi
Director of Product Marketing
Heather is experienced and performance driven product marketer with 10+ year experience in the mobile game and app marketing. During 6 years of leading the Product Marketing teamat MZ (Machine Zone) - a global leader in the mobile gaming space - Heather was responsible for launching some of the world's most successful games such as Game of War, Mobile Strike, Final Fantasy XV: A New Empire, and most recently Crystalborne: Heroes of Fate. Heather is the key link between User Acquisition, Marketing and development teams ensuring the UA data transparency between teams so every marketing activity delivered best possible result. Deep diving into marketing and creative data, delivering data driven iteration and running A/B tests with rapid execution is the key of successful UA campaign.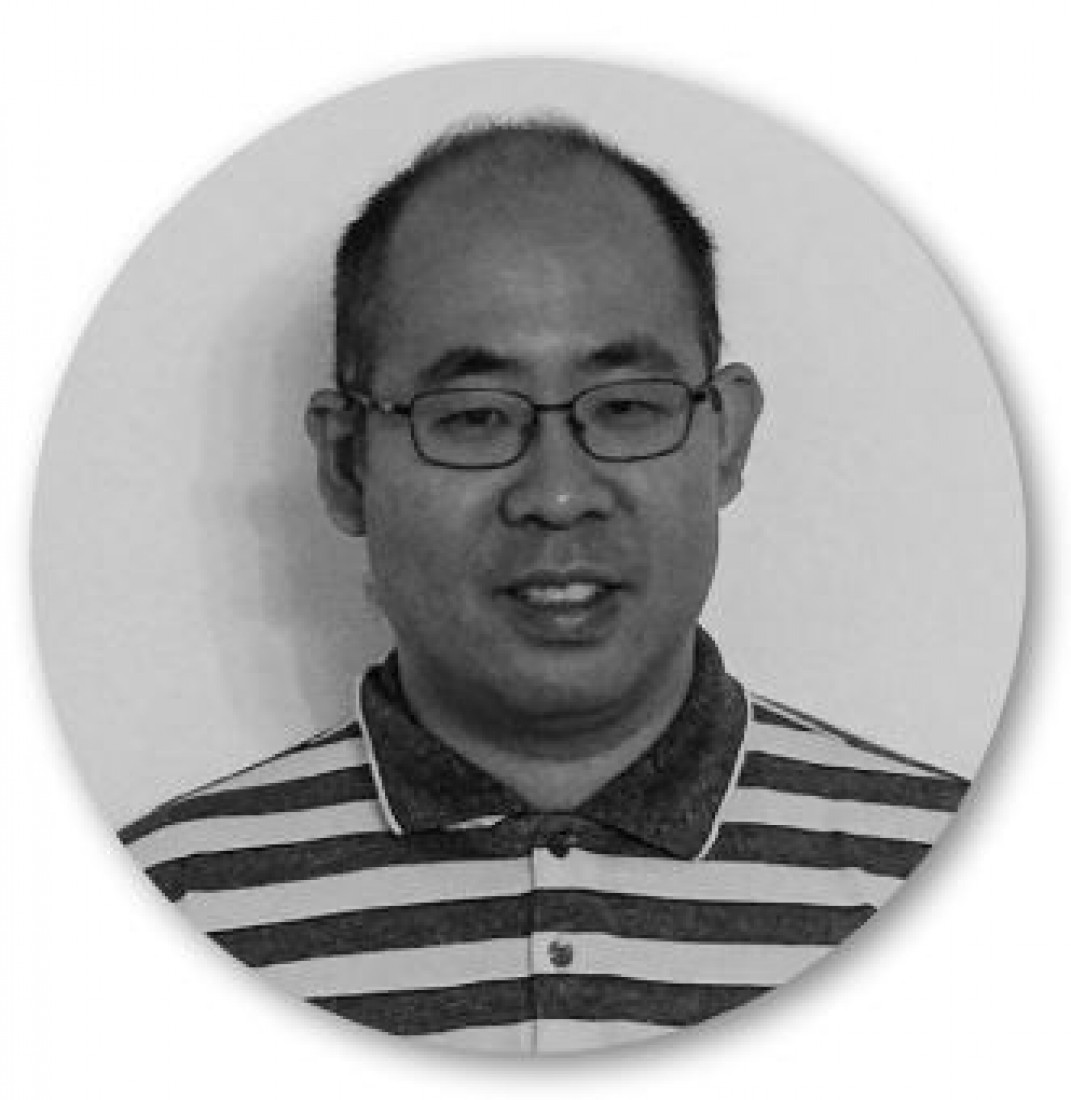 Darrel Sin
Game Design and Monetization
Darrel is an experienced and detail-oriented system designer and monetization specialist. He is a great mix of skilled mathematician combined with a passionate gamer which leads to the best gaming experience delivered straight to our users. Same as Geoffrey - Darrel has worked on Game of War: Fire age by Machine Zone following with monetisation lead role on Warner Bros. entertainment projects.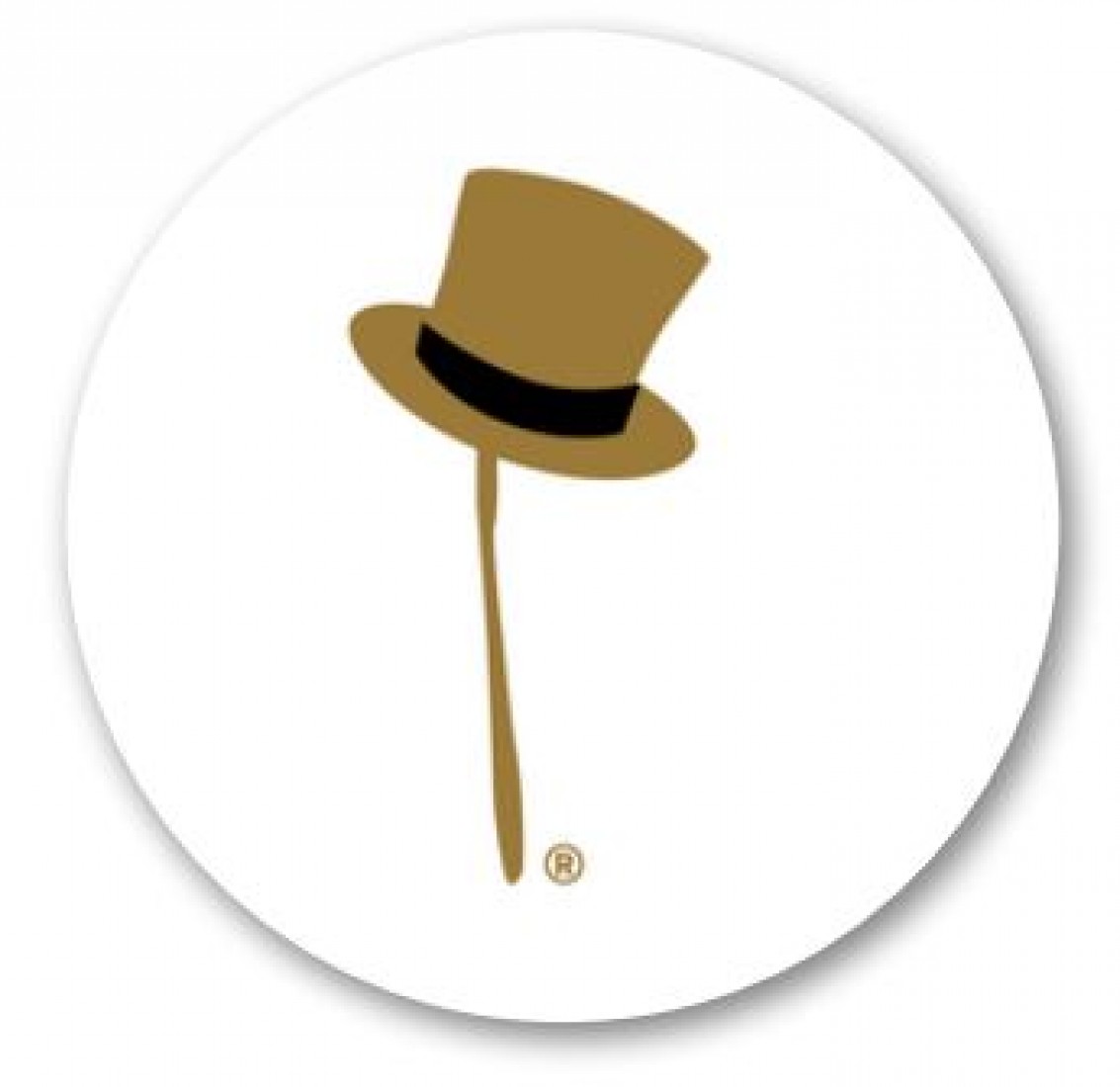 UX Magicians
UX/UI and Branding
UX Magicians are one of the worlds most trusted UI/UX and branding partners for premium game developers. Their proprietary pipeline allows to work with any game development team in the world and deliver world-class result. The UX Magicians have delivered design & integrated UI/UX for games like: Star Wars: Rivals / NBA 2k19 / WWE 2K19 / Disney Heroes: Battle Mode / WWE 2K18 / Injustice 2 / WWE 2K17 / Dragon Wars / Contract Killer: Sniper / Frontline Commando 2 / Eternity Warriors 3 / Deer Hunter 2014 / Dino Hunter / Tap Sports Baseball / Blood & Glory: Immortal / Robocop / Amazing Battle Creatures / Defenders & Dragons / Swords and Slots/ Motocross Meltdown / Tons of Guns / Gang Lords / Heroes of Destiny.

Rocket Ride Games
User Acquisition and Marketing
User Acquisition & Marketing Partner Rocket Ride Games is one of the top agencies specialising in user acquisition and marketing for mobile games. Marketing in Rocket Ride Games is ran by Casey Lee who is the former CEO of "Com2Us" which released mobile title "Summoners War: Sky Arena" which generated more than $1.5Bn revenue in Asia. Rocket Ride Gams will have important role in entering Asian an US markets.
In Dystopia: Rebel Empires, you start the game as a rebel who finds a location for his base in a post-apocalyptic future world where big corporations are controlling the society. You have to build an empire by taking over New York while collecting sci-fi themed gear, raid other players and upgrade base. Form and develop alliances with over 100 other real players. Lead them into economic growth, support them in raids or wage war against other alliances. The choice is yours.
Dystopia: Rebel Empires is a modern real-time tower defence and RPG seamless blend. Game features top quality 2d graphics combined with collection of fully customisable 3d heroes with player controlled abilities. In Dystopia you can compete in real time tournaments and participate in events to collect and upgrade 100s of equipment peaces. Player can build, collect hero equipment, battle other players and join alliances to engage in rich social system gameplay which enables high monetisation potential.
Monetization is designed to convert and monetise player from first session with dynamic and high value offers to enable high player LTV. Dystopia offers battle pass based subscriptions, live ops events, speedups and item rich economy. Rapid progress allows for generous bonuses while providing enough content for longterm player monetisation. This allows high player base engagement and generating constant revenue stream at same time.