Summary

Current investment opportunity offers CROWDESTOR investors to make a business loan in the amount of EUR 15 000 to the owners and operators of restaurant brand Meat Chef Gertrudes Street, in the historic center of Riga.
In recent months, the restaurant operations have slowed down due to Covid-19. Currently, the industry is getting back to regular operation rhythm, Meat Chef has funded construction of summer terrace from its own funds and now is looking for a loan to boost the operations. The restaurant is looking for working capital- a loan of 15 000 EUR with a 20% annual interest rate.
Meat Chef during Covid-19
Restaurant Meat Chef was opened end of December 2019. Very soon it became popular among locals and tourists that visited Riga in off-season. The restaurant reached its highest weekly turnovers in the weeks of February and the first week of March with an average weekly turnover of EUR 15k. As Covid-19 became more serious in Europe end of February, signs of a slow down in the Riga restaurant industry could be sensed. Meat Chef experienced the first minor decrease of turnover during the second week of March, however, the inevitable drop followed after the emergency situation was announced on March 13. In Latvia restaurants were not closed by the government, however, there have been restrictions for restaurant visitors and that made an impact on the demand and also the supply of restaurant services. The lowest weekly turnover was reached in the last week of March with only EUR 3620 - a 75% drop in the regular off-season income. April has shown a stable increase again, reaching a weekly turnover of EUR 6531, which is still a 56% drop in the regular numbers.
Meat Chef on Tērbatas and Gertrude's street corner opened a summer terrace mid-June taking into consideration all restrictions that were and will be in force. The emergency situation in Latvia was ended on June 9. The restrictions were weakened and the demand in the restaurant business in Riga increased.
Meat Chef in Old Riga was planned to be opened mid-May, however, due to Covid-19 the opening of this restaurant in a highly tourist-based location was postponed. The construction and ordering of appliances, interior elements, etc. were stopped at the beginning of March. The construction was restarted end of May to be able to open the restaurant in October or November, depending on the development of tourism due to Covid-19.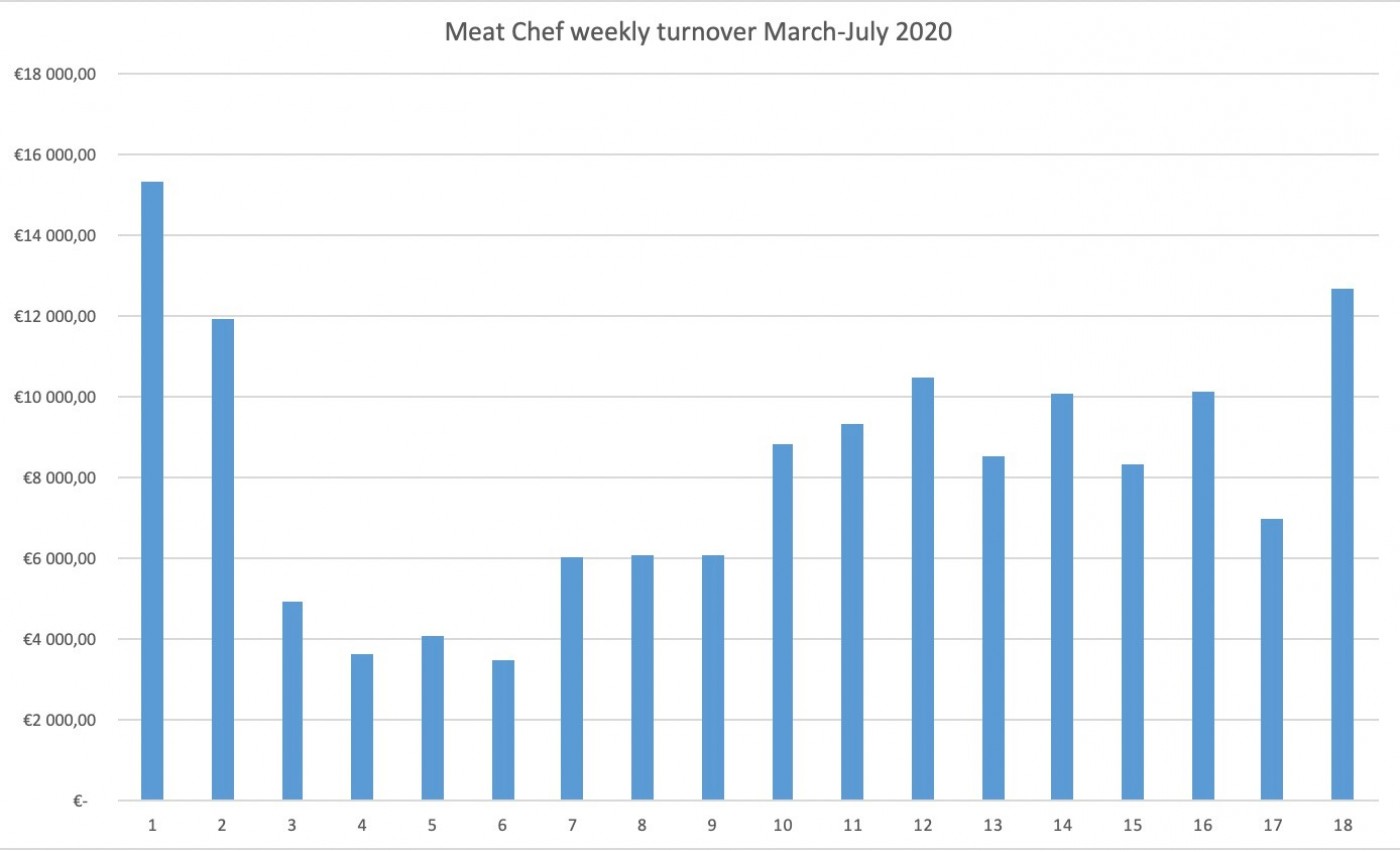 Loan:

Max. target: EUR 15 000,00
Min. target: EUR 5 000,00
Loan term: 9 months
Interest rate: 20% per annum
Interest payments: paid monthly
Loan repayment: In full at the end of the Loan Term.
Crowdestor BuyBack fund: Yes.
Collateral Agent: Crowdestor Security Agent OÜ
Collateral:
Guarantee issued by the Borrower, as well as the subordination of the loan granted by the existing shareholders/lenders to the Borrower, with an aim to facilitate that the Lenders are properly remunerated first.

Meat Chef - a trendy restaurant for meat lovers and others offering the best quality dishes in a light and relaxed atmosphere.
The demand for restaurants and dining experiences has changed much in the past decade in Riga, Latvia. A new trend has developed in the past years - fine quality meals and products are served in more casual restaurants allowing customers to enjoy only the best on a daily basis not having to wait for special occasions.
Since 2003 three Steiku Haoss restaurants have been opened and operated in Riga, Latvia. These are upscale steak restaurants with fancy western-style interiors featuring massive furniture pieces, animal skins, and antique decorations. Years of experience and special relationships with meat suppliers and butchers have allowed serving the best quality steaks at Steiku Haoss. However, above-average prices and fine-dining ambiance for years has led this brand to be perceived as rather expensive and out of reach among local customers. Furthermore, customers have become more educated about cooking processes and the demand for open fire-grilled meat has been increasing rapidly in the past years. These are reasons for decreasing demand and a strong necessity to adapt and change.
After 16 years of being in the market with the brand Steiku Haoss end of the year 2019 Steiku Haoss restaurant on Tērbatas street 41/43 was closed and a new concept restaurant "Meat Chef" has been opened. Meat chef continues to serve only the best, but in a more casual manner - a modern and informal interior and affordable prices, thus delivering better quality and unique flavors with the help of a natural charcoal grill.

This Meat Chef restaurant on Gertrudes street is the first of three restaurants in Riga, the other is planned to open in the second part of 2020. Next restaurants will be larger in size allowing to install a much larger charcoal grill with a smoker.

Menu concept

The Meat Chef restaurant is the first steak & meat restaurant in the city cooking most of its dishes on an open fire grill in the restaurant's dining room visible to its customers.
The menu has appetizers, salads, soups, steaks, burgers, fish, and desserts featuring both classics with a Meat Chef twist, and best quality rare finds. Most of the dishes will be totally or partially grilled to give them a special taste. Furthermore, there will be a take-away option for the growing segment eating on the go. The price level at Meat Chef will be at the market average, lower than currently at Steiku Haoss, also offering a wider range of products from lower-price to more valuable options. The restaurant offers a well-selected wine list, a short, but exquisite cocktail list, local craft beers, and great coffee. Meat Chef has custom fabricated spices and sauces to guarantee consistent taste for each dish. These spices, sauces, together with frozen Meat Chef signature beef burger sets will be offered for sale in the restaurants, as well as, in the finest grocery stores.

Interior concept

The restaurant is located on excellent premises on the corner of Tērbatas and Ģertrūdes street corner with large windows to both streets. The dining area consists of two connected rooms along the facade on each of the streets. The centerpiece of the new restaurant is a custom manufactured charcoal grill with several cooking options, located in the entrance room together with a large high dining table seating up to 14 customers and the bar. This room is perfect for enjoying the view of one's meal being prepared, master classes with the chef, a quick meal, or drink. The other room around the corner, a little more slow and comfortable, is able to seat another 36 customers at both high and low tables with a view at the meat aging lockers and a large glass wine cooler.

The main materials used are wood, metal, glass, leather, and velvet. Special attention is paid to lighting in order to create the right atmosphere both during day and night time in combination with unique neon decorations.

Designers of the first and also the following Meat Chef restaurants are Kirson Design Group, local professionals that have taken part in the development of some of Riga's trendiest restaurants and bars.

Team
The two owners of this restaurant have been in the hospitality industry in Riga for over fifteen years. They are also shareholders of one of the oldest restaurant chains in Latvia operating under the brand "Steiku Haoss", and founders of Latvian Restaurant Association aiming to organize the hospitality industry and its applicable legislation.
The most important objective of the Latvian Restaurant Association was decreasing VAT for restaurants. In the day of publishing the first fundraising campaign of Meat Chef, on January 20, 2020, a long-awaited moment came and a memorandum of understanding was signed between Ministry of Finance and Latvian Restaurant Association for decreasing VAT for restaurants from 21% to 12% which allows creating a more sustainable and transparent business environment in the industry.
The head chef of restaurant Meat Chef has been with the team for years, spending the last year in Monaco developing and fine-tuning his skills. He is dedicated to meat and his passion is letting products speak for themselves, bringing out the best taste of each ingredient by choosing the most appropriate cooking means and product combinations, however, keeping it simple, understandable, and unforgettably delicious.