Summary
The current investment opportunity offers CROWDESTOR investors to make a secured loan to project M119 Hostel.
Funds will be used to buy and reconstruct the real estate object located in the centre of Riga, Matisa street 119. Total area of the building is 1362,40 square metres. Object is expected to be commissioned by end of 2020.
M119 Hostel is economical segment hostel with prices per bed in a range from 13 to 20 EUR. Hostel will have dormitories and individually furnished rooms with total number of 130 beds. Hostel includes a bar, social area, Wi-Fi, kitchen.
Current investment opportunity offers CROWDESTOR investors to make a loan with 22% annual interest rate. Minimum target to be raised in this fundraising phase is EUR 20 000,00 and the maximum target is EUR 40 000,00.
Loan is secured with first-hand pledge on real estate.
This is fourth fundraising phase. Further funds will be raised once/twice per month until end of this year until commissioning the Object.
Reconstruction scedule is in place and technical project is being under development. Reconstruction will start as soon as permision is received from Construction authority.
Loan
Minimum target: EUR 20 000,00.
Maximum target: EUR 40 000,00.
Loan term: 9 months.
Interest rate: 22 % per annum.
Interest payments: paid in the end of loan term together with Loan repayment
Loan repayment: In full at the end of the Loan Term.
Crowdestor BuyBack fund: Yes.
Collateral: The loan is secured by first hand pledge on real estate on Matisa street 119, Riga, and assets bought for the hostel needs.
Remember - interest rate payments start calculating from the day you make your investment!
The Project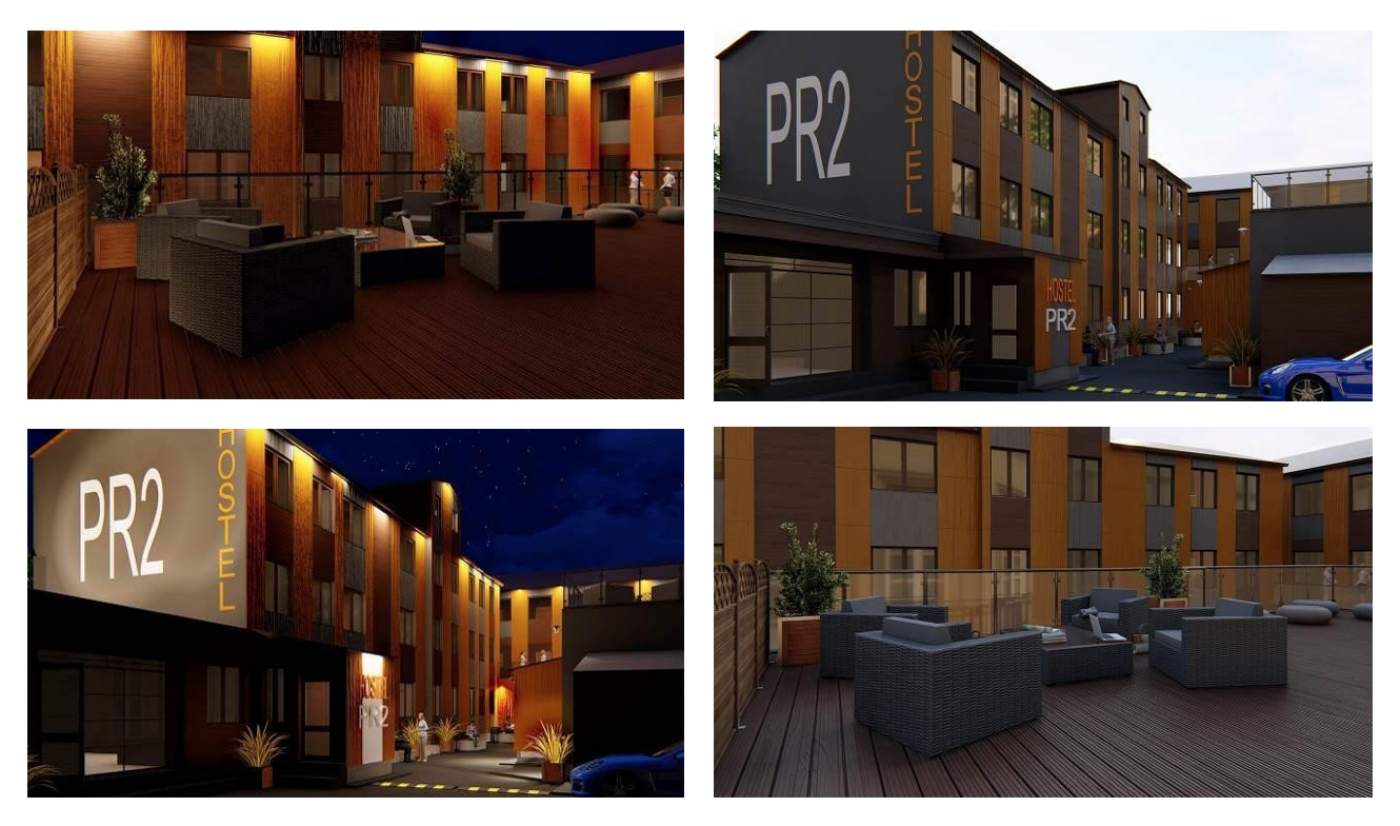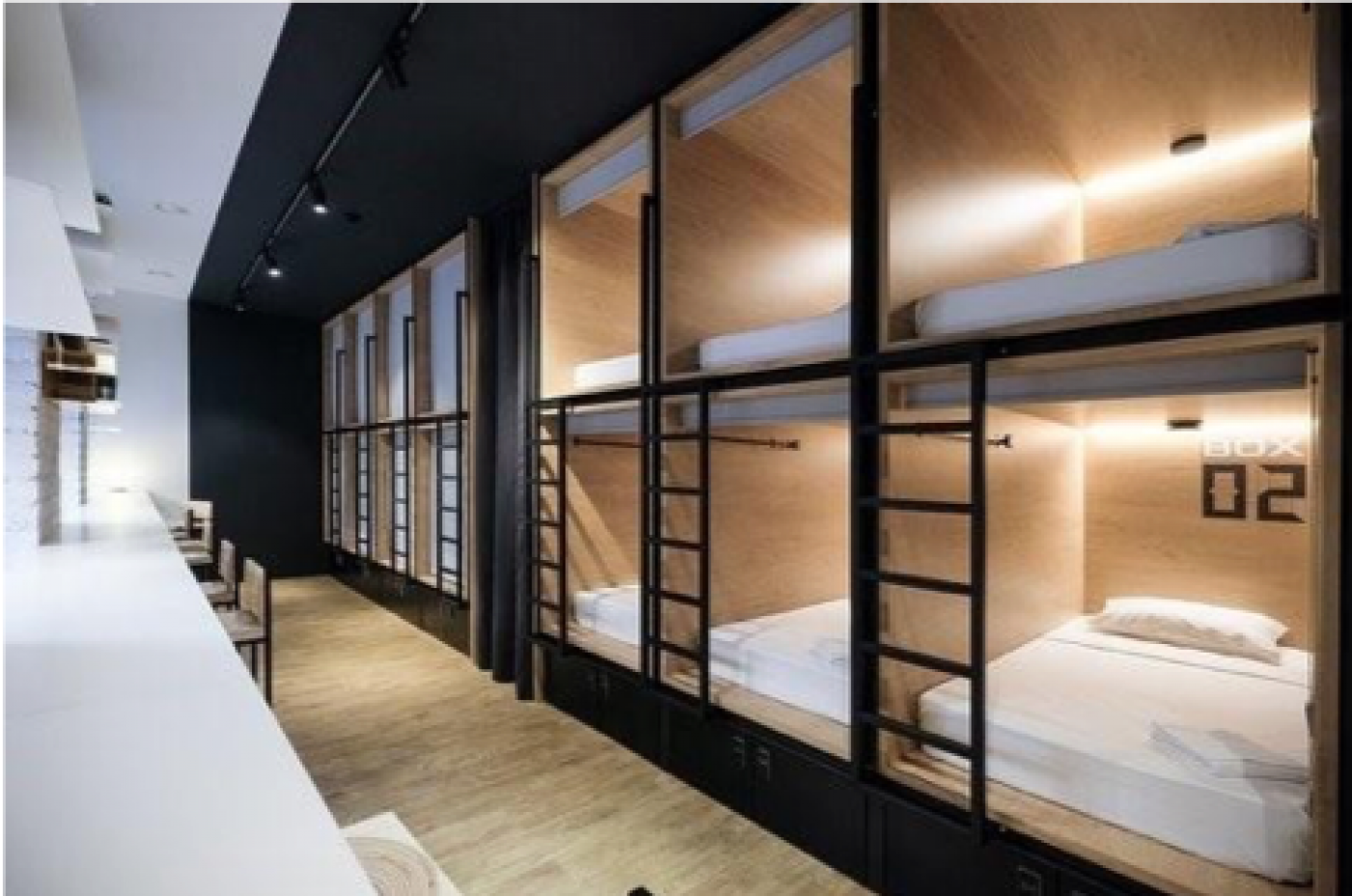 Project: M119 Hostel
Address of the property: Riga, Matisa street 119
Cadaster No. of the property: 0100 038 2014
Land Registry Folio No. of the property:
Building, total area: Residential building (0100 038 2014) with total area of 1228,74 m2 and auxiliary building for additional needs with total area of 133,66 m2
Composition of the property: Hotel building - hostel with 130 beds in possible future technical condition after reconstruction with total design area of 1228.74 m2 and auxiliary building for additional needs 133.66 m2.
Land plot with total area 925 m2
Current type of use: Former Dry-Cleaning
Best type of use: As a hostel building
Planned / authorized use according to development plan: Permitted use in accordance with the valid Riga Development Plan from 2006 to 2018 is a mixed building territory.
The property is free of the following encumbrances:
lease agreements
mortgages, pledge marks, debts, or other encumbrances which have the effect of extinguishing property rights
Financials
Funds raised in first fundraising phase: EUR 280 000,00
Funds raised in secont fundraising phase: EUR 100 000,00
Funds raised in current fundraising phase: EUR 125 000,00
Valuation of the object: EUR 1 059 000,00
Total investments during development and construction: EUR 820 000,00
Location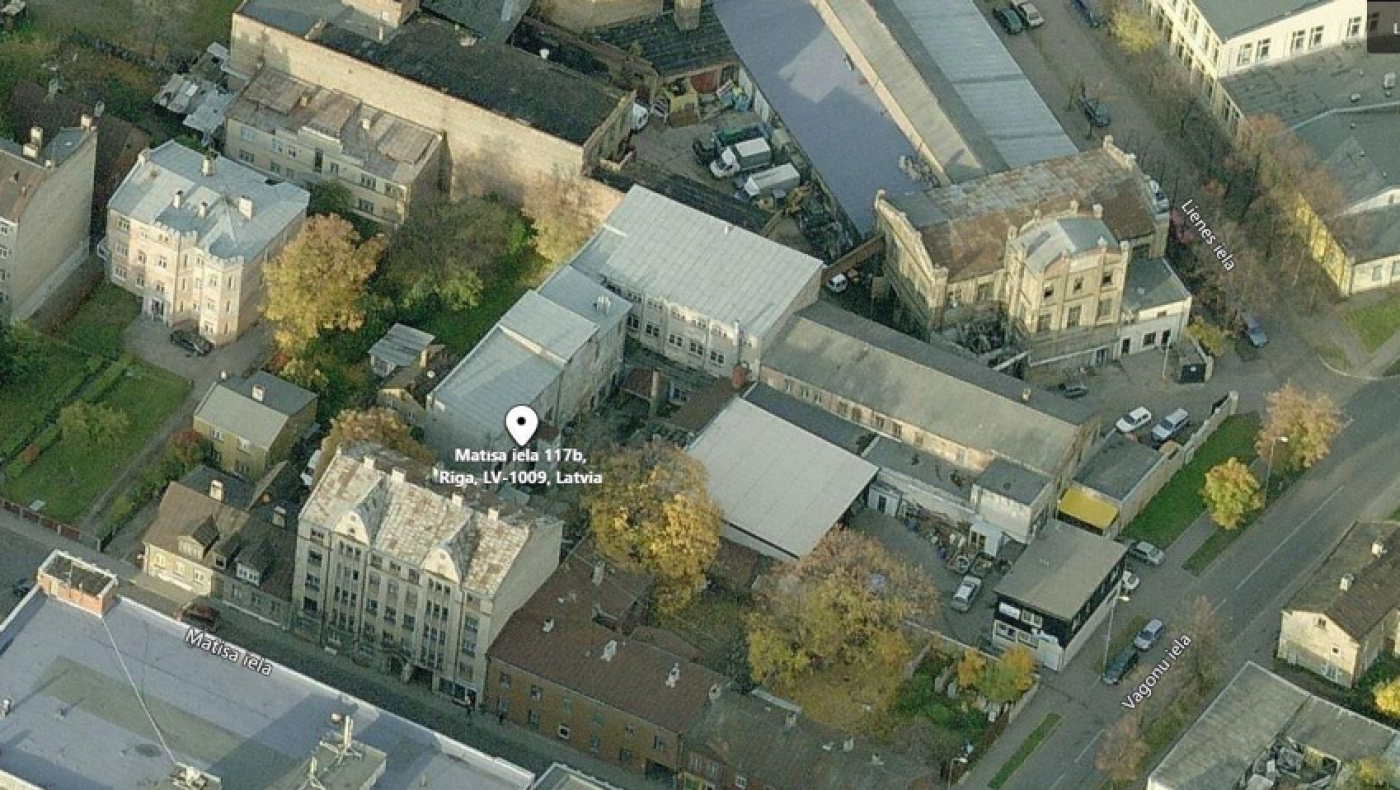 The property is located in Riga city center district. It is about 2 km or 5-10 minutes by car to the central Riga station. Public transport to Riga city center and other areas is provided by bus and minibus routes. The nearest route stop is on Valmieras Street.
Overall the location of the object in Riga city is considered satisfactory.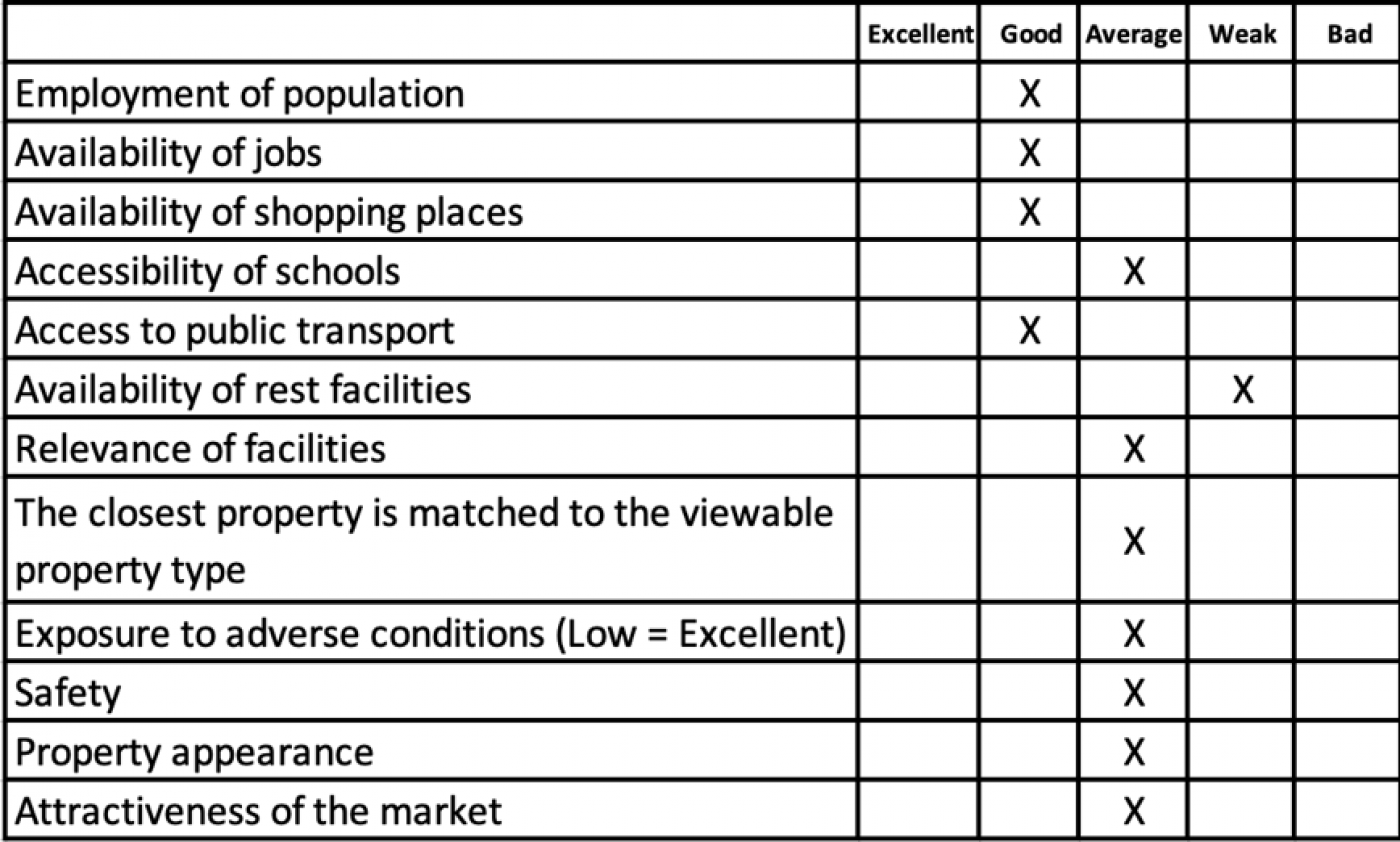 Description of land
The real estate consists of a land plot with a total area of 935 m2 and a cadastral number 0100 038 2014.
Access to the plot of land is from Matisa Street, which is paved with cobblestone pavement, through a gateway through the gate over the property belonging to others with Cadastral No. 0100 038 2014 which is historically created and not registered in the Land Register. Road traffic and pedestrian traffic on Matisa Street is intense. In general, access to the parcel by a car is convenient.
The land has a polygonal shape and it has a flat terrain. Land configuration and terrain are suitable for commercial site maintenance. Driveway and parking in the yard are covered with asphalt pavement. Real estate from adjacent property is enclosed by a metal construction gate. The technical condition of the gate is satisfactory.
The property is surrounded by apartment houses, business buildings, commercial objects, industrial objects.
Market Description
Global economic growth this year is slower worldwide in the post-crisis period, and the next year we will not be seeing a rapid growth. Weakening growth is also observed in Latvia, where it is dragged down by weak export investments and slower growth in household consumption. Growth has slowed down more than expected this year, so we have lowered Latvia's economic growth forecast for this year to 2.3%. It is expected that we will see the lowest point of growth at the end of this year or next year. Overall, we expect growth to increase to 2% in 2020, but the good news is that growth is expected to recover gradually by the end of the year.
Global economic growth has undeniably lost momentum this year. This is evidenced by stagnant international trade volumes, weakening growth, and, in many cases, a decline in manufacturing, as well as increasingly gloomy business sentiment, which has naturally been reflected in weaker investment activity. So far, faults have mainly concentrated in the productive part of the economy. In the service sectors, growth has been more resilient, but recent months have seen signs of slower sector development. On the other hand, the labour market has performed well overall.
The lowest point in Latvia's economic growth could be reached in the next year. Latvia's economic growth has slowed down considerably this year, from 4.6% last year to 2.5% in the three quarters of this year. Economic downturns are largely driven by investment and exports, but household consumption is also growing at a slower pace. The slower growth in household consumption can be explained by the less powerful increase in purchasing power. Household consumption is expected to continue to grow next year, albeit at a slightly slower pace as wage growth slows from 7-8% to 6% and household spending becomes more cautious.
Given that economic growth has slowed down more than expected in the first three quarters of this year, and the outlook for the global economy remains bleak, the Bank of Latvia has lowered its GDP growth forecast for this year to 2.3%. Growth will continue to slow down towards the end of this year, with the lowest point likely to be reached in the first half of next year, but by the second half of 2020, growth will begin to slowly improve. Overall, growth is expected to fall to 2% in 2020, but in 2021, as the global economy recovers, growth will rise to 2.5%.
Central banks are trying to support the economy, but the tools at their disposal are dwindling. Given that interest rates are already low, the effectiveness of monetary policy in stimulating economic growth is limited, especially in the euro area. At this point, fiscal policy instruments would be much more effective. Higher government spending, coupled with structural reforms, could boost return on investments and sustain demand in the economy. However, the question is whether and how quickly governments will be able to agree on the necessary spending increases.
Compared to the same period a year ago, commercial property investment in the first 6 months of this year is 19% higher and reaches 150 million euros. Half of this amount is made up of a single transaction in which the Baltic Horizon Fund acquired the Galerija Centrs shopping center from Linstow for EUR 75 million. The second largest investment transaction this year was the acquisition of the Elipse BLC logistics center by Mariner Capital Limited. A new player in the Latvian market is the Estonian Lumi Capital, which this year has already managed to acquire the leased retail space of Rimi and MyFitness in Imanta Anninmuizas Boulevard and DHL logistics center. Although there were no significant investment deals in the office segment in the first half, the second half began with the sale of Luminor's headquarters building to investment company Colonna.
Since 2010, the number of serviced accommodation establishments has been increasing every year, as well as the prestige of Latvia, especially Riga, due to the increasing number of international branded hotels entering the market.
According to the Central Statistical Bureau, the number of people accommodated in tourist accommodation has been increasing every year since 2010. The most rapid increase in recent years (by 13.05%) was two years ago.
The centenary celebrations were widely celebrated throughout the country, which could slow down the number of tourists this year. However, one has to take into account the fact that this year also has a wide program of Latvia's centenary events and the supply of tourism in Latvia is constantly evolving, therefore no significant drop in the number of tourists is expected. It should be noted that Latvia's centenary events abroad have also indirectly raised Latvia's profile and thus increased the number of tourists.
When comparing Riga with other destinations in Central Europe, Riga stands out for its charm. They have a rich culture and strong traditions, including high-end restaurants and the euro. These are important aspects that are highly appreciated by foreign visitors. Tourists visiting Latvia often refer to the country as a hidden gem, because when you come to Latvia, you are surprised at how many different things you can see and enjoy there.
In recent years, the Latvian market has been chosen by international brand hotels, which undoubtedly raise prestige. Grand Hotel Kempinski Riga, a five-star luxury hotel, is 40 meters from the Latvian National Opera and Ballet. It is planned to open the Hilton Garden Inn on Grecinieku Street, the Alberts Hotel under reconstruction, a new Radisson RED hotel on Elizabetes Street, and the first InterContinental Hotels Group hotel in Latvia in the former Press House building.
However, for the time being Latvia is dominated by four-star hotels, which offers a fairly wide price range, so the luxury five-star hotel field is not so busy at the moment.
Seasonality plays an important role in tourism in Latvia and the summer season is the busiest one - from May to the end of September. But even in the low season, hotels do not complain about lack of work.
On September 18, 2019, the first Hilton brand hotel in Latvia was officially opened in Old Riga, with a total investment of EUR 13.5 million. The new hotel in Riga will be managed by Apex Alliance Hotel Management, a hotel management company that promises to bring other new international hotel chains to Riga.
Apex Alliance Hotel Management is an independent hotel management company that has prioritized the establishment and development of long-term and mutually beneficial relationships with investors, property owners and private equity while providing quality management services to existing hotels.
Hilton is a leading global hospitality company with 17 world-class hotel brands. 5900 hotels operate in 114 countries worldwide, offering more than 939,999 guest rooms. Committed to becoming the world's most hospitable company, in 2018 Hilton ranked among the world's top employers. Over 100 billion Hilton hotels have welcomed over three billion guests in 100 years. The entry of the world's leading hospitality company Hilton into the Latvian market is an important event for the industry as a whole. Riga is also expected to be a destination for almost 100 million existing Hilton customers, significantly increasing the number of inbound tourists.
Hotel operator Mogotel plans to open hotels in Lithuania, the Czech Republic and Austria next year, while two more will open in Latvia in the next four years. Wellton Balzam Hotel, a four-star hotel with 125 rooms, a spa centre and a restaurant, will open in Riga in 2021, while Mogotel plans to open another four-star hotel on Audeju Street in 2023, with 225 rooms, a spa centre and a restaurant. Mogotel currently manages 15 hotels under the Wellton Hotels, Rixwell Hotels and Rija Hotels brands. The company is exploring expansion opportunities in the Central European countries, Lithuania, Austria, the Czech Republic, Hungary, Poland and Bulgaria. In 2018, the turnover of SIA Mogotel reached EUR 21.3 million.
The Riga Hotel Fund increased by 512 rooms already in 2017, including the opening of the five-star Grand Hotel Kempinski Riga. In 2018, three new hotels with a total of 347 rooms and 250 renovated rooms were commissioned in Riga and one of the biggest events in the hotel sector was the entry of new hotel operators into the market, which increased competition among operators.
Despite new hotel offerings in the market, room occupancy rate in Riga continued to increase and this trend will continue in 2019. In the face of increasing competition in the hotel sector, hotel operators will need to take a number of targeted measures to retain existing customers with a greater focus on targeting and positioning the product, as short-term rental apartments are on the rise in addition to direct competitors.
The differences between key hotel concepts will become even more pronounced in the future. On the one hand, there is a growing development of limited service concepts that almost exclusively focus on the sale of rooms and the provision of a very limited additional revenue stream, such as the setting up of restaurants (Park Inn by Radisson Residence Riga Barona concept).
To expand the service offering to its guests, some brands are increasingly engaging in strategic partnerships with successful food and beverage (F&B) operators or businesses near the hotel, including health clubs and gyms. This concept is particularly successful in urban areas and allows operators to maximize profits by maximizing guest numbers while providing access to other services.
There are hotel companies that are investing heavily in the F&B sector and public space development to maximize profits through revenue that is not directly related to room sales. Such hotels are increasingly becoming a sought-after entertainment and gathering place not only for tourists but also for residents and office workers, thus providing a socializing function, such as Pullman Riga Old Town who also is organizing outdoor brunches.
According to the latest data released by the Central Statistical Bureau, in the 2nd quarter of 2019, 781.1 thousand foreign and domestic guests were served in Latvian tourist accommodation establishments, which is 1.1% more than in the 2nd quarter of 2018. Growth in Latvia is well below 3.5% to 4% in Europe.
According to report data on hotel and other accommodation establishments, 1.9 million foreign travellers used accommodation services in Latvia in 2018, an increase of 8.2% compared to the previous year.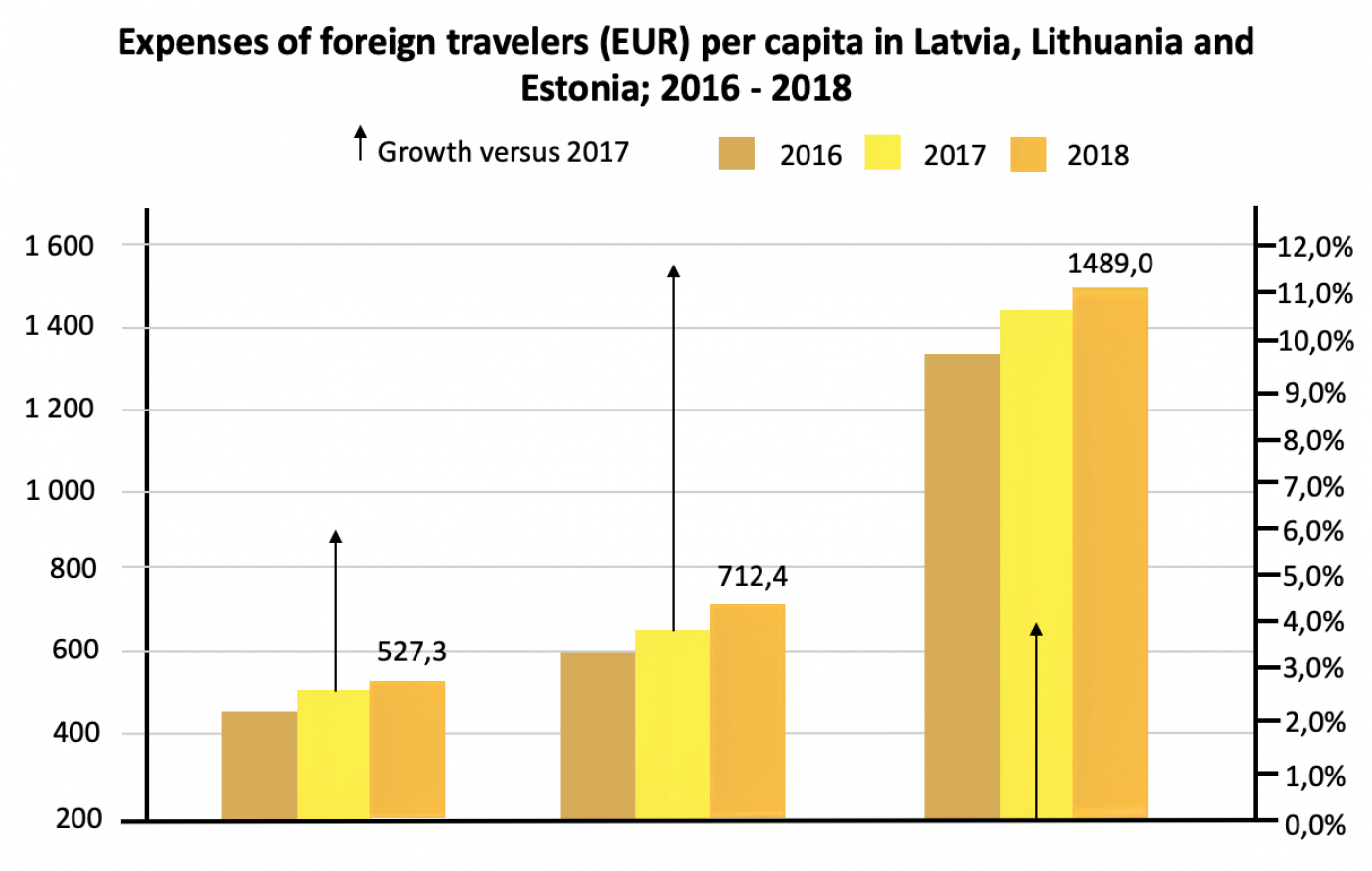 According to the data of the tourist accommodation report, in 2018 the share of foreign travellers from the countries identified as priority target markets decreased, reaching 57.5% (in 2017 - 59.2%). In contrast, the share of travellers from countries of secondary target markets increased, reaching 15.7% of total travellers (15.0% in 2017). The share of travellers from far-off target countries remained at the previous year's level of 5.3%.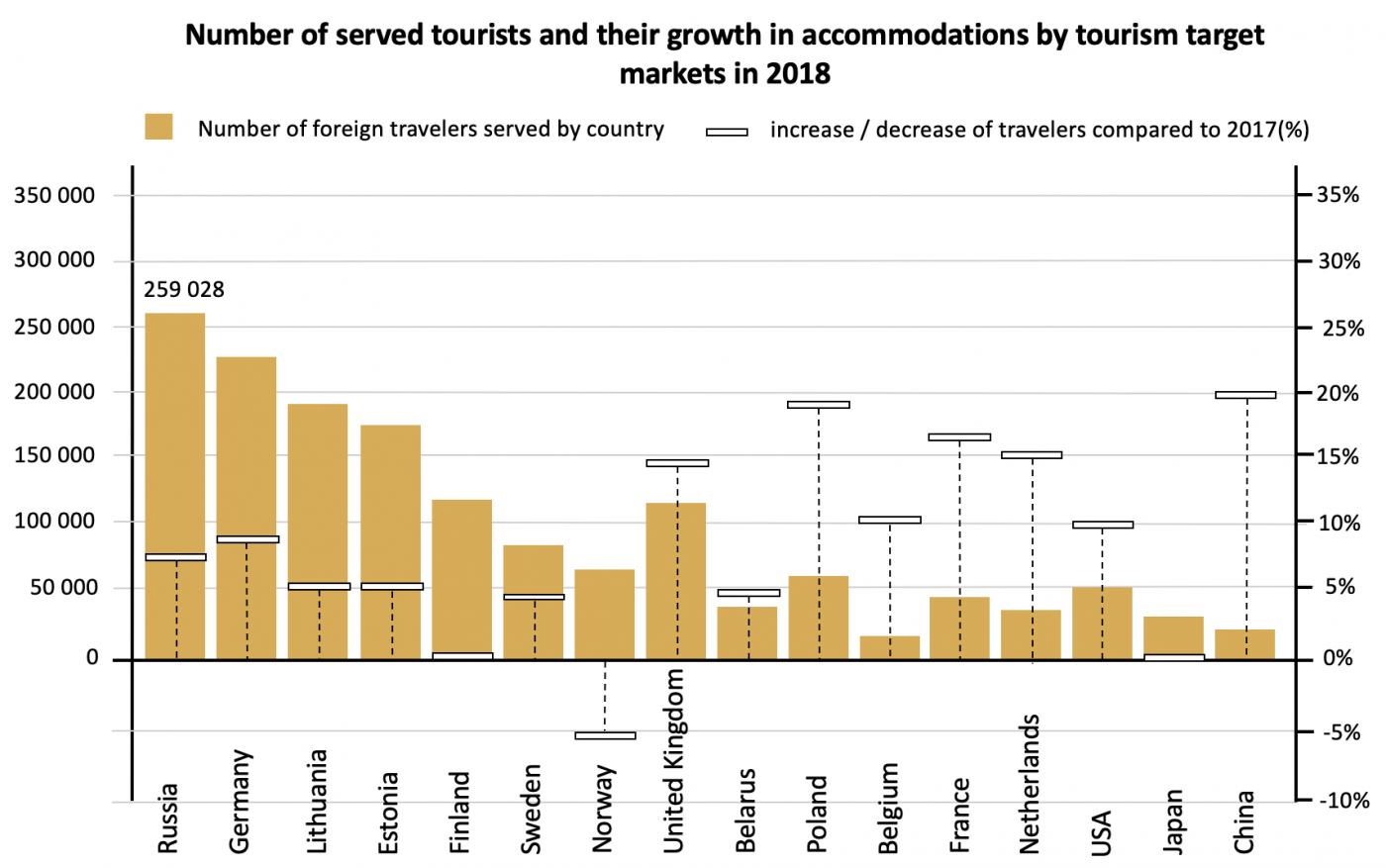 The average length of stay of foreign guests staying at accommodation establishments in Latvia in 2018 was 1.94 nights (in 2017 - 1.91 nights). The average length of stay for guests from priority markets was 1.85 nights (1.83 nights in 2017), 2.02 nights from secondary markets (1.98 nights in 2017), and 1.84 nights from distant markets (1.77 nights in 2017).
In the second quarter of 2019, the dynamics of tourist growth are still limited. Significantly fewer guests were from the United States (32.9% less). This decrease was influenced by the fact that in 2018 participants in several military projects were classified as tourists because they stayed in hotels. However, due to the small number of tourists, such changes are significantly reflected in the statistics.
The increase in the number of guests from Germany (6.2%) is positive. Basically, Germany is the base market for Latvian tourism supply. We share cultural, historical and other features, and we can offer tourists from Germany a wide range of culinary opportunities, beaches and nature, opera, and more. The German people are very close to us mentally and they understand the products and services offered by Latvia.
Statistics show that 31.4% or 172.4 thousand of foreign visitors came directly from neighbouring countries. 12.4% of them are Russian. This is quite a large number considering the visa requirement. These data confirm that national policies have not diminished the desire to visit Latvia; Individual travellers often use cars, so they not only stay in Riga and Jurmala, but also visit other cities.
The sharp differences between Riga and regions are gradually diminishing. This is also reflected in the distribution of guests between Riga and other cities. Slowly and gradually, but still the changes are happening - of course, most visitors are still received in Riga (75%), Jurmala - 9.1%, Liepaja - 2.1, Sigulda county - 1.9%, Ventspils 1.2% and Daugavpils - 1%.
The fact that the lion's court focuses on guests in Riga is only logical, given the location of airports, accommodations and other factors, but it is a pleasure to see the situation improving in other cities as well. If we look at Liepaja separately, the increase in foreign visitors has reached 20%.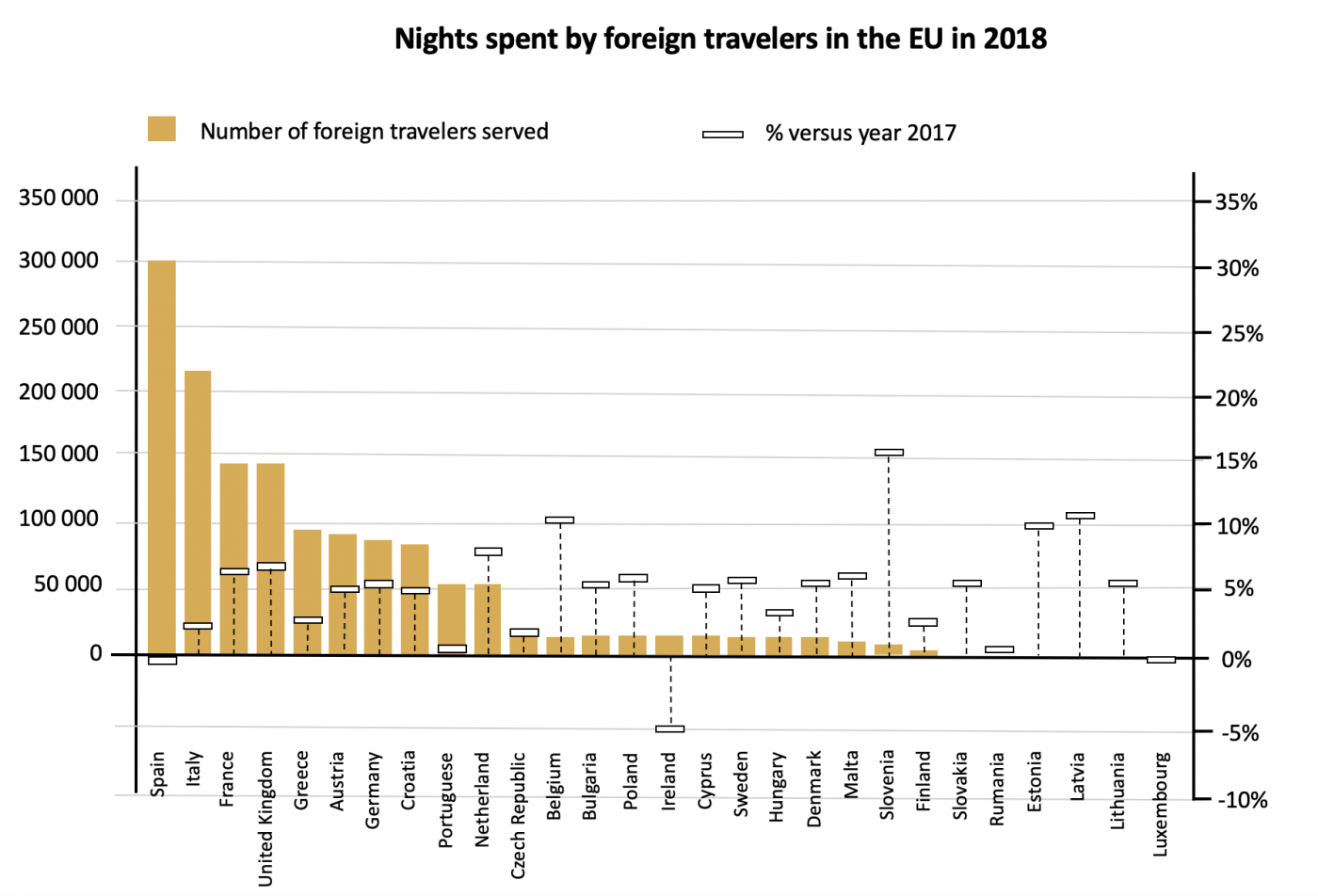 Overnight stays by EU foreign travellers in accommodation increased by 2.6% in 2018