SUMMARY
Current investment opportunity offers CROWDESTOR investors to make a secured loan to forest management company SIA "Dižozols Investments" in order to purchase additional property portfolio for logging, with minor part of arable agricultural land and merge into to their already acquired property portfolio. Funding is necessary to acquire 81 ha of land, with purchase price of EUR 300 000 for 12 month period, LTV 70%, timber harvest will deliver EUR 160 000 within first 6 monts, in addition properties include 30% of arable agricultural land with higher market value than forest land. The loan will carry an 16% annual interest rate paid quarterly. The loan is secured with a pledge on acquired properties.
First two stages of investment have delivered acquisitions of 1006 ha of forest and agricultural land, in addition 586 000 EUR in harvestable timber stock. At the moment Dizozols Investments are in the process of negotiating the sale of the portfolio acquired during first two acquisition phazes. Agricultural land will be seperated from the portfolio and sold apart from forest land portfolio, thus yielding higher return.
LOAN

Minimum target: EUR 100 000
Maximum target: EUR 300 000
Loan term: 12 months
Interest rate: 16%
Interest payments: paid quarterly, first payment after 6 months
Loan repayment: In full at the end of the Loan Term
BuyBack fund: Yes
Security: The loan is secured with a pledge on all acquired land properties, 70% LTV
Forest property purchase: Company and it subsidiaries plan to acquire large ares of timberland

Remember - interest rate payments start calculating from the day you make your investment!

DIZOZOLS STORY

Dizozols is one of the largest and fastest growing forest management companies in Latvia and the first to offer its clients improved forest management practices providing transparent chain of custody for timber harvest and deliveries as well as higher yields from timber sales. Company's roundwood sales for Q1 and Q2 of 2019 amounted to 353 795 m3, which is 96% growth compared to the corresponding period in 2018. Our team of 60 highly trained and experienced specialists is focused on delivering exceptional service to our clients, suppliers and partners. In order to achieve our aim, we pursue innovation driven management policy and are constantly invest in process automation. Show the whole team (https://www.dižozols.lv/en/about-us).
We work with a wide range of timber buyers, selling most of the materials to Scandinavian companies as well as local mills and other international players. For most of these wood buyers, we are the single largest supplier in the private sector.
GRAANUL INVEST - Europe's largest pellet manufacturer with 11 processing plants in Baltics;
STORA ENSO - one of the leading suppliers of renewable materials in global markets;
SVEASKOG BALTFOR - one of the leading processors of pulpwood in Sweden;
DOMŠE Latvija – subsidiary of a Finish pulp mill;
SCA MEŽS LATVIJA - subsidary of SCA - Sweden's largest forest owner, wood product, pulp, paper and packaging material, as well as renewable energy producer.
Figure #1 Dizozols growth 2010-2019 (EUR, employees)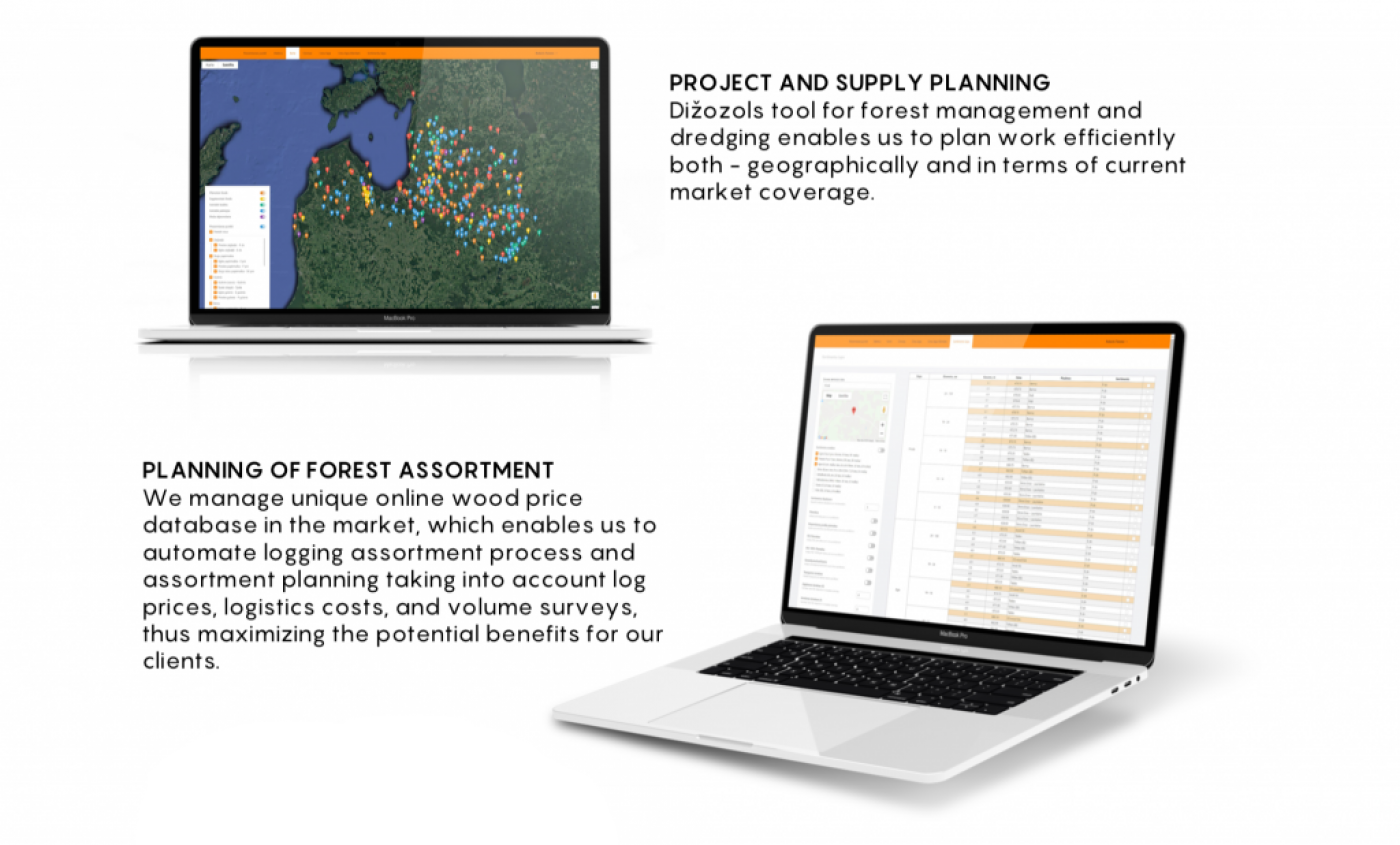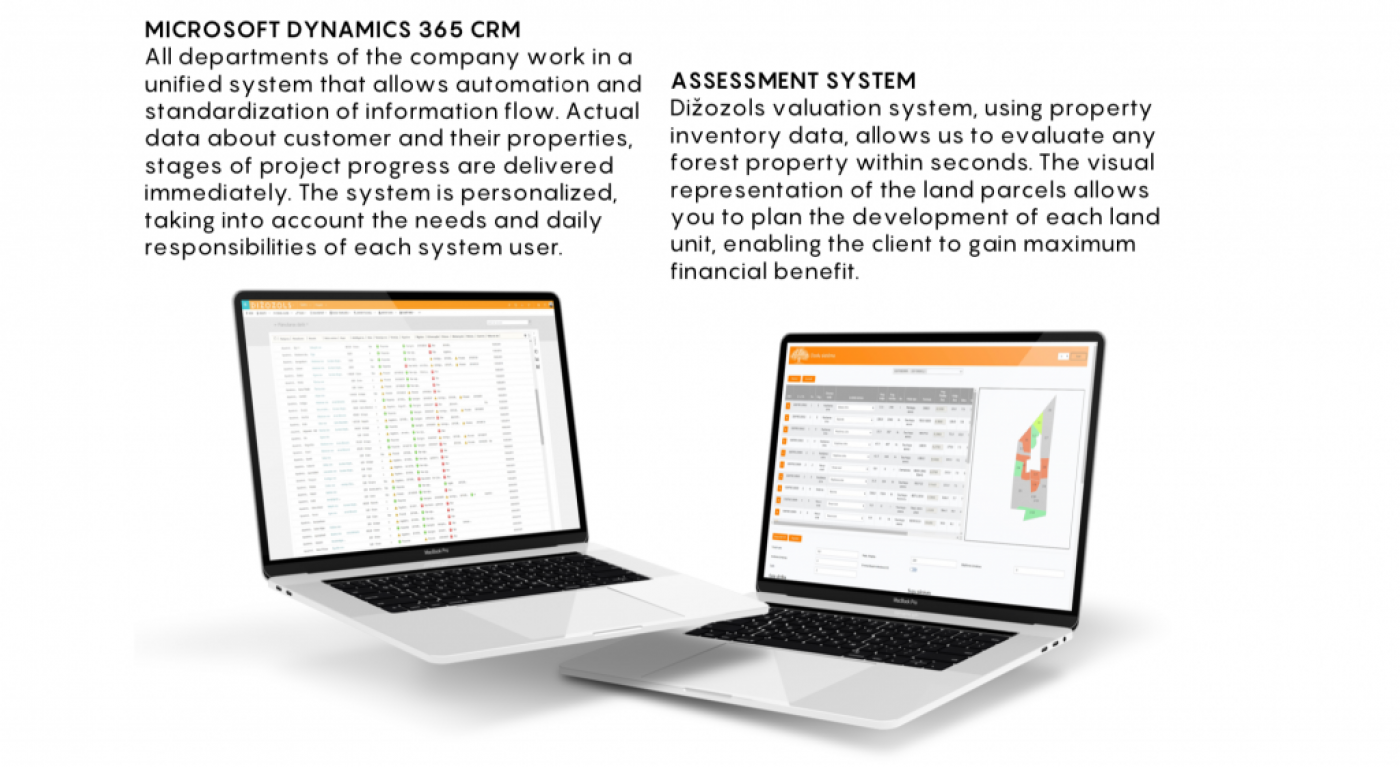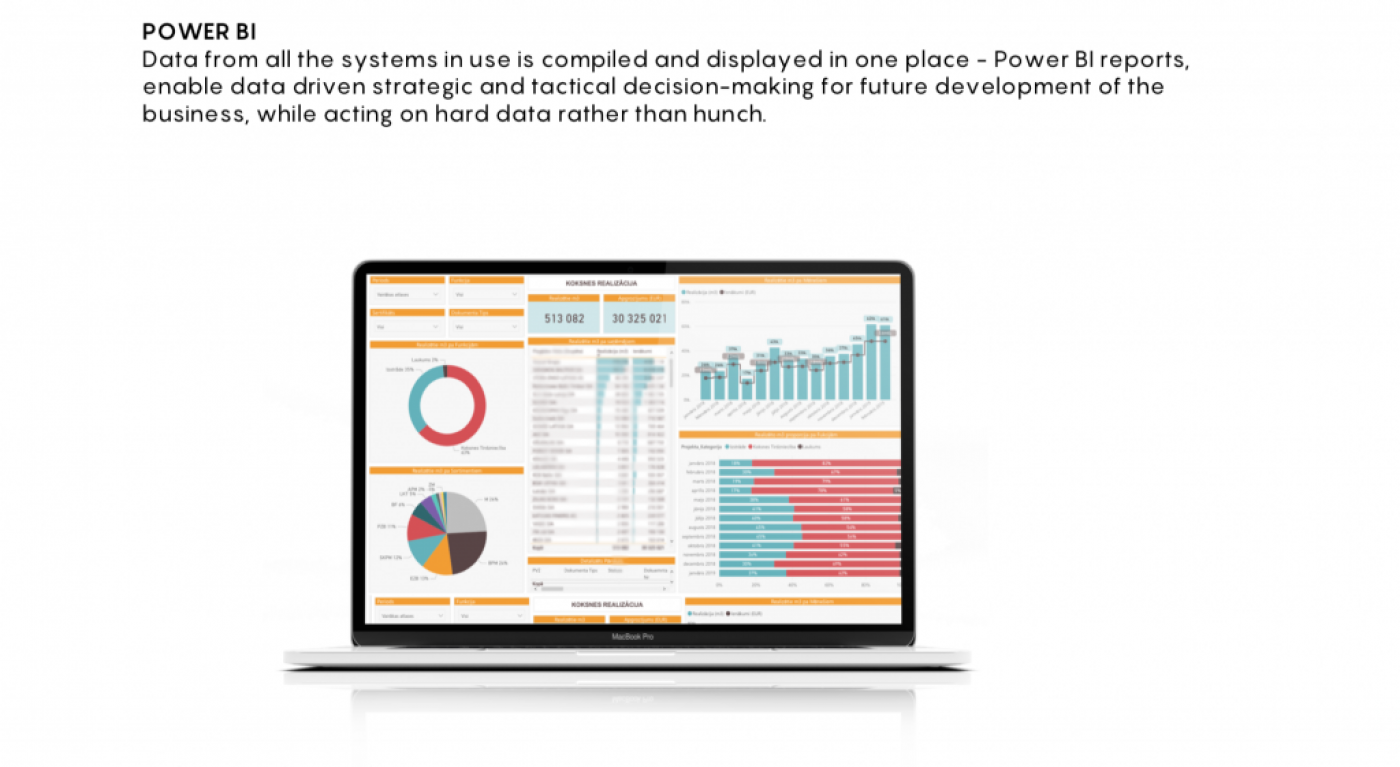 MORE ABOUT US
We promote responsible and sustainable forest management, therefore we are certified by both major global chain of custody certificates.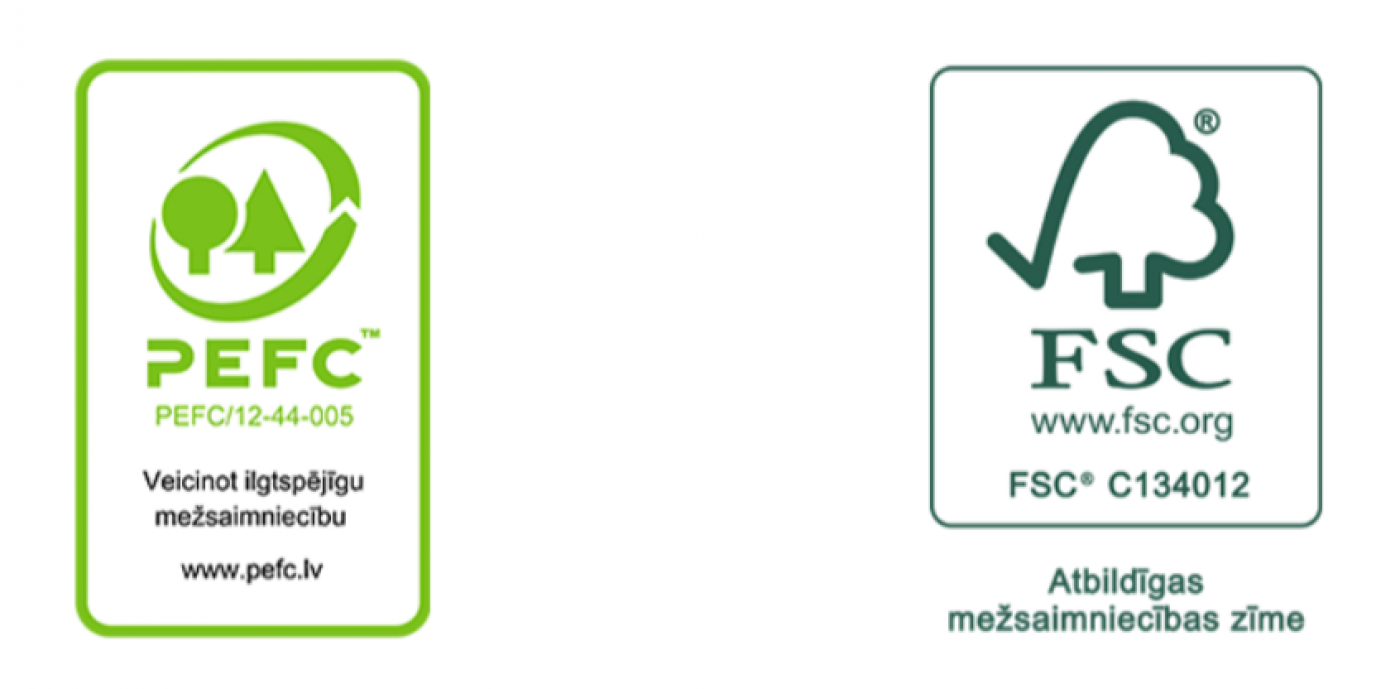 Dižozols is also actively involved with the largest associations of forestry sector that comprise the largest and most market participants. This is an opportunity to express and drive our opinion regarding of industry issues and influence development of the forest policy in Latvia.
For more information about the company and its services please visit www.dizozols.ir.

GLOBAL FORESTRY OUTLOOK

Globally wood energy, pulp or timber product demand has been steadily growing, especially in emerging markets with China leading the growth. Besides the normal market trends there are technological advancements as well as the impact of climate change that will push the use of renewable resource - wood and substantially increase the demand of forest products the decades to come.
As the consequences of climate change are felt more and more on daily basis by general public, the pressure on decision and policy makers to act increases. The two major uses of timber both are undergoing an industrywide change driven by research of new applications and processing of wood.
Substituting plastic
"As plastic refuse washes up on idyllic beaches, the world is turning its attention to renewable alternatives - pulp as substitute to plastic." (Stora Enso: Goodbye to plastic)
Sustainability has gained huge momentum in the past couple of years as concerns over plastic waste have added to the concern over CO2emissions from fossil-based packaging materials. Consumer-goods companies, retailers, packagers, and policy makers alike are now exploring a wide range of possible solutions for what tomorrow's packaging will look like.
Wood is a biomaterial with exciting properties, from the log on down to fibers, micro- and nanofibers, and sugar molecules. A healthy niche industry making bio-products has existed for many years alongside large-volume pulp, paper, and board products. We are in the midst of an explosion of research activity to develop new bio-products, ranging from applications for nanofibers to composite materials and lignin-based carbon fiber.New processesare being designed to extract hemicellulose as feedstock for sugars and chemical production while still keeping the cellulose parts of the wood chip for pulp products. The push for new applications and higher value added can be seen across the globe with Europe and USA leading this transformation.
Mass timber
It is well known that timber is the only renewable construction material, whose resources can be expanded and replenished through sustainable forestry management. In fact, in managed forests across Europe, there are 5 trees planted for everyone which is harvested (Wood for Good). Trees are also sometimes referred to as the lungs of our planet, whose growth is the very mechanism by which the increasing amount of CO2 is taken out of the atmosphere and is replaced by oxygen. What you may not be aware of is just how powerful the CO2 sequestration of trees is: in a cubic meter of timber building material, approximately a ton of carbon is stored within the building fabric. Massive timber products include glue laminated timber, cross laminated timber, as well as others laminated timber products, which can be applied from private house to 40+ floor commercial space construction. At first glance this technology might seem costly, but when prefabrication options that considerably increase building speed, building resilience properties and impact on environment are accounted for, mass timber use is competitive. There are few things one must know to grasp the potential of mass timber:
Mass timber is fire resistant. During fires, exposed mass timber chars on the outside, which forms an insulating layer protecting interior wood from damage.
Mass timber is strong. Recent mass timber buildings weigh approximately 1/5th that of comparable concrete buildings, which in turn reduces their foundation size, inertial seismic forces and embodied energy. High strength-to-weight ratios enable mass timber to perform well during seismic activity.
Mass timber is sustainable. Replacing steel with mass timber would reduce carbon dioxide emissions by between 15% and 20%. Choose the right material for a sustainable, safe and resilient project. Mass timber buildings can be 25% faster to construct than concrete buildings decreasing emissions in the process.
Mass timber makes construction cost-efficient. Mass timber buildings are roughly 25% faster to construct than concrete buildings and require 90% less construction traffic. Since mass timber panels are prefabricated and then assembled on site, buildings made from mass timber have much shorter project timelines and safer construction sites.
We believe wood-based products will find new ways to considerably enlarge their foot- print in a more sustainable global economy. Forestry is an industry that has a new sense of purpose and an increasingly vital role to play in the challenges ahead.
SUSTAINABILITY, CLIMATE CHANGE AND ITS MITIGATION

With climate change debate and threat of negative economic and social disruption inten- sifying, it becomes more and more clear, that a major part in the mitigation of these risks will be global change of land use and afforestation, also stated by the proceedings of the National Academy of Sciences of the United States of America: "Natural climate solutions can pro- vide 37% of cost-effective CO2 mitigation needed through 2030 for a >66% chance of holding warming to below 2 °C." An IPCC (Intergovernmental Panel on Climate Change) 2018. report states: "Model pathways that limit global warming to 1.5°C with no or limited overshoot project a... ...2 million km2 reduction to 9.5 million km2 increase in for- ests by 2050 relative to 2010 (medium confidence)." This is a clear indication that legislators and in- dustry will be focused on more sustainable forest management and growing forest areas across the globe. In addition, this will lead to additional income streams for forest owners, since forest capture CO2, these quotas will be necessary industries which emit it CO2 to offset emissions.
Figure #2 Contribution of natural climate solutions (NCS) to stabilizing warming to below 2 °C. Historical anthropo- genic CO 2 emissions before 2016 (Black line) prelude either business-as-usual (representative concentration path- way, scenario 8.5, orange line) or a net emissions trajectory needed for >66% likelihood of holding global warming to below 2 °C (blue line). The green area shows costeffective NCS (aggregate of 20 pathways), offering 37% of needed mitigation through 2030, 29% at year 2030, 20% through 2050, and 9% through 2100. This scenario as- sumes that NCS are ramped up linearly over the next decade to <2 °C levels indicated in Fig. 1 and held at that level (=10.4 PgCO 2 y −1 , not including other greenhouse gases). It is assumed that fossil fuel emissions are held level over the next decade then decline linearly to reach 7% of current levels by 2050.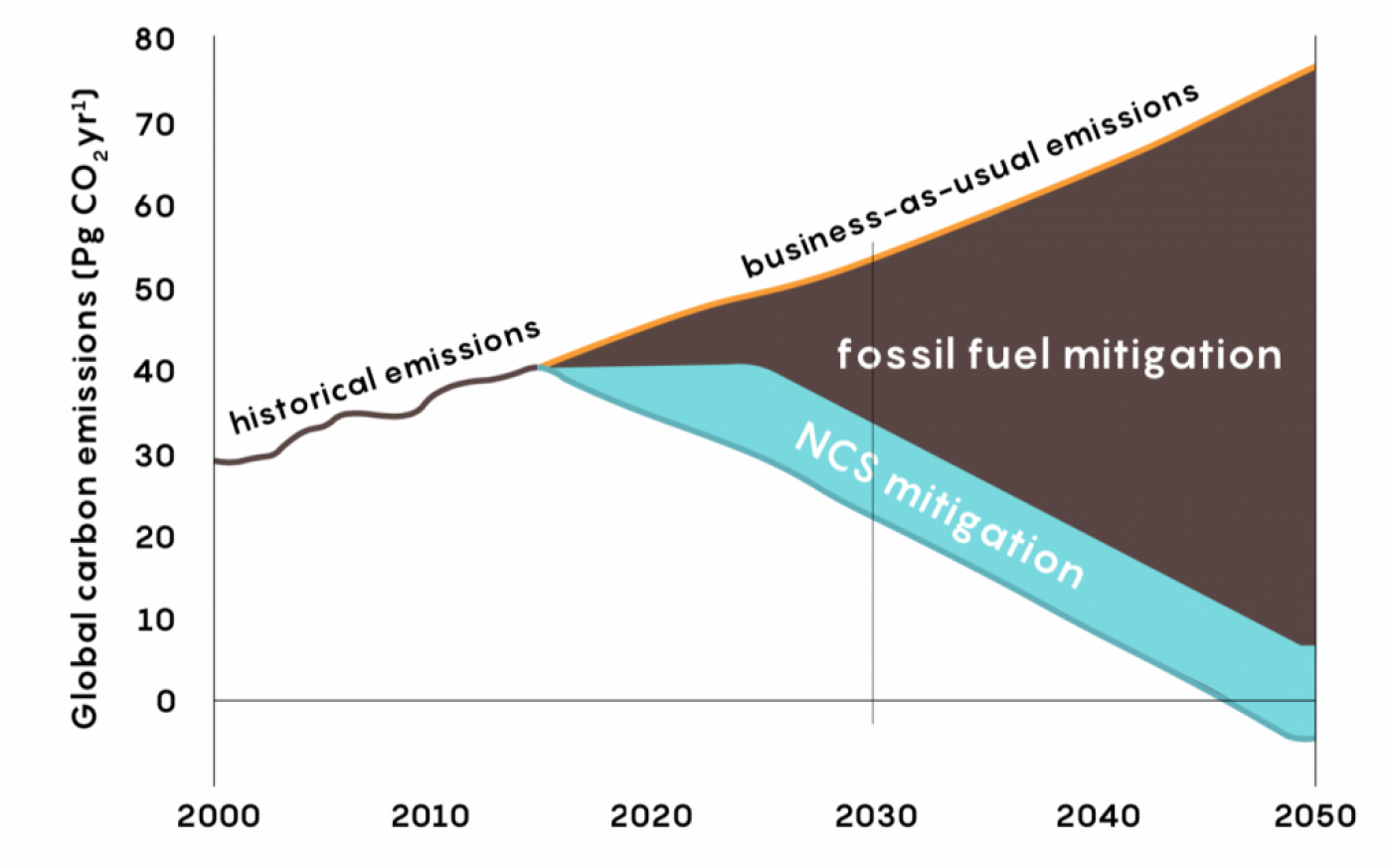 LATVIAN FOREST LANDSCAPE

Latvian forests occupy 3,383 million hectares and cover 52% of the country territories. In addition, forest areas continue to increase. Forestation occurs both naturally and by af- forestation of non-fertile agricultural land. However, another more important indicator is the fact that stored timber volume or growing stock is increasing at three times the rate of forest area coverage growth. This is a clear indicator that Latvia's woodland does not in- crease by afforestation of bush meadows which are not considered productive forest land, rather the contrary the country is undergoing significant forestry activity. During the past decade the average annual harvest in Latvia's forests averages to 11,69 million m3 of wood. This is considerably less than natural growth, making countries forestry industry one of the most sustainable in Europe.
Figure #3 Latvian forest area (thousands ha)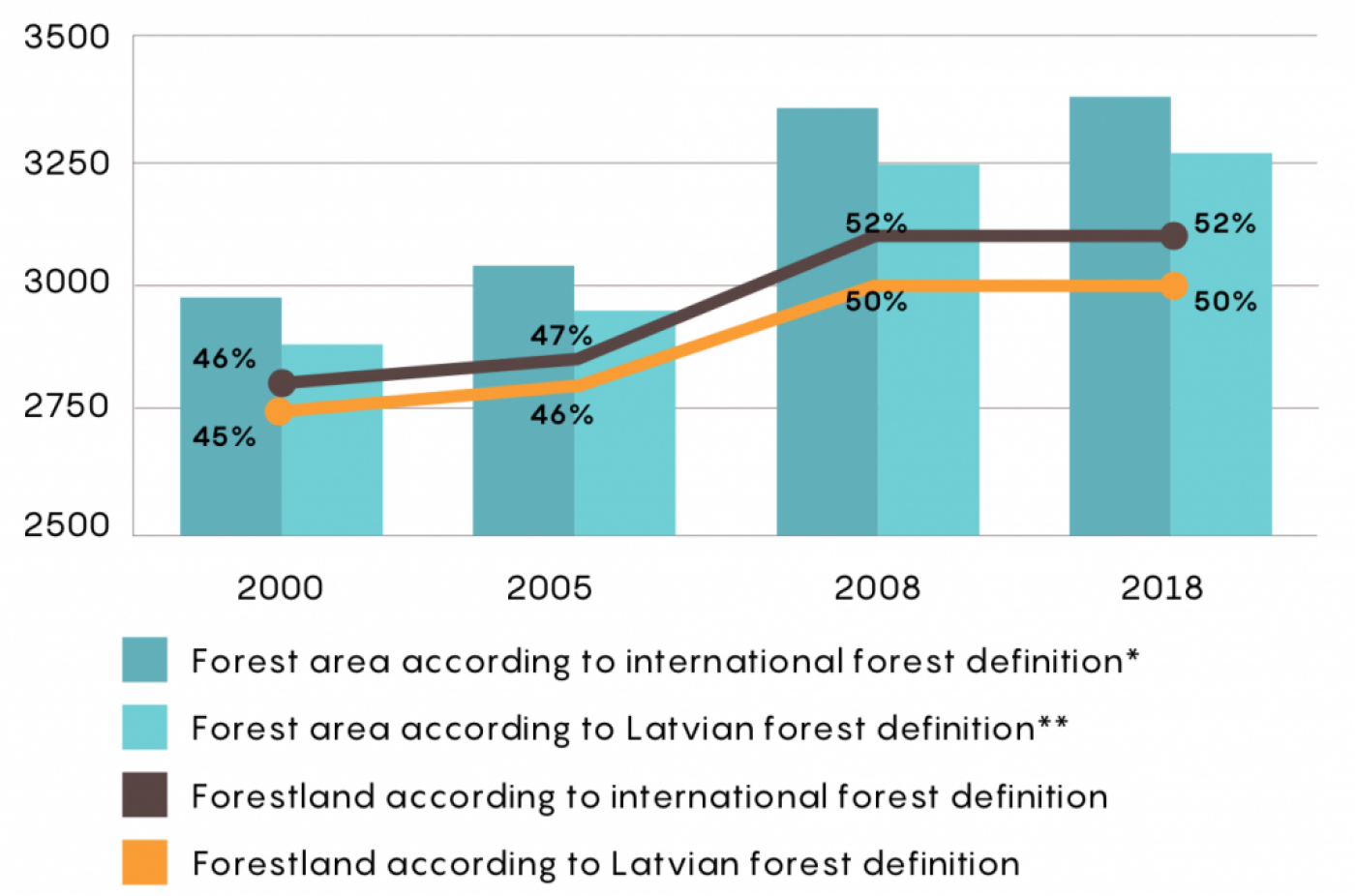 * International forest definition includes forest stands, collapsed stands, forest fire dam- aged areas, windfalls, clearings, glades and land under forest infrastructure facilities.
** Latvian forest definition includes forest stands, collapsed stands, forest fire damaged areas, windfalls and clearings.
Figure #4 Latvian timber harvest in private and public sectors (million m3)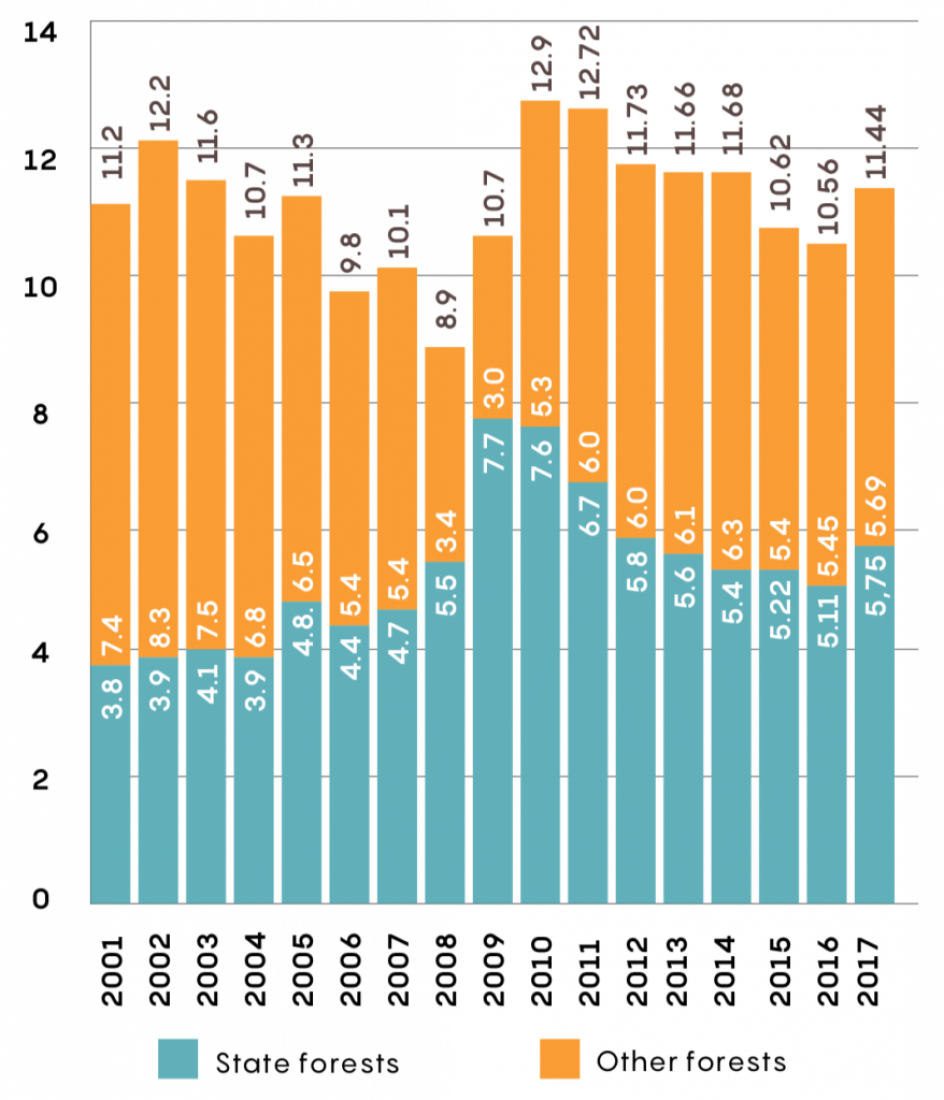 Figure #5 Latvian forest industry share in total country exports (million EUR)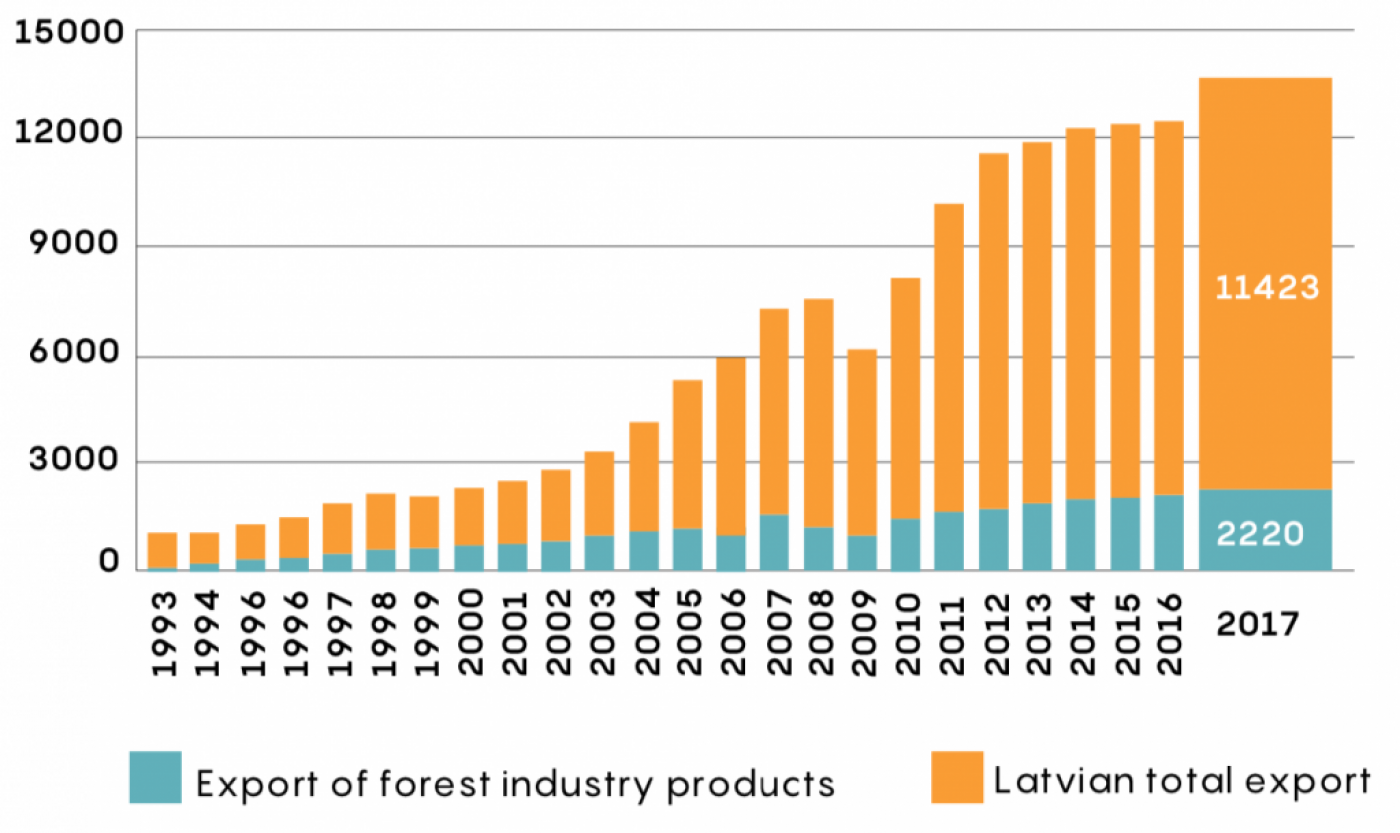 Figure #6 Distribution of Latvian timberland by ownership and hectares, 2018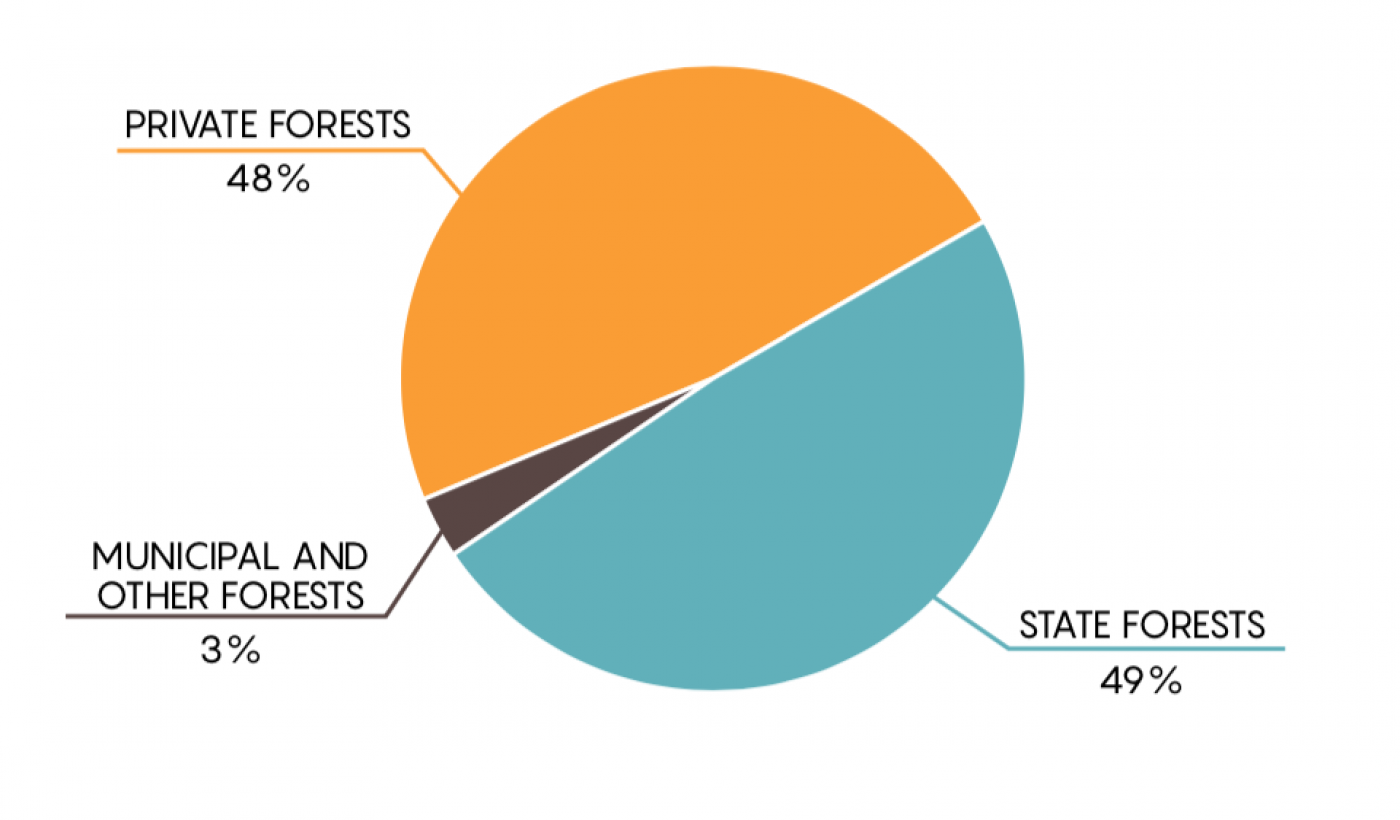 Timberland ownership structure in the country is split to 49% state owned and managed forests to 51% privately owned and commercially managed forests.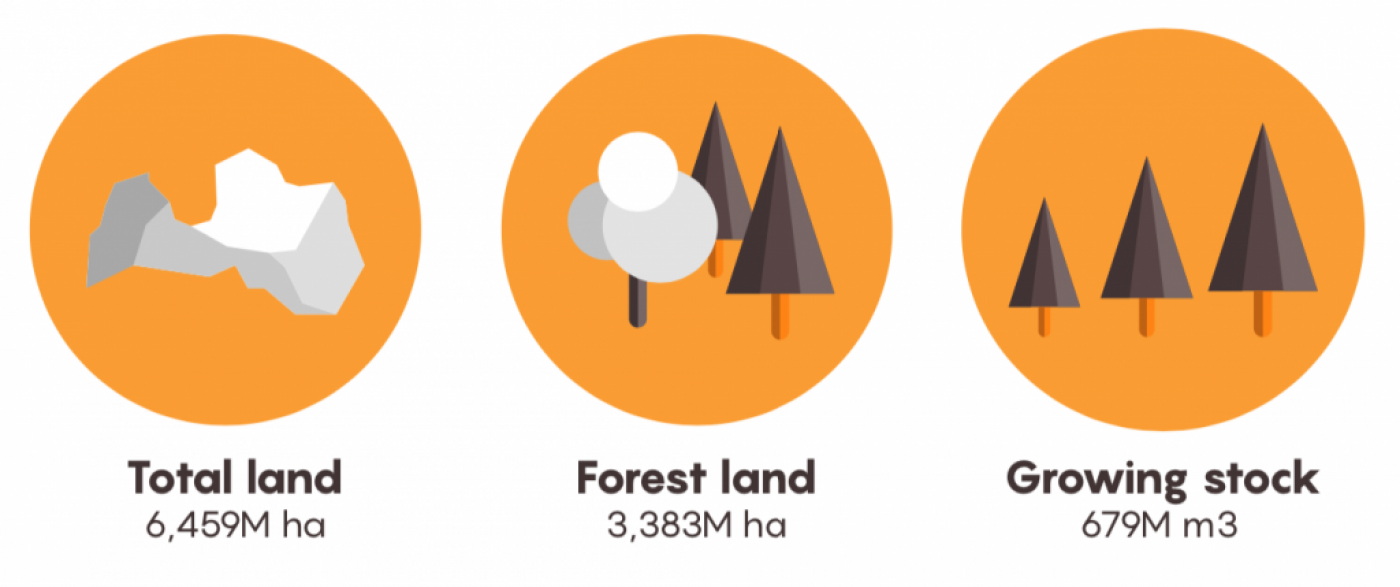 OUR VISION FOR SUSTAINABLE FOREST MANAGEMENT
Dizozols has been pioneering several practices of precision forestry in Latvian market by implementing worldwide recognized systems and services as well as developing its own solutions, such as field support tools, to automate processes, gather quality data, digitaliz- ing inventory, mechanize harvesting and optimizing logistics. All the above-mentioned measures have helped to deliver exponential growth over past years, provide transpar- ency in chain of custody for wood product supply to our clients as well as set us upfront in terms of market share and pricing.
Our vision is to use digitalization to improve yields form own as well as supplier forest properties, drive artificial regeneration with valuable spices, ensuring higher property value and outcomes in the future.
Figure #7 Sustainable forest management cycle, pine spices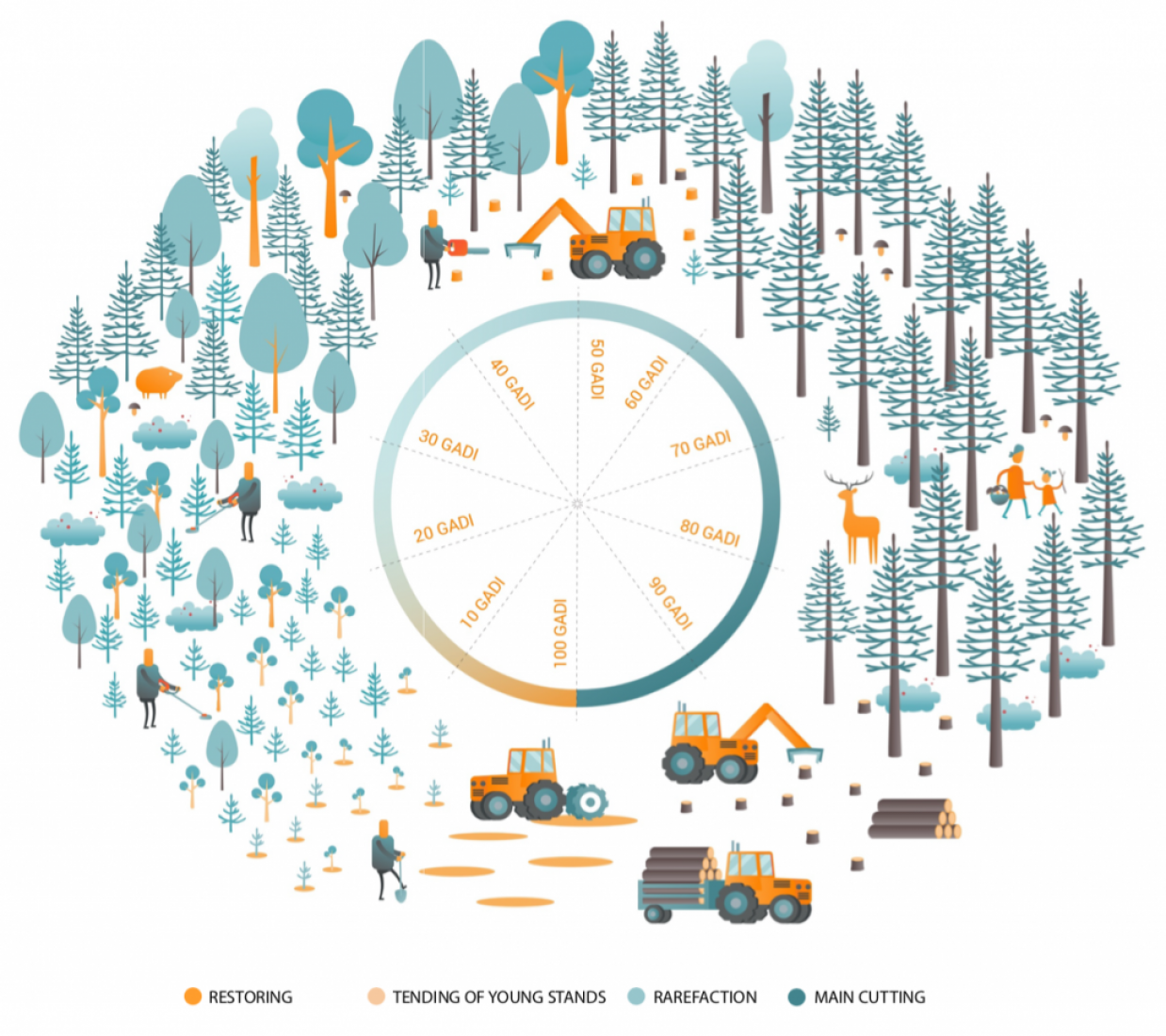 Appendix #1 References
https://www.storaenso.com/en/newsroom/news/2019/5/goodbye-to-plastic
https://www.mckinsey.com/industries/paper-and-forest-prod- ucts/our-insights/pulp-paper-and-packaging-in-the-next-decade-transformational-cha nge
https://www.mckinsey.com/industries/paper-and-forest-prod- ucts/our-insights/pulp-paper-and-packaging-in-the-next-decade-transformational-cha nge
https://www.zm.gov.lv/public/ck/files/skaitlifakti_LV_19.pdf https://www.lvm.lv/mezsaimniecibas-cikls/en/meza-kopsana https://www.thinkwood.com/news/4-things-to-know-about-mass-timber
https://www.researchgate.net/figure/Contribution-of-natu- ral-climate-solutions-NCS-to-stabilizing-warming-to-below-2-C_fig2_320536154