Summary
Borrower Leasing & Factoring is a company who is engaged in the shop equipment rental and who has a partnership with AlcOutlet store operators is planning to develop their business by upgrading store equipment in shopping mall "Gailezeres".
Current investment opportunity offers CROWDESTOR investors to make a loan with 12% annual interest rate which is paid every month, secured by guarantee of the Borrower.
Minimum target to be raised in CROWDESTOR platform is EUR 20 000,00 and the maximum target is EUR 40 000,00.
Loan
Minimum target: EUR 20'000
Maximum target: EUR 40'000
Loan term: 12 months
Interest rate: 14 %
Interest payments: paid monthly
Loan repayment: In full at the end of the Loan Term
Crowdestor BuyBack fund: Yes
Security: The loan is secured by a guarantee of the borrower company
Company BANDERI
Company Banderi S.IDE is working under two shopping networks trademarks – ELVI and AlkOutlet. Company was founded in 2010.
In year 2015 Banderi S.IDE operated 4 stores with a turnover 2.2 mil eur
In year 2016 Banderi opened 12 new stores, closed 2 stores. Annual turnover reached 6.09 mil EUR.
Year finished with 14 working stores.
In year 2017 Banderi opened 12 new stores, closed 2 and made 3 store's reconstructions. They reached their turnover goal with 9.6 mil EUR.
Year finished with 24 working stores.
In year 2018 Banderi opened 4 stores, closed 1 and made 1 store reconstruction. Company operates with 27 branches. Year 2018 annual turnover reached 14 mil. EUR
Current Banderi shareholders: SIA Realto Capital (70%), Gatis Krasovskis (15%), Intars Krasovskis (15%). SIA Realto Capital is a holding company owned by Alvis Krasovskis.
Company Banderi totally employ 196 employees in offices and 30 branches.
Administration:
Director;
The principal accounting officer;
2 operational accountants;
Chief of staff;
3 regional trade managers;

The manager of new projects and farm work is about to start working.
Company address: Rīga, Braslas street 29A-1, Latvia.
Gross turnover and planned turnover for all Banderi stores: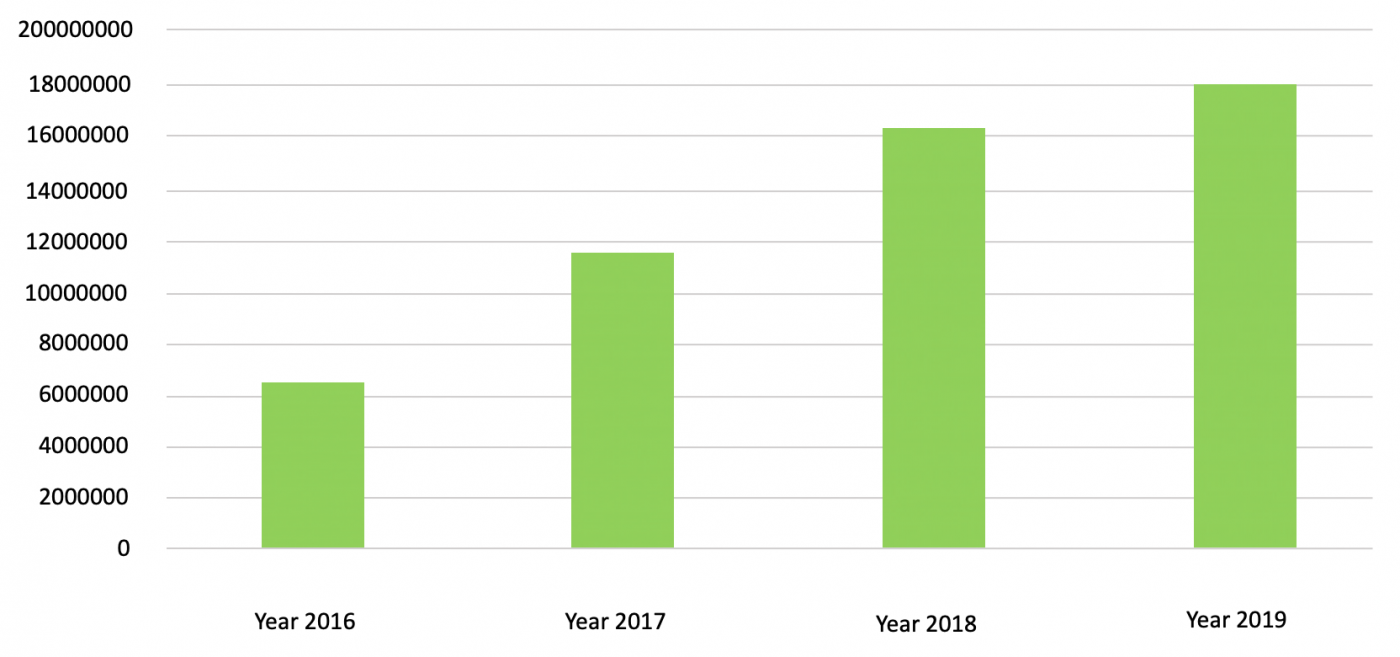 Banderi stores (ELVI & AlcOutlet) turnover proportions: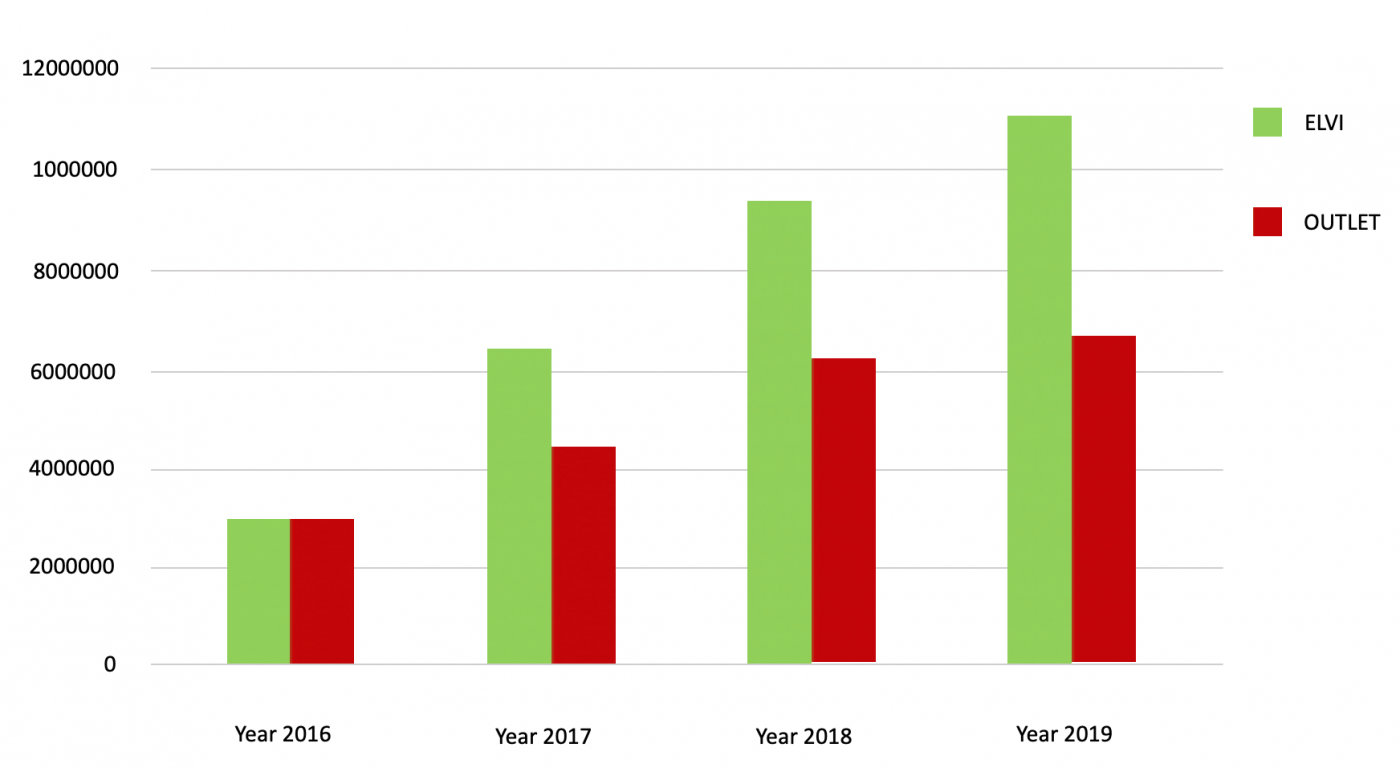 Sales Profit Amount: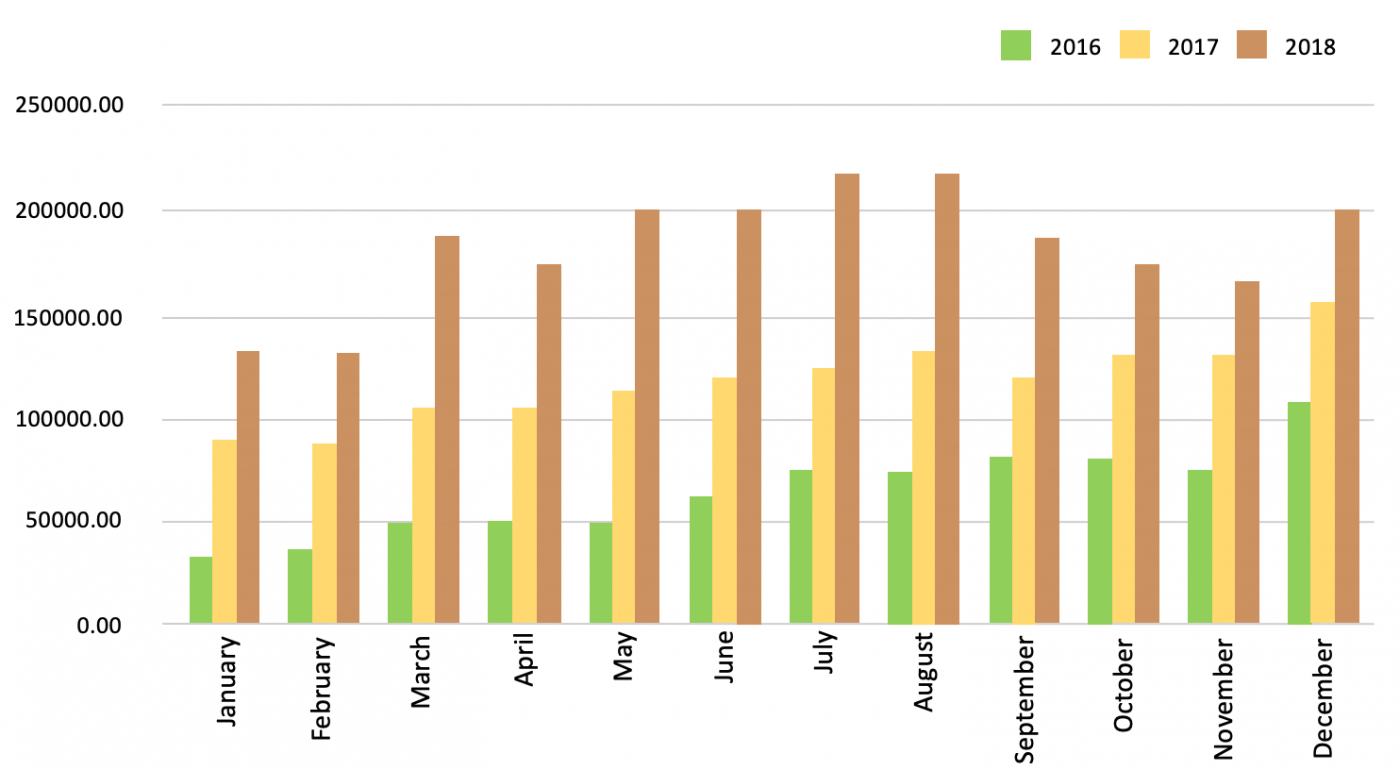 ALK Outlet – a successful related business, which brings additional revenue and profit
The first Alk Outlet was opened on September 13, 2012, in Ķekava. Alk Outlet stores offer the most popular brands of alcoholic and soft drinks at prices that are 20-30% cheaper than in other stores. In addition, customers can also buy non-alcoholic beverages, as well as various accessories necessary for use of alcoholic drinks.
The brand was created because:
Management saw an opportunity to gain significant market share by using their expertise and ability to achieve additional profits.
Alk Outlet can be positioned next to Elvi stores, gaining synergies for both stores
Potential law forbidding sales of strong alcohol in grocery stores is considered by the government.
Market
The total Latvian food retail market amounts to around EUR 2,8 billion with non-specialised stores predominating. The situation here is quite similar to Lithuania and Estonia. The Baltic countries are very much unfamiliar with the concept of regional/street baker, butcher, etc. After the introduction of free market economy, the newly established supermarkets, convenience stores and other sales outlets took in this niche. The sales in specialised stores amount to around 3-4% of the total food retail. The main priority of the household consumption expenditure was food, and it is one of the internationally comparable material welfare indicators. In 2018 on average 23.3% of all consumption expenditure households was spent on food. The share of this expenditure has a trend to reduce year by year. But, if compared to previous year, the actual expenditure on food has grown from EUR 62 to EUR 73 on average per household member monthly The food stores in the Latvian retail network amount to around 25% of the total number of stores, while stalls (market) and kiosks amount to 24% of the total number of stores. However, this does not mean that stalls and kiosks are generating the same proportion of sales which is undoubtedly much less.