We are happy to announce that now Crowdestor is offering our investors a new kind of corporation that they can invest in to - forestry. It is such a pleasure to work with this industry especially when it is one of the biggest export industry's in Latvia. Crowdestor's next project in this industry is launching on Thursday (04.07.) called "renewable energy". Company is seeking for additional financing of EUR 180,000 for 9 months' period. The loan will carry a 14% annual interest rate paid quarterly and the loan is secured with 81,15 ha forest land pledge. Key factors that make lending to the Company an attractive opportunity:
Management has 19-year experience in the forestry industry;
Loan is secured with a pledge of 81,15 ha forestland;
Internationally FSC certified company;
Company involved in fast growing, EU supported and approved field.
Latvian forest industry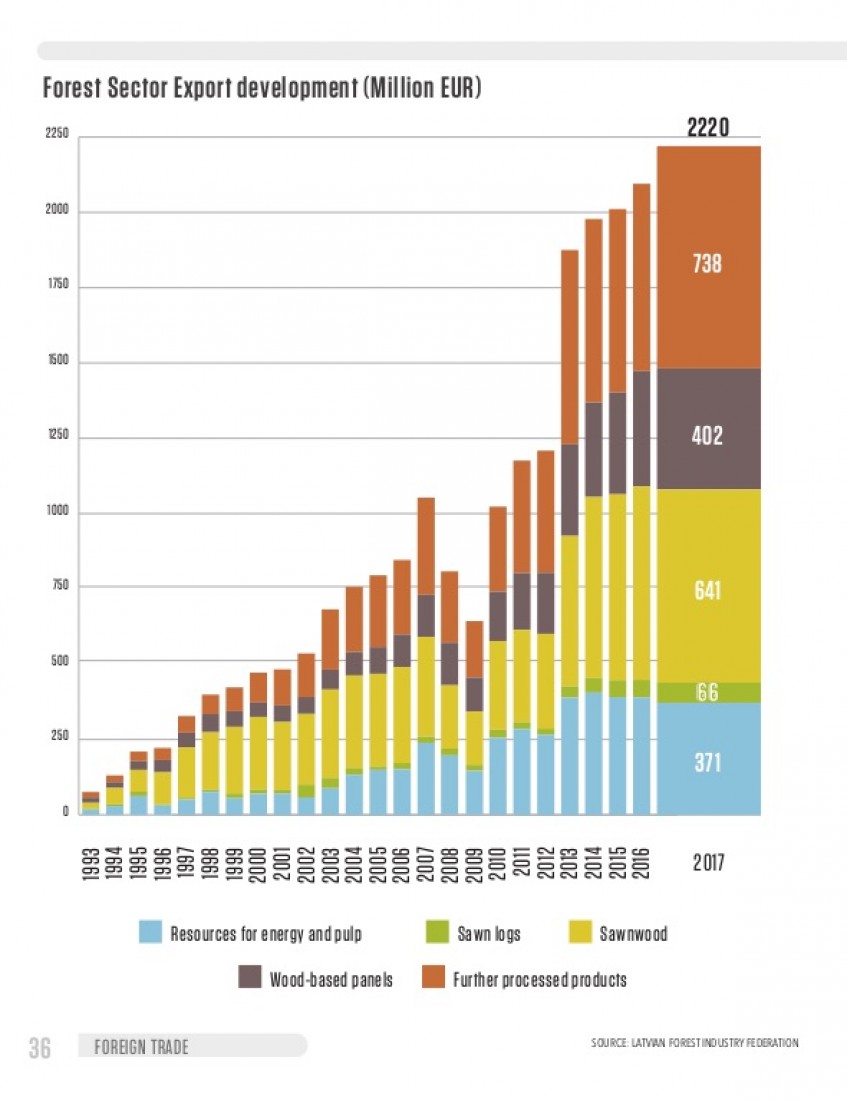 Sustainability
Forests in Latvia take up 3.383 million hectares of land, or 52% of the country's territory. The amount of forestland, moreover, is constantly expanding, both naturally and thanks to afforestation of infertile land and other land that is not used for agriculture. More important, however, is another indicator – the volume of timber in the forest is increasing three times more than the area of forestland. This proves that the forest area in Latvia is not expanding because of bushes that are not counted as part of the area of forest. On the contrary, forestry work in Latvia has been very targeted. An average of approximately 11 million m3 of timber have been harvested each year in Latvia's forests during the past decade. That is less than the annual increment, and so forestry in Latvia can be described as sustainable.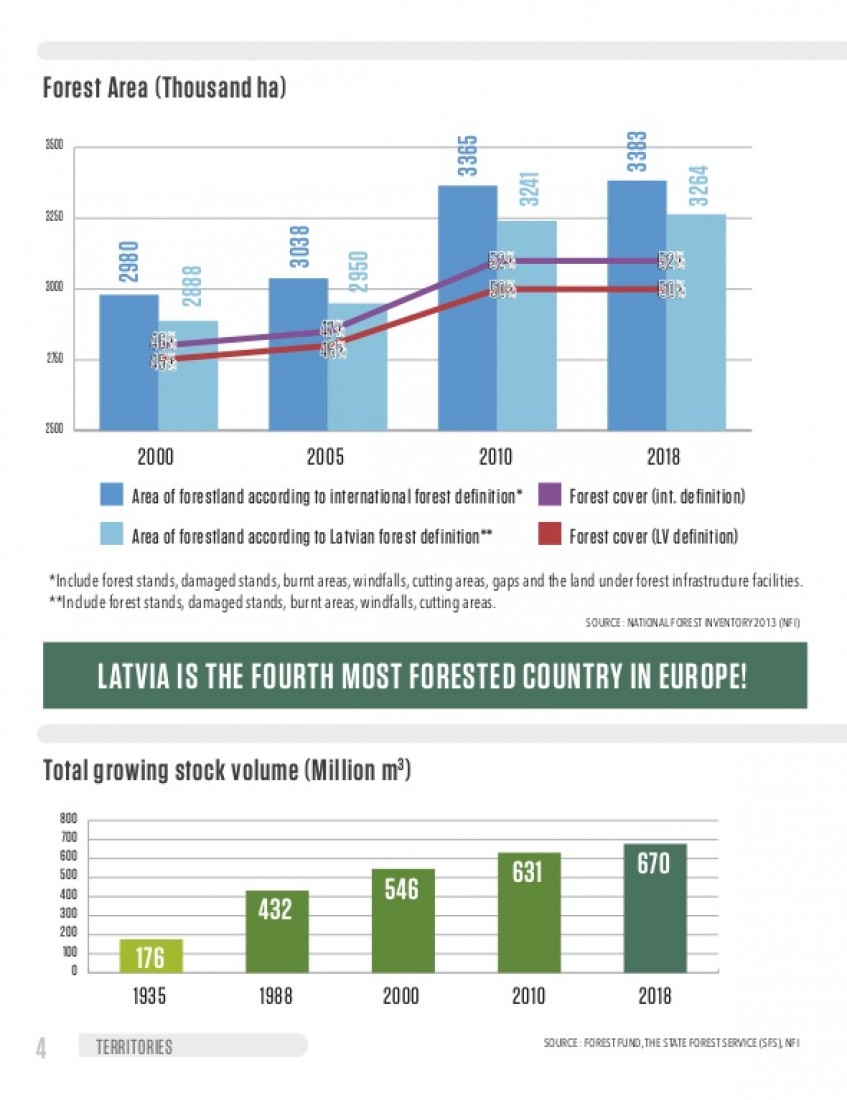 Wood processing
The forest sector is one of the cornerstones of the national economy at this time. Forestry, wood processing and furniture manufacturing represented 4,8% of GDP in 2017, while exports amounted to EUR 2,2 billion – 20% of all exports. There is no parish in Latvia with no larger or smaller wood processing company. Often these are the most important employers in the surrounding area, thus being the main pillar of support for local economies and residents.
Biological diversity
In historical terms, the intensive use of Latvia's forests for economic purposes began comparatively later than in many other European countries, and that has allowed us to preserve extensive biological diversity. Limitations on economic activity apply to 28,2% of Latvia's forests at this time, and most of this territory is owned by the state. 683 especially protected environmental territories have been set aside to protect nature. Many are included in the unified and pan-European NATURA 2000 network of protected territories.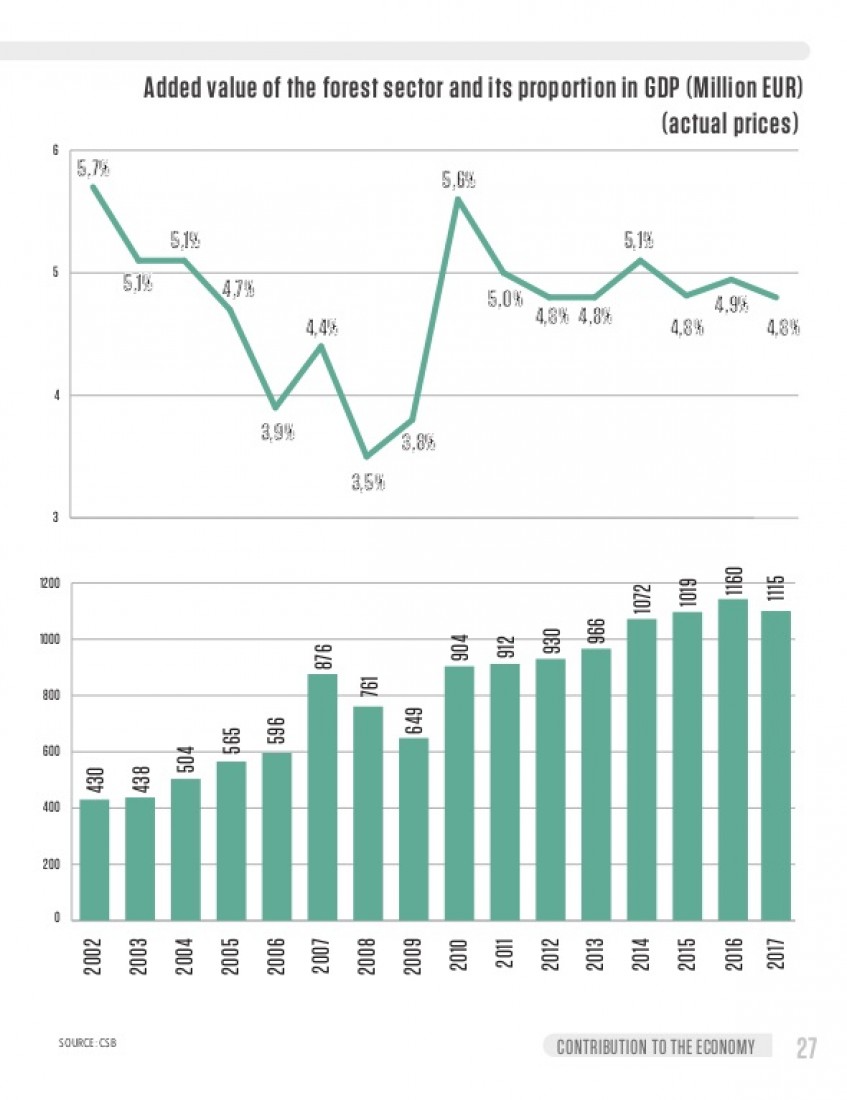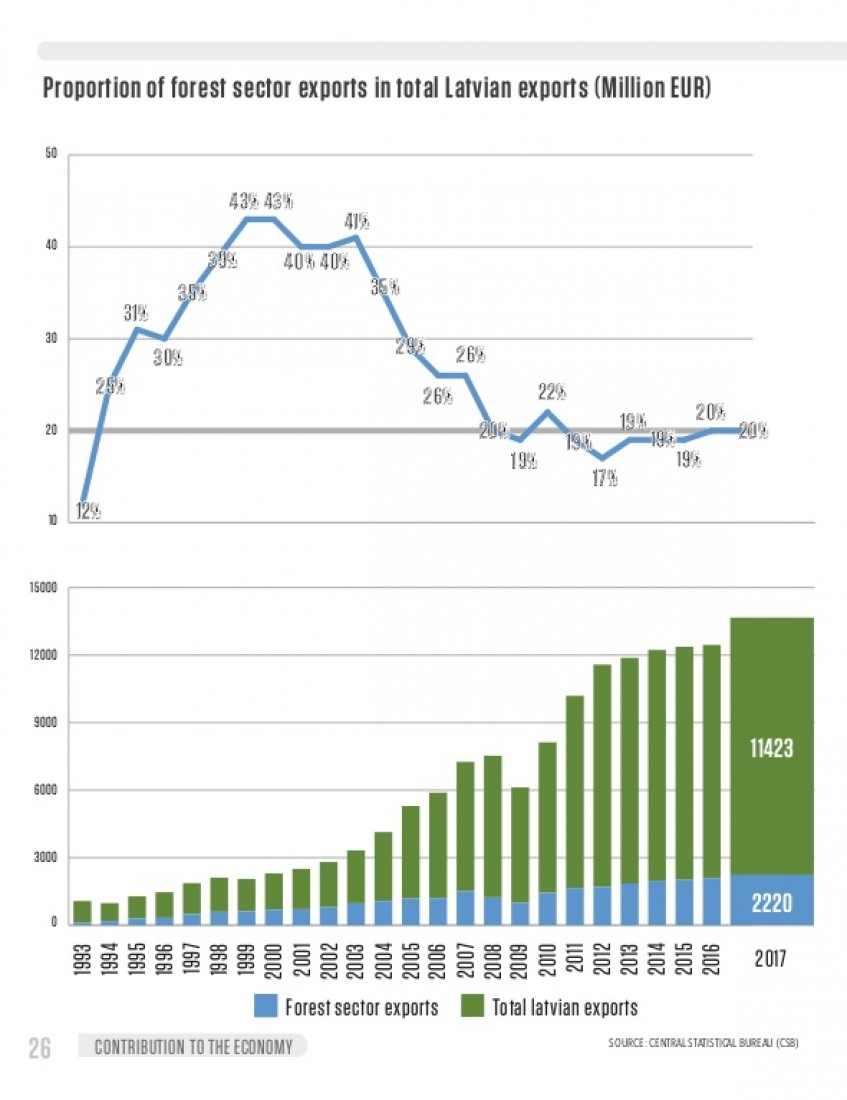 The forest and society
The Latvian state owns around one-half of the country's forests, while most of the rest of the forest belongs to approximately 135,000 private owners. Nearly everywhere, people are free to hike through the forest and to pick mushrooms or berries. The number of places for recreation is increasing every year in Latvia's forests, and the territories in which recreation is one of the main goals of forest management represent 8% of all forestland in Latvia.
The forest sector in Latvia is under the supervision of the Ministry of Agriculture. It works with stakeholders to draft forest policies, development strategies for the sector, as well as regulations on forest management, the use of forest resources, environment protection and hunting.
www.zm.gov.lv
The State Forest Service, under the Ministry of Agriculture, is the responsible agency for supervising how the provisions of the laws and regulations are observed in forest management irrespective of the ownership type.
www.vmd.gov.lv
State-owned forests are managed by Stock Company "Latvian State Forests", which was established in 1999. It implements the state's interests in terms of preserving and increasing the value of the forest and enhancing the contributions of the forest to the national economy.
www.lvm.lv
Territories in which recreation is one of the main areas of forest management took up 8% of forestland (293,000 hectares) in 2018 Viewing platforms, educational trails, cultural and historical destinations, areas for picnics – those are just a few of the leisure infrastructure objects that are found in Latvia's forests. They are open to one and all at no cost at all. Special attention to improving such areas has been paid to state-owned forests.
The areas of recreation-based forestland include
national parks (except reserves), nature parks, protected landscape areas, protected dendrology plants, protected geological and geomorphologic monuments, nature parks of local importance, the protected zone of dunes along the shores of the Baltic Sea, protected zones around cities, and forests in the administrative territories of cities. Specially protected natural areas are supervised and managed by the Nature Conservation Agency of the Ministry of Environmental Protection and Regional Development. Data source: Publisher NGO "Zaļās mājas" e-book "LATVIAN FOREST SECTOR IN FACTS & FIGURES"