Summary
CROWDESTOR would like to announce an investment opportunity in the restaurant industry.
Meat Chef - It's a trendy restaurant brand for meat lovers and others, offering the best quality dishes cooked on a charcoal grill in a light and relaxed atmosphere for a reasonable price. The brand was developed in response to a rapidly growing trend - fine quality meals served in more casual dining restaurants allowing customers to enjoy the best food experience daily, not waiting for a special occasion.
The first funding of EUR 125 000 was raised in January 2020 for the design and construction works at the premises. Due to Covid-19 and the emergency situation in Latvia and abroad, this restaurant's development was paused for some months. With signs of an increase in demand for restaurants and diminished restrictions, the construction of Meat Chef in Old Riga is being continued since June, however, at a slower pace to be opened when tourism will start again.
Funding raised in this campaign will be used for heating installments and wall plastering on all three restaurant floors.
Instagram @meatchef.lv


LOAN
| | |
| --- | --- |
| Minimum target: | EUR 5 000.00 |
| Maximum target: | EUR 50 000.00 |
| Loan period: | 9 months |
| Interest rate: | 22% p.a. |
| CROWDESTOR Provision fund: | Yes |
| Repayment: | Interest payments are paid monthly; loan principal payment - at the end of the Loan term. |
| Security: | Guarantee of the Borrower and prohibition to make profit distributions to the Borrower's shareholders until Crowdestor loan is fully paid back |
| CROWDESTOR BuyBack fund: | Yes |
| Collateral Agent: | CROWDESTOR Security Agent |
| Location: | Latvia |
Meat Chef # 2
Meat Chef # 2 is the second restaurant of a chain that is developed in 2020. The first Meat Chef is in Riga's city center, the second in Old Riga, and the next to come will be in Berlin, Germany.
Meat Chef # 2 will be opened in spring 2021 – just in time when tourism restarts after Covid19.
Location for Meat Chef # 2
Corner location in one of the best restaurant premises on Old Riga – on the intersection of two main tourist streets.
350 square meters
120 seats
2 floors
Summer terrace 40 seats
Large floor to ceiling windows
Lease agreement for 15 years
Layout and interior design
Meat Chef # 1 will be continued in the new restaurant, both layout and interior design-wise. The centerpiece – an open charcoal grill will be located in the entrance room, together with a large shared high dining table and an open bar. This will be the place for those in a hurry or those interested in making their meal.
The chef's masterclasses will also be held at the large dining table with a good view of the grill. The second-floor room will host those who wish for more privacy and calmness. Also, the second floor will be able to host larger groups.
The interior is designed once again by Kirson Design Group, focusing on such materials as dark metal, stainless steel, glass, burnt wood, leather, and velvet.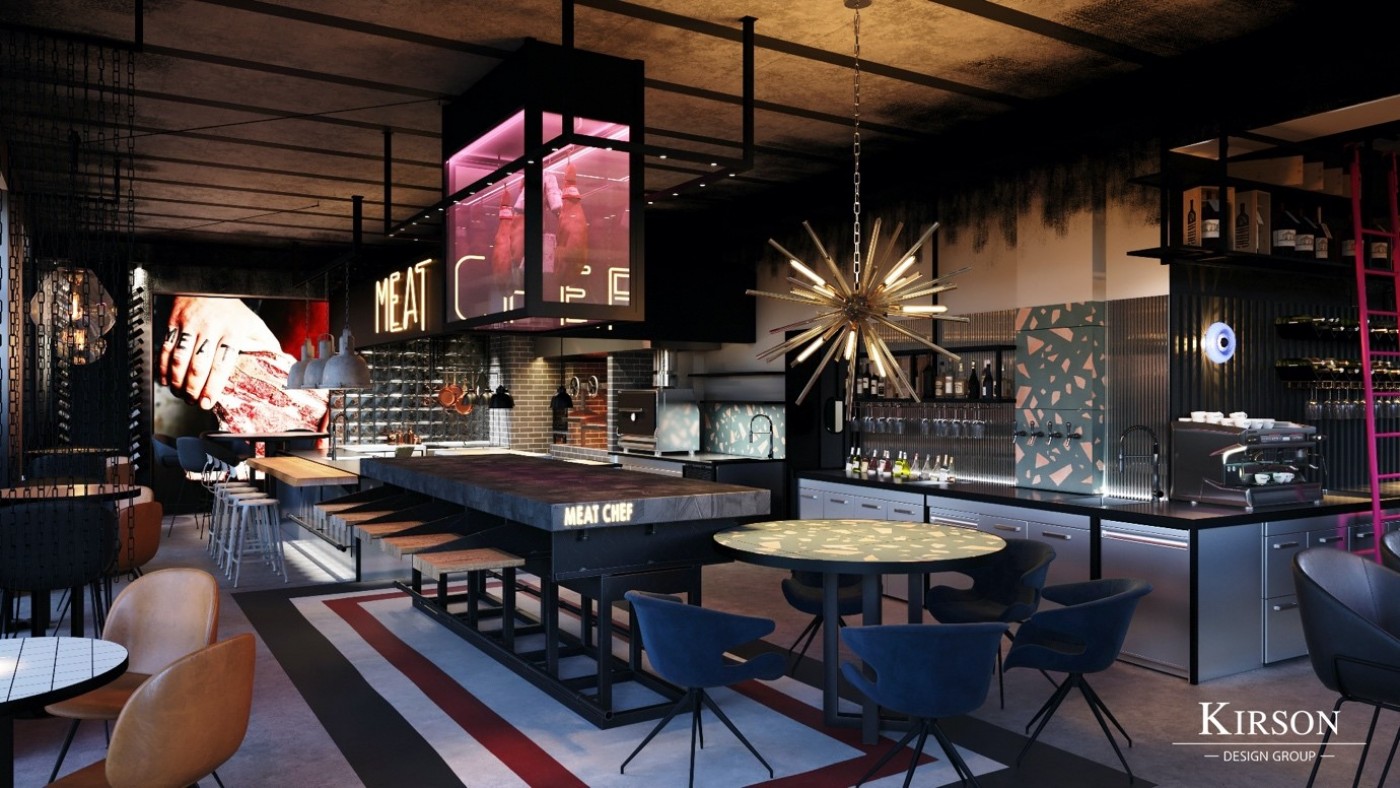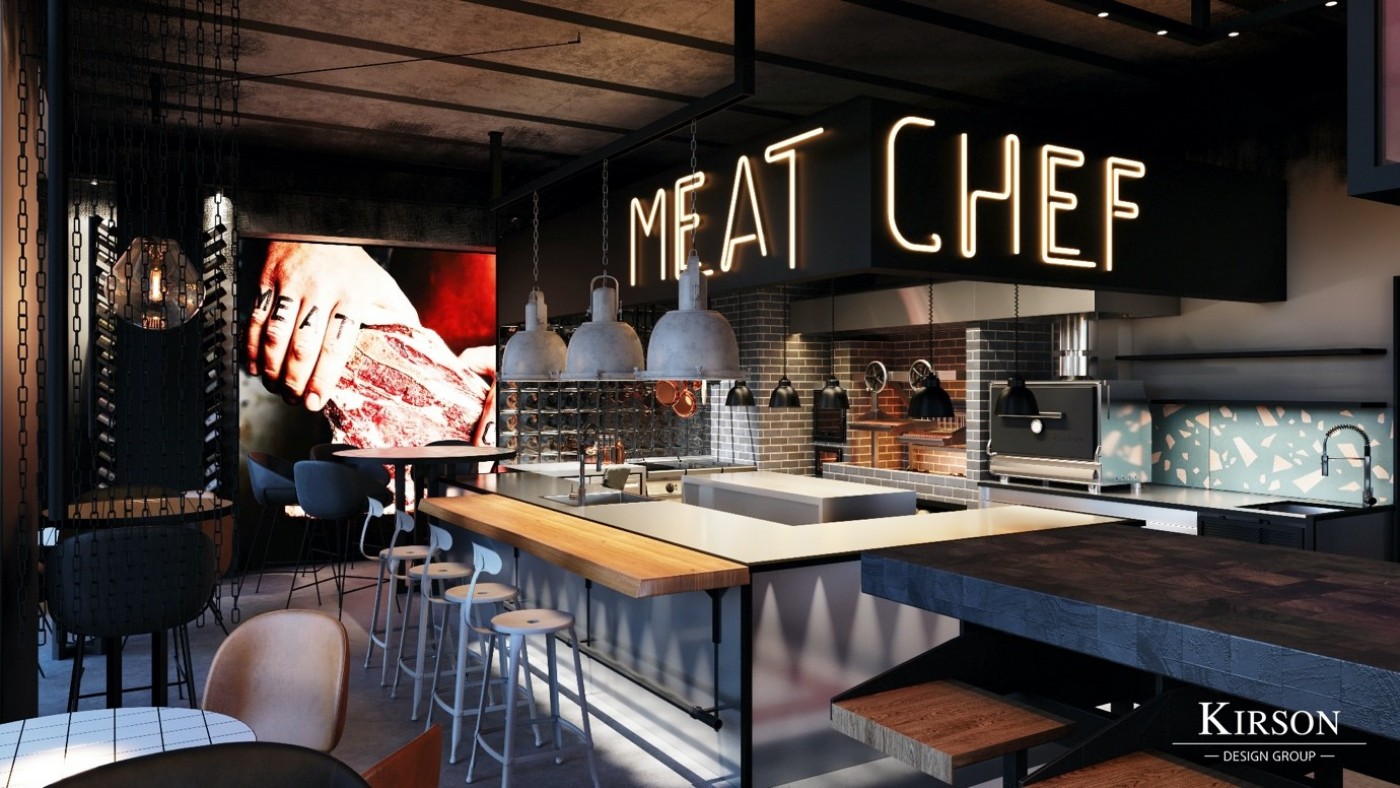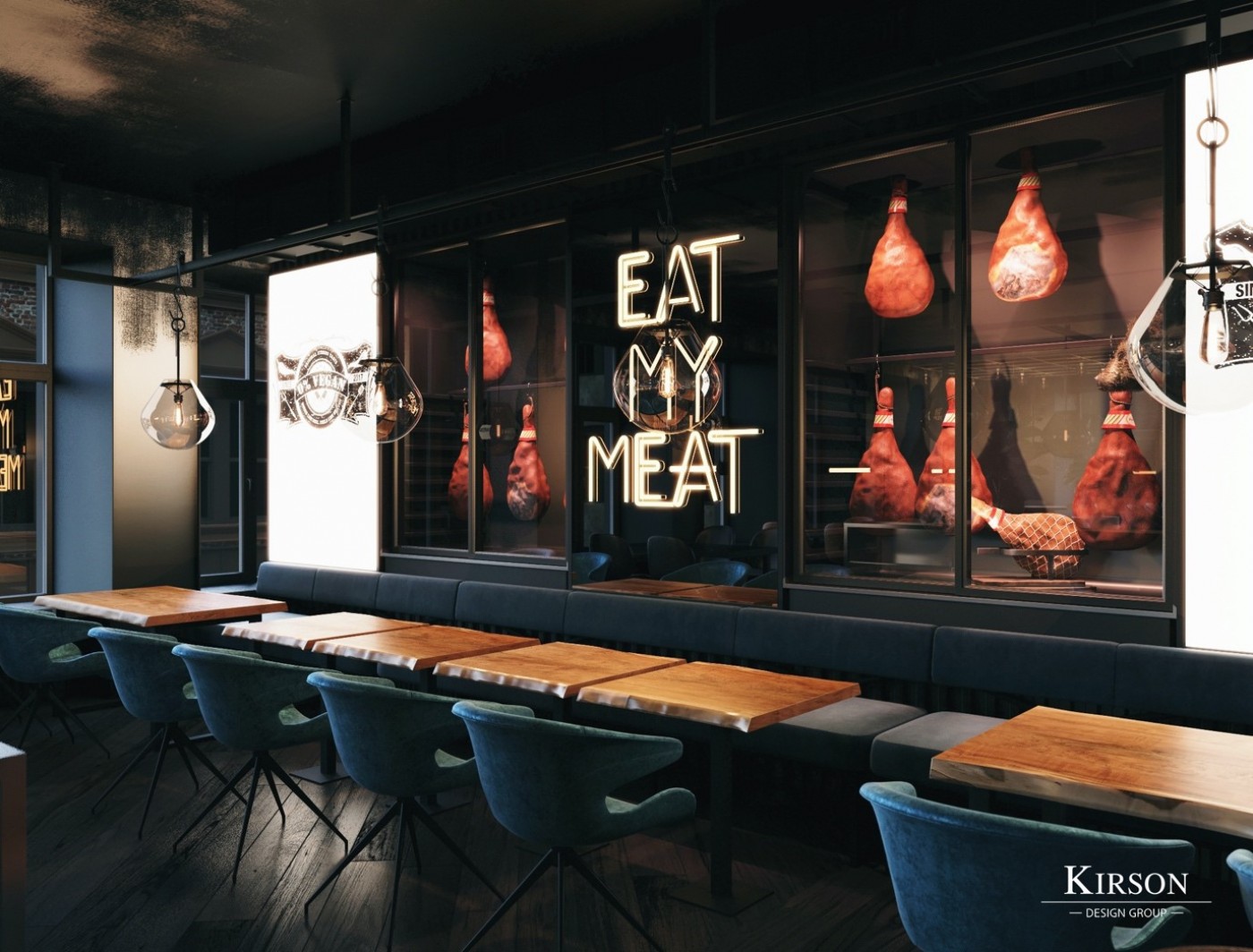 Menu
The menu of Meat Chef # 2 will be based on the first restaurant's menu, with the addition of lighter dishes in the summer season. Still, the main focus is on meats, steaks, and burgers; however, being ready to please the customers' wishes for salads, soups, appetizers, and desserts. Take-away will also be available.

Restaurant development steps
January – sketches, blueprints, legal work, ordering of kitchen and bar equipment.
May / June / July – construction – ventilation and heating installment, flooring, wall finishes. Ordering of interior objects.
August – kitchen, grill, and bar installment. Staff training, menu testing.
August / September - opening
Team

The two owners of this restaurant have been in the hospitality industry in Riga for over fifteen years. They are also shareholders of one of the oldest restaurant chains in Latvia, operating under the brand "Steiku Haoss" and the founders of Latvian Restaurant Association to organize the hospitality industry and its applicable legislation. Currently, the most important objective of the Latvian Restaurant Association is decreasing VAT for restaurants. On the day of publishing the first Meat Chef fundraising campaign along the awaited moment has come and a memorandum of understanding has been signed between the Ministry of Finance and Latvian Restaurant Association for decreasing VAT for restaurants from 21% to 12%, which would allow the creation of a more sustainable and transparent business environment in the industry. The Meat Chef head chef has been with the team for years, spending the last year in Monaco, developing and fine-tuning his skills. He is dedicated to meat, and his passion is letting products speak for themselves, bringing out the best taste of each ingredient by choosing the most appropriate cooking means and product combinations, however, keeping it simple, understandable, and unforgettably delicious.


Meat Chef # 1

The first Meat Chef restaurant was opened in Riga on December 17, 2019. As a result of the professional planning, construction period and staff training took only 22 days, which is twice faster than expected. It is located in the city center, Tērbatas street 41/43 – a corner location with large windows. The restaurant offers 47 seats in different seating areas – at a large shared dining table at the open bar and charcoal grill and private tables in a more quiet seating area.
Funds for the opening of the first Meat Chef # 1 were raised on CROWDESTOR.
Meat Chef restaurant has received an immense amount of great reviews and comments from its customers. In the past months since the opening, it already has loyal frequent guests. It has quickly turned into a must-visit place in Riga.
Interior
The centerpiece of each Meat Chef restaurant is a custom manufactured charcoal grill with several cooking options, located in the entrance room together with a large high dining table seating up to 14 customers and the bar. This room is perfect for enjoying the view of one's meal being prepared, master classes with the chef, a quick meal, or a drink. The other room is a little calmer and with more comfortable seating offered to customers, at both high and low tables with a view at the meat aging lockers and a large glass wine cooler.
The main materials used are wood, metal, glass, leather, and velvet. Special attention is paid to lighting to create the right atmosphere both during the day and nighttime in combination with unique neon decorations, meat aging locker lighting, and lightboxes.
Designers of the first and the following Meat Chef restaurants are Kirson Design Group, local professionals who have taken part in developing some of Riga's trendiest restaurants and bars.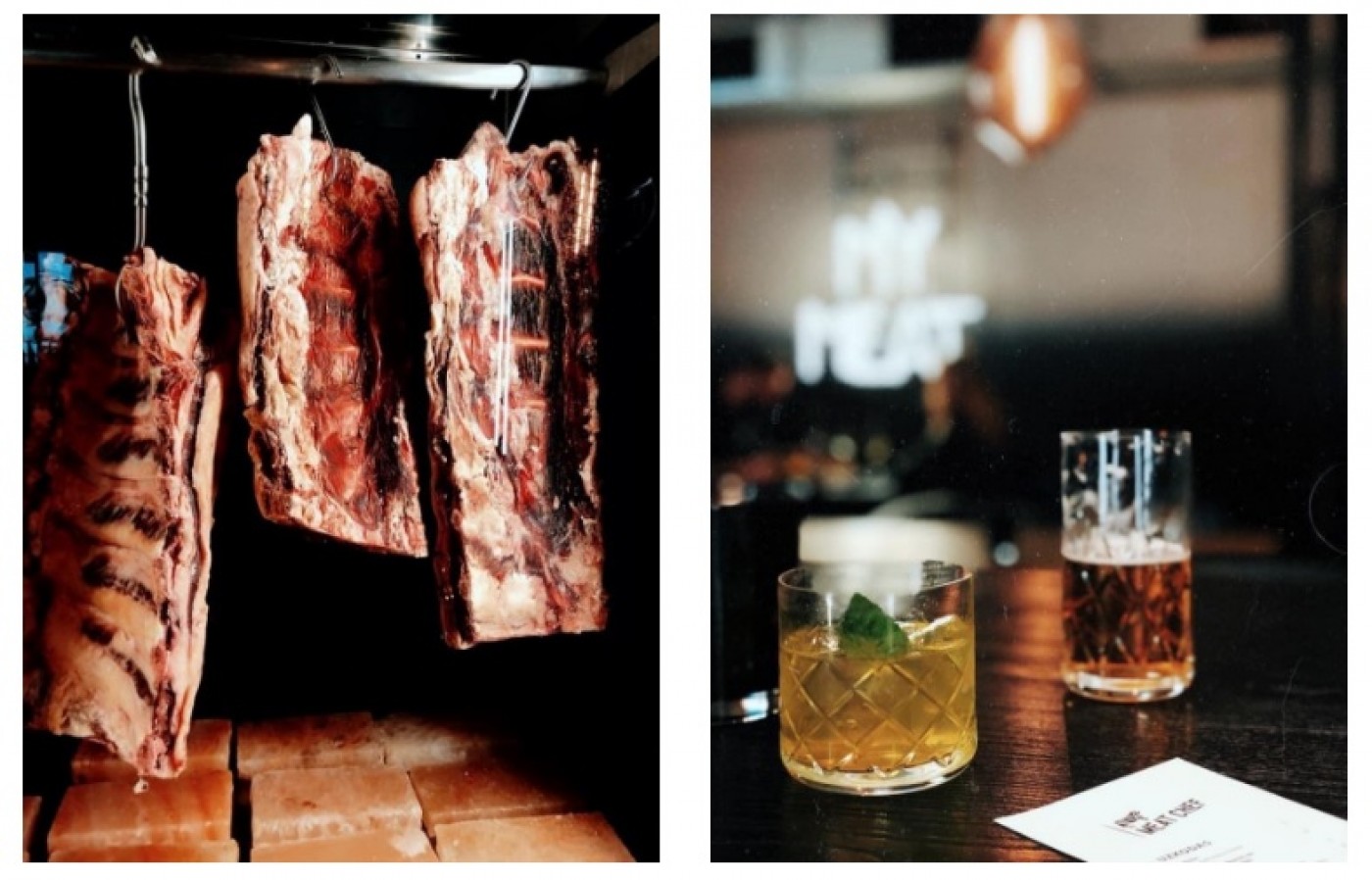 Menu
The Meat Chef restaurant is the first steak & meat bar in the city, cooking most of its dishes on an open fire grill in the restaurant's dining room visible to its customers.
The menu has appetizers, salads, soups, steaks, burgers, fish, and desserts featuring both classics with a Meat Chef twist and best quality rare finds. Most of the dishes are totally or partially grilled to give them a special taste. Furthermore, there is a take-away option for the growing segment of eating on the go. The Meat Chef's price level is at the market average, offering a wide range of products from lower-price to more valuable options.
The restaurant offers a well-selected wine list, a short but exquisite cocktail list, local craft beers, and great coffee.
Meat Chef has custom fabricated spices and sauces to guarantee consistent taste for each dish. These spices, sauces, together with frozen Meat Chef signature beef burger sets, will be offered for sale in the restaurants and the finest grocery stores from summer 2020.