SUMMARY
CROWDESTOR is announcing a new investment opportunity - community-owned food delivery app FOODESTOR ǀ Round 02.

The gathered funds will be used to cover the development and launch costs with a return of 30% p.a. Additionally, 20% of the company shares will be distributed among the ones, who invested over 1 000 EUR. A 1 000 EUR investment is projected to reach 50 000 - 100 000 EUR valuation in 4-5 years due to the unique market opportunity and exponential growth facilitated by significantly lower user acquisition costs and a profit-sharing model.
LOAN
| | |
| --- | --- |
| Minimum target: | 20 000 EUR |
| Maximum target: | 100 000 EUR |
| Loan period: | 18 months |
| Interest rate: | 30% p.a. |
| Repayment: | Interest and principal in full at the end of the loan term along with a proportional company share (for investments over 1 000 EUR). |
| CROWDESTOR Provision Fund | Yes |
| Location: | Worldwide |
Remember - interest rate payments start calculating from the day you make your investment and paid at the end of the loan period.
Market opportunity
The COVID-19 pandemic has devastated the restaurant, foodservice, and hospitality industries, leaving many business owners to analyze if they will ever reopen. Сonsumers have turned to food delivery apps, while the seated restaurant business experienced a dramatic fall.
The food delivery market size is projected to grow from $136Bn in 2020 to $365Bn in 2030. The growth is facilitated by raising mobile connectivity penetration, especially in developing countries. By 2023 70% of the world population is projected to have mobile connectivity, which is a prerequisite for installing a food delivery app.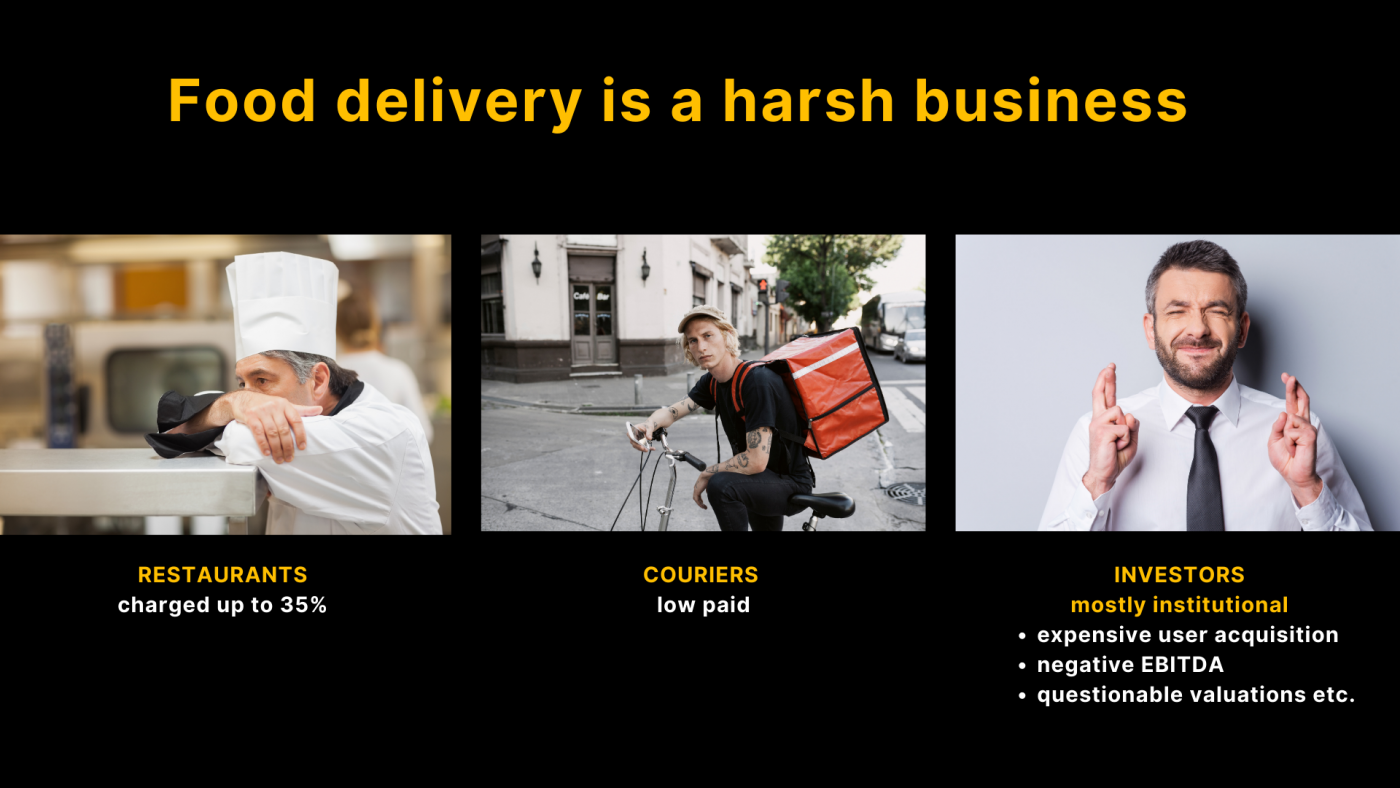 Why is FOODESTOR different?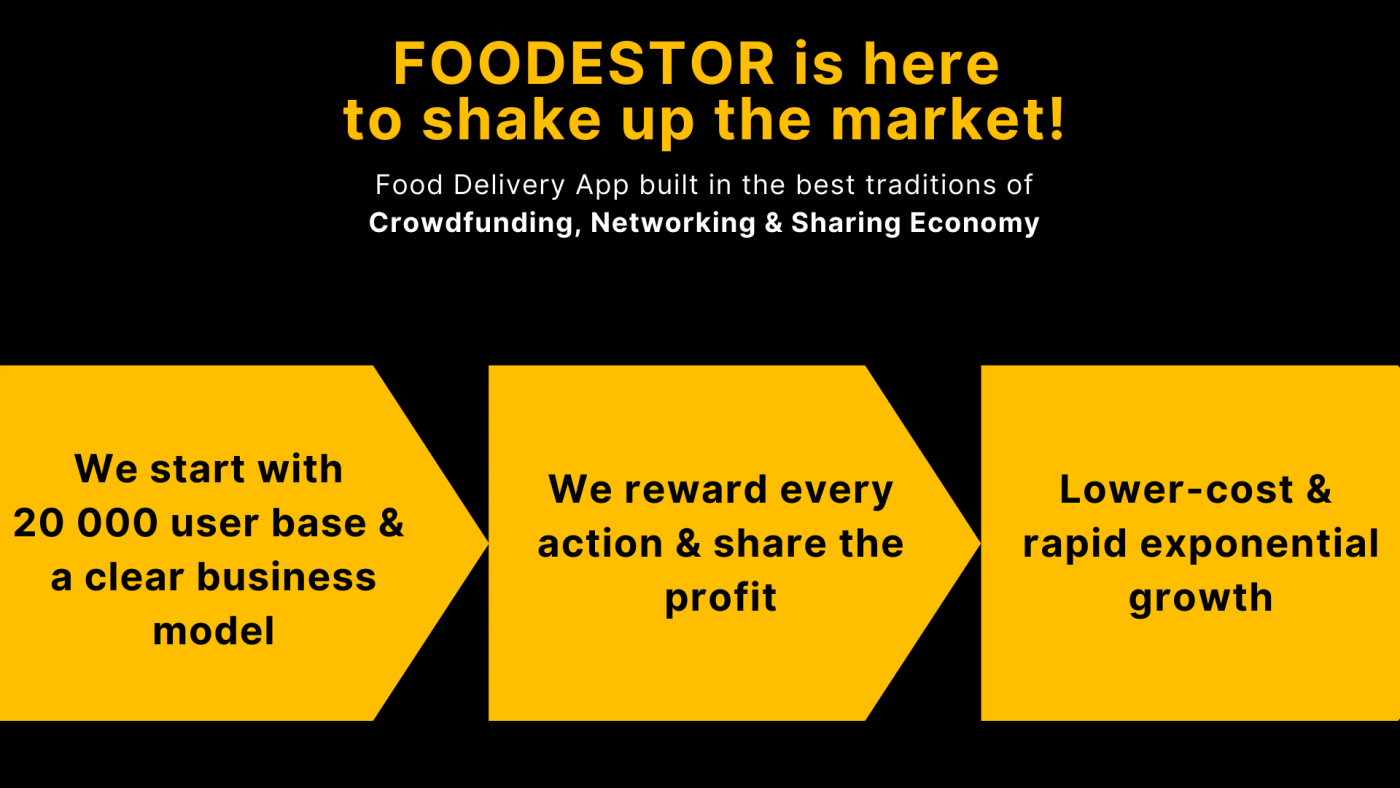 FOOODESTOR is offering an alternative to the best traditions of crowdfunding, networking, and sharing economy. 50% or FOODESTOR shares are to be split between investors, influencers, and users, including restaurants, couriers, and customers.
Investors will receive 30% p.a. for the initial investment and proportional company share for investments over 1 000 EUR.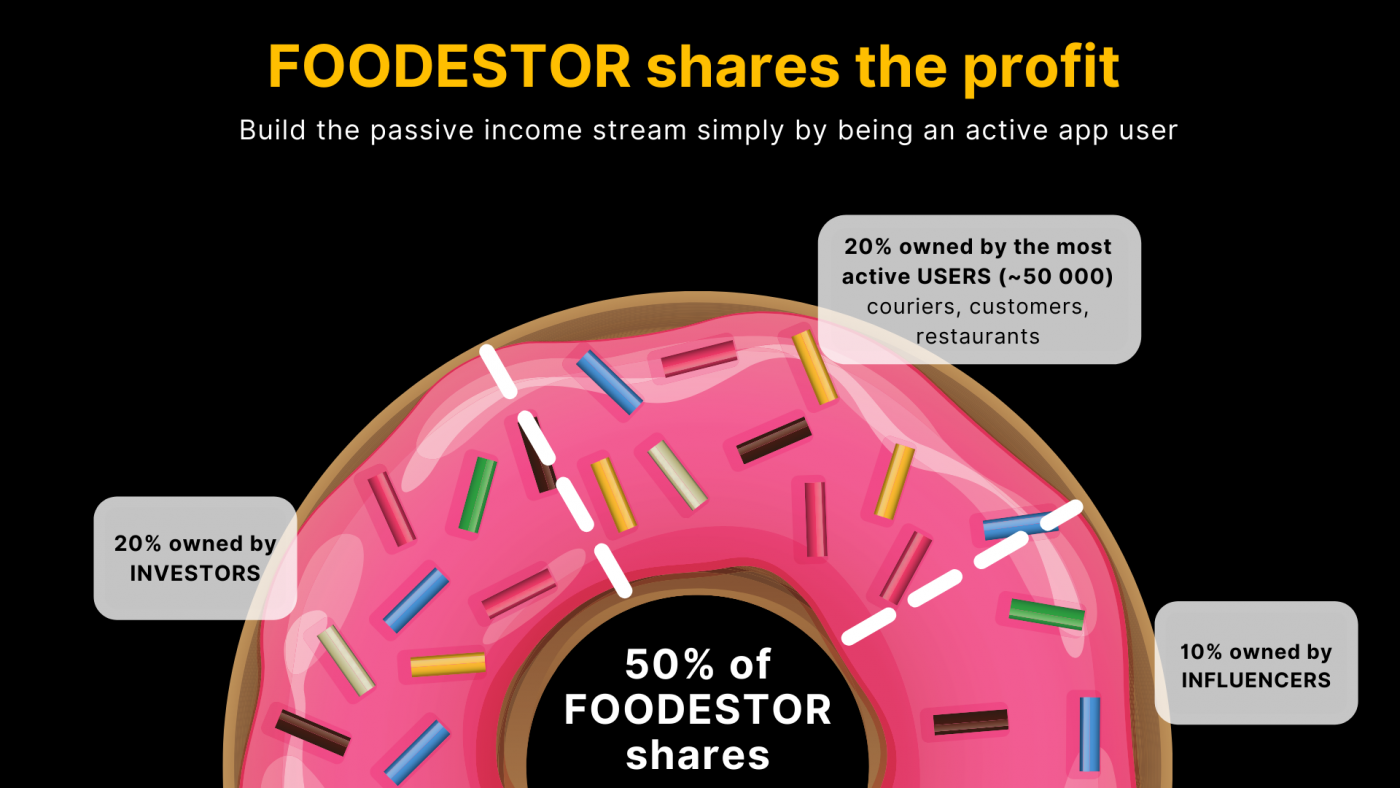 Up to fifty thousand of the most active app users, including restaurants, couriers, and customers, will compete for 20% of company shares. Every action in the app (like referring a courier or simply making an order) will be rewarded with points. Points will be converted into company shares proportionally to the market size consumers, restaurants and couriers operate in.
Influencer marketing (along with a profit-sharing model) will be the key to exponential user base growth. 10% of FOODESTOR shares will be distributed among influencers who have attracted the most users to the app.
Every app user will also receive discounts for referring new users and restaurants, which will result in lower user acquisition cost and faster growth. There will be no need for expensive advertising - users will attract more users.
FOODESTOR is deemed to have a kick-start!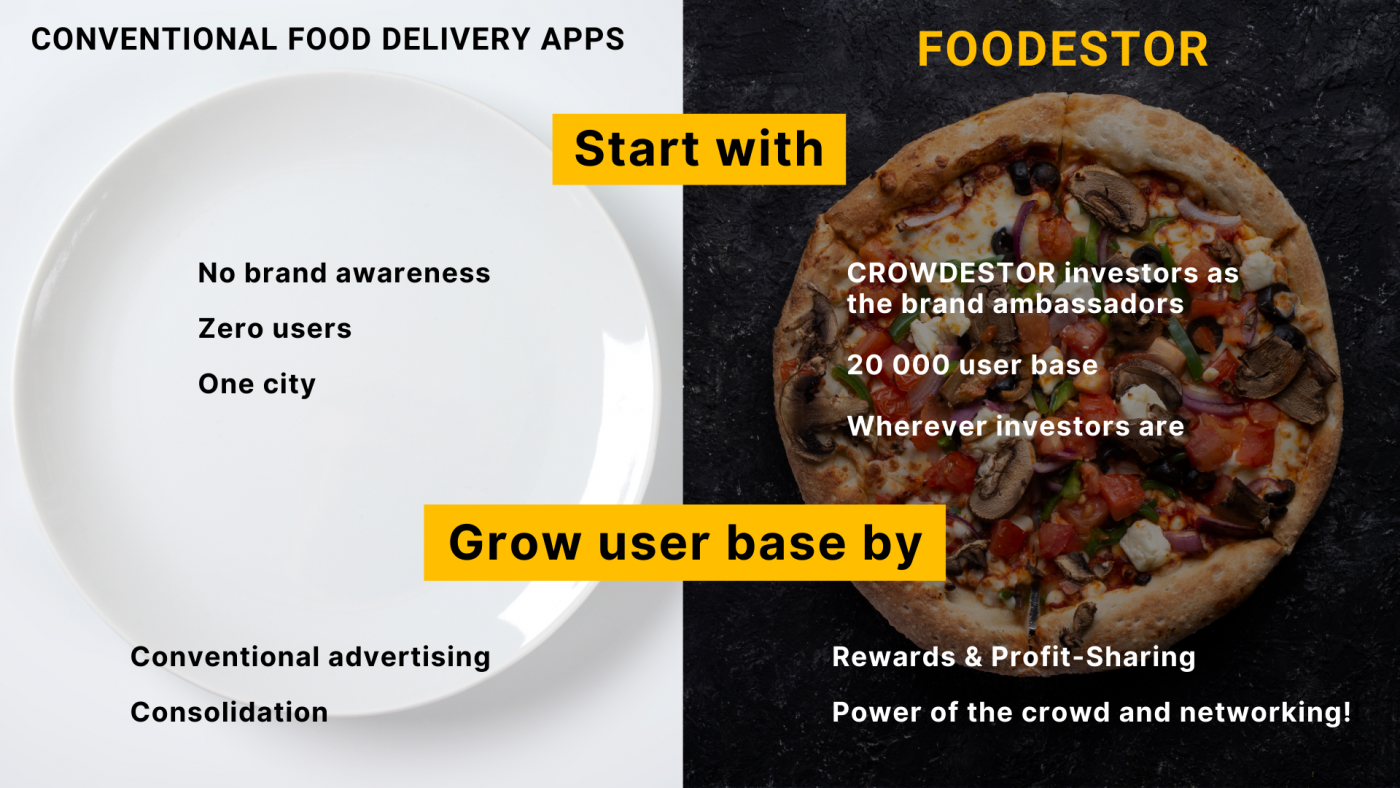 While conventional food delivery apps start with zero users and no brand awareness FOODESTOR already has 20 000 investors worldwide. CROWDESTOR investors will become FOODESTOR brand ambassadors contributing to faster growth in multiple locations at the same time.
Instead of relying on consolidation and expensive advertising campaigns for user acquisition, FOODESTOR will utilize word-of-mouth, profit sharing, and influencer marketing which will result in faster and cheaper user base growth.
The plan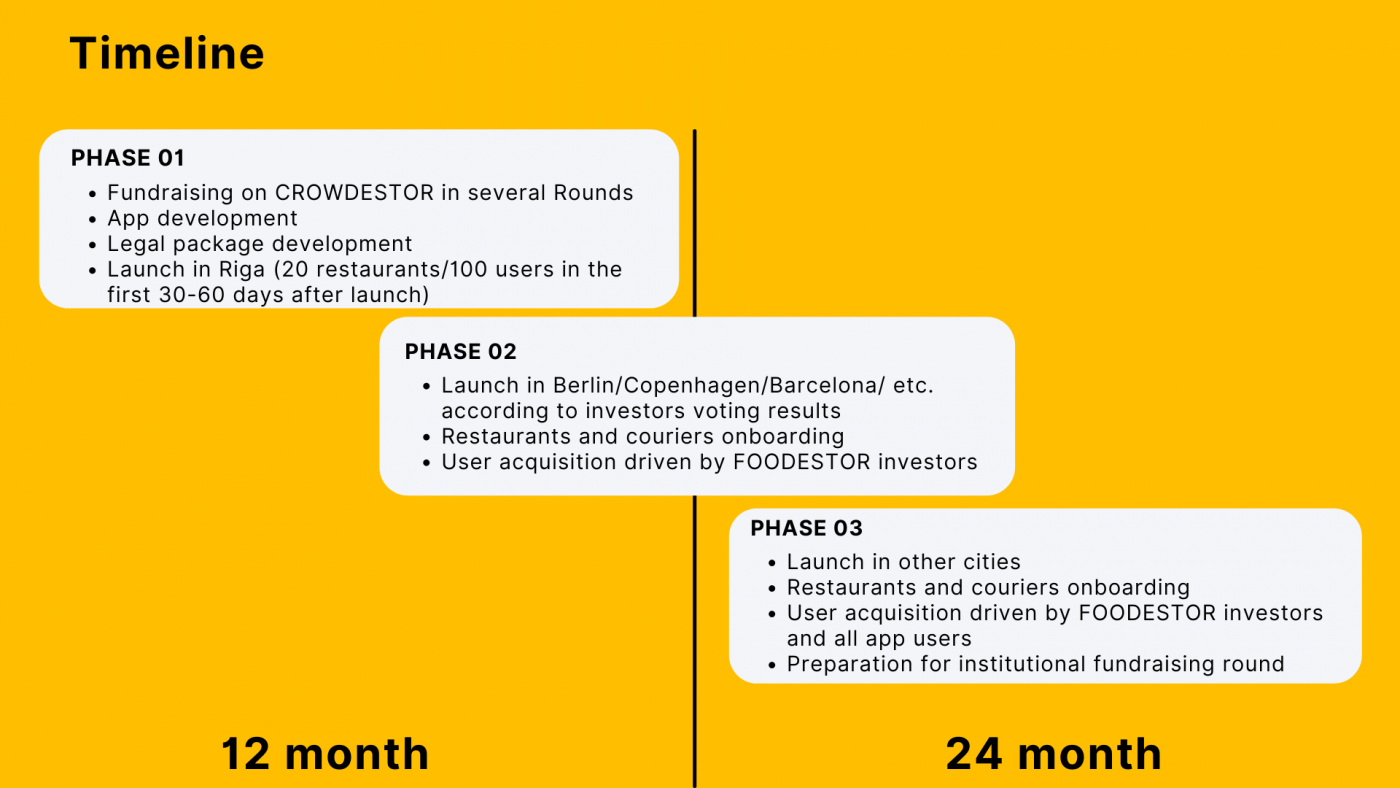 Fundraising on CROWDESTOR along with software and legal package development will happen during the first twelve months. This stage will be finished with the test launch in Riga, Latvia.
The second stage will include app launches in the cities selected by CROWDESTOR investors along with restaurant and courier onboarding and user base growth powered by loyalty program and influencer marketing. This stage will be finished in 18 months.
At the third stage, FOODESTOR's user base will reach 250 000. Market valuation will be at 112-375M EUR. At this point, the company is to be sold, investor loans repaid or converted into shares, while influencers and the most active users will be rewarded with shares according to their performance.
Please find more details in the presentation attached.