This is a closed offer only for CROWDESTOR investors.
From the first day, CROWDESTOR was meant to partner with its investors by the ideology of its daily operations and business decisions. Now we are ready to seal our cooperation by changing the CROWDESTOR ownership structure to share benefits and decision-making power with the investors.
2500 Tickets will be offered to our investors; each Ticket gives a right on 0.03% of CROWDESTOR HOLDING share capital, accounting for 75% of CROWDESTOR HOLDING share capital in total once all 2500 tickets are sold. Each investor will be able to register the shares of SPV in their own name. Otherwise, the shares will be held by CROWDESTOR Security Agent on behalf of investors.
SUMMARY
CROWDESTOR is announcing the CROWDESTOR HOLDING Ticket sale. Investors are offered to purchase CROWDESTOR HOLDING Tickets #736-740, with a discount of 5% (one ticket is sold at 1 330.00 EUR). Every ticket equals 0.03% of CROWDESTOR HOLDING equity.
The ticket holder will have the following benefits:
right to participate in sharing of CROWDESTOR HOLDING profit, starting from the Year 2021, i.e., regular annual dividends;

a profit share if CROWDESTOR HOLDING is sold to a strategic investor;

right to participate in shareholders' meetings, board, and advisory elections, directly influencing processes and decisions at CROWDESTOR;

membership of CROWDESTOR Club that gives 1% cashback on all investments, no fees on Secondary Market, a direct communication channel with the most prominent investors and company's management, etc.;

option to trade the Tickets on CROWDESTOR secondary market in the future.
INVESTMENT OPPORTUNITY
Investment target:

Share in CROWDESTOR HOLDING via SPV, i.e., Tickets.

Tickets on offer:
5
Price per ticket:

1 330.00 EUR

Ticket:

0.03% shares of CROWDESTOR HOLDING

Total share to be offered:

75% of CROWDESTOR HOLDING

Valuation of 1 ticket for the first stage:

3 600.00 EUR

Total tickets on offer:
2 500
Exit scenarios:


1) Tickets can be sold on CROWDESTOR Secondary market;




2) CROWDESTOR is sold to a strategic investor
CROWDESTOR HOLDING OPERATIONS
Along with the CROWDESTOR platform, other projects will be developed under CROWDESTOR HOLDING, one of which is Real Estate Trust, which will add to the diversification and the economic value of the investment target.
In addition, we expect the growth of the enterprise to be accelerated due to experience and knowledge sharing among shareholders, information availability, open elections thus, competitiveness among shareholders, split control of operations, etc. The first elections alongside details on members' rights will be announced shortly after the term of the last round of the current CROWDESTOR EQUITY Campaign ends, i.e., the first quarter of the Year 2022.
We want to empower the community to influence the CROWDESTOR business model. All of the aforementioned will inevitably lead to improved business operations and reputational revitalization.
Raised capital from the sale of Tickets will ensure additional cash flow for CROWDESTOR OU that will be used to develop the platform continuously. One of the crucial aspects of that is to comply with the Regulation on European Crowdfunding Service Providers, which requires the absence of projects financed and legally connected with the platform. The additional capital will enable CROWDESTOR OU, as a project owner of multiple projects, to finish and repay some of them faster than otherwise would be possible.
CROWDESTOR HOLDING LEGAL STRUCTURE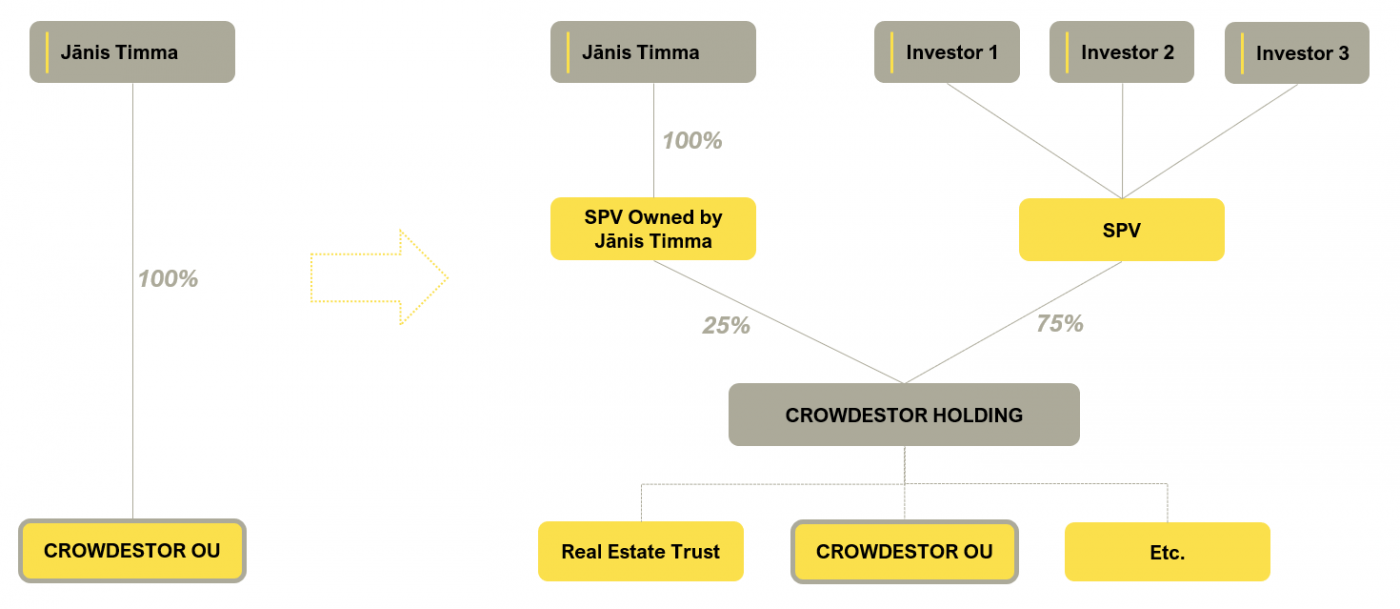 Investors will be sole owners of an SPV, which, together with Janis Timma, the current sole shareholder of CROWDESTOR, will have 100% control over the CROWDESTOR HOLDING - a jointly established company. Investors SPV will own 75% in the CROWDESTOR HOLDING, and Janis Timma will own 25%.
CROWDESTOR, as it is known today, will be one of the projects under CROWDESTOR HOLDING. Real Estate Trust is the company under which the real estate objects will be developed, mainly operational cashflow objects, including but not limited to some of those financed on the CROWDESTOR platform.
Thus, one ticket (out of 2500 in total to be given out to investors) gives investors a 0.03% stake in SPV. Investors will control 100% of SPV. Whereas 75% of CROWDESTOR HOLDING is given out gradually to SPV, 1 ticket gives the investor a 0.03% share in CROWDESTOR HOLDING. Janis Timma will retain 25% of the stake in CROWDESTOR HOLDING.
VALUATION OF CROWDESTOR IN 2020
The same 5 metrics and the same methodology based on which the previous valuation of roughly 12 mln EUR was estimated and presented in the whitepaper were considered. Then data of 2020 was compared to 2019. The results are presented below:

Despite increasing all the metrics except YoY growth, we have chosen not to increase the estimated valuation.